Will California's long-term drought improve after atmospheric rivers hammer the West?
While the current series of storms in the West will not be enough to end the long-term drought that is plaguing the region, it will improve it in the short-term.
LOS ANGELES – If you are wondering if all the significant flooding and multiple storms impacting the West will help with long-term drought relief in California, the answer is not as simple it may seem.
"Drought, while it can be considered a weather phenomenon, is also a climate phenomenon. It's all about the duration of said event," said FOX Forecast Center senior meteorologist Jordan Overton.
Weather tends to happen on a shorter scale, he added.
"We talk about storm systems sweeping through the United States over a period of a week – a hurricane that lasts for two weeks; a snowstorm that lasts a few days; a tornado that lasts a few minutes," Overton said.
California drought history
When did drought begin in the West? Some might tell you it's been ongoing for more than a decade. According to Overton, the most accurate reading of drought conditions available is the U.S. Drought Monitor, which started in 2000.
"From a drought monitor perspective, the most recent drought spell began in early 2020," Overton said. "That being said, California's most intense drought since 2000 started in 2012 and ended in 2016." 
THE US DROUGHT MONITOR EXPLAINED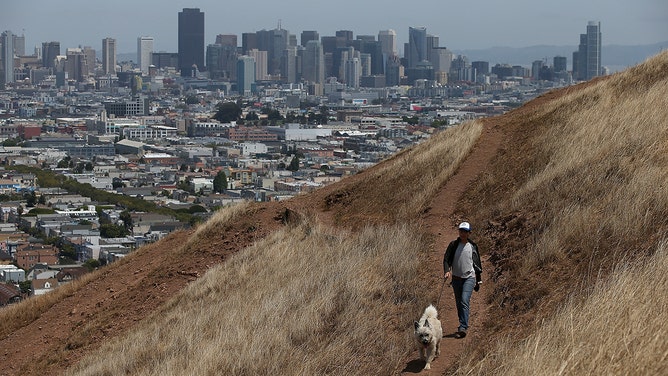 After a wetter period in 2017, drought returned in 2018 before ending in the spring of 2019. The ongoing dry spell that began in early 2020 has already reached the same level of severity as the 2012-2016 drought.
In order to understand what it would take to end the current drought, Overton said you must consider what happened to end the 2012-2016 drought. 
"This drought started due to lack of rain in California in the rainy season of 2012," he said. "This was then amplified by an extremely dry year in 2013, where San Francisco, which normally records 18 inches of rain in a year, picked up only 3.4 inches."
Overton said the airport in Los Angeles only picked up 3.65 inches that year.
Fast-forward to 2014, SFO picked up more than 20 inches of rain while LAX saw a little more than 8 inches. 
"The issue was that most of this rain occurred in December when a series of atmospheric rivers lashed the state," Overton said.
Dry conditions persisted in 2015 when SFO only picked up 8 inches of rain, which was not enough to reverse the trend.
SNOWFALL CONSIDERED CRUCIAL FOR LONG-TERM DROUGHT MITIGATION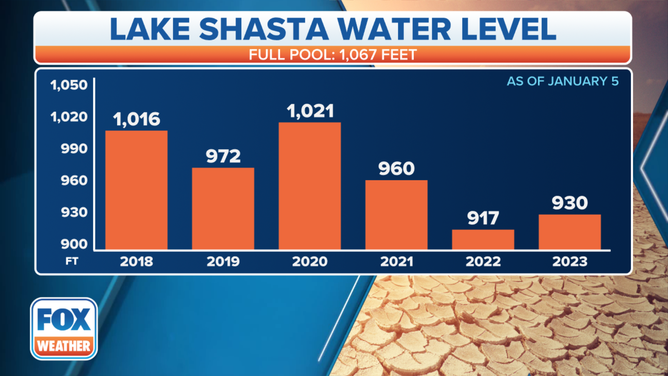 Another factor to consider: Snowpack
Atmospheric rivers tend to greatly benefit snowpack high in the Sierra Nevada mountain range, which is greatly needed to improve long-term drought conditions. 
Overton said that the status of the snowpack on April 1 during the years mentioned above closely correlates with drought conditions. That's important because April 1 is widely considered the end of the rainy season.
'EXTRA WINTER'S WORTH OF PRECIPITATION' NEEDED TO BUST CALIFORNIA DROUGHT, SCIENTIST SAYS
According to Overton, the April 1 readings for statewide snowpack in 2011 were 165%. During the next 4 years, the snowpack percentage never went above 55%, with a whopping low of just 5% of the average snowpack in 2015 on April 1.
Then, just like the wet period with atmospheric rivers in 2016 and 2017, the snowpack responded in kind. 
"California had its best snowpack reading since 2011 when 2016 came in at 86%," Overton said. "That was followed by an even better year in 2017 where the snowpack was an incredible 163% above average."
What did it take to end a drought? 
It took back-to-back years of above-average rain in 2016 and 2017 to end the drought in California.
In 2016, SFO ended up getting more than 21 inches of rain, and LAX picked up 10 inches of rain. That was followed by an even wetter year in 2017, according to Overton. This put the drought in reverse and, by almost all standards, officially ended the drought that had plagued the state since 2012.
"If we dive deeper into 2016 and 2017, we are able to find things that did contribute to the end of the drought," Overton said.
The first was a series of extreme atmospheric rivers in March 2016. It was the first time since 2012 that San Francisco picked up more than 5 inches of rain in the month of March. 
7 WAYS TO CONSERVE WATER AT HOME DURING A DROUGHT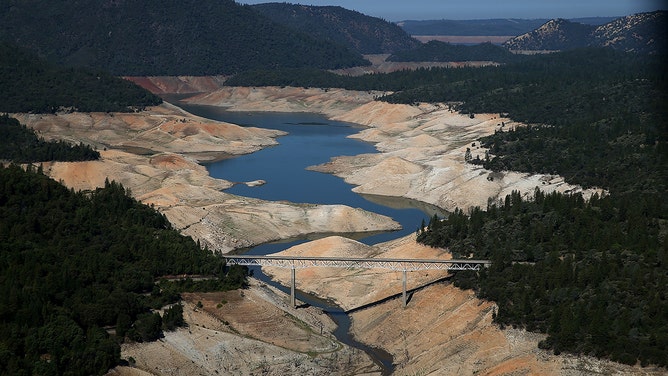 "This late-season rain – California sees the majority of its rain from October into March – sent a significant boost to the state's reservoirs and watersheds," Overton said.
This, like in 2014, stopped things from getting worse, according to Overton. However, it wasn't enough to end the drought. 
"That all changed from November 2016 to March 2017," Overton said. "A persistent series of storm systems lead to nearly six months of above-average precipitation."
So, while this current storm system will help, as demonstrated in recent droughts, Overton said he feels it will take more than this to get out of drought conditions.