Atmospheric river brings more heavy rain, river flooding and high winds to Pacific Northwest early this week
Watches, warnings and advisories are posted for rainfall flooding, river flooding and high winds
The latest atmospheric river will reach peak intensity on Monday over the Pacific Northwest, bringing more heavy rain, river flooding and high winds into Tuesday.
Multiple frontal waves will push onshore and consolidate into a major low-pressure system centered over British Columbia. Deep mild air ahead of this system will keep much of the precipitation as heavy rain, even up into the Cascades and Olympics, with only the highest peaks receiving heavy snow during the day Monday.
However, a strong cold front will sweep across the Pacific Northwest late Monday into early Tuesday as the low-pressure system intensifies. Cold air rushing in behind the front will then change the heavy rain over to heavy snow across the higher elevations.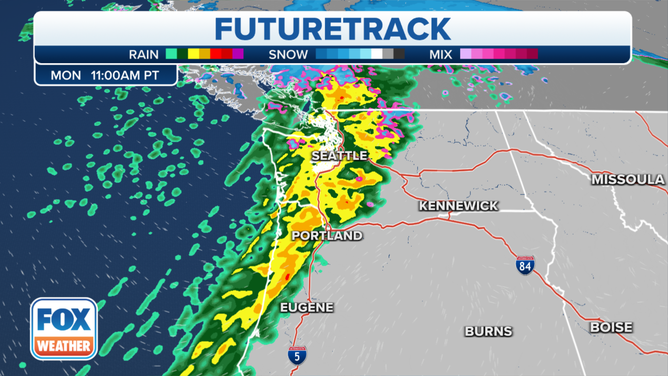 The system will likely reach peak intensity Monday night as high winds develop across the region. It will slowly weaken as it tracks across the Canadian Prairies Tuesday and Tuesday night.
The National Weather Service said more than a foot of rain over the past week has saturated soils across western Washington, which puts the area on guard for more landslides, fallen trees and flash flooding. 
An additional 1 to 5 inches of rain is expected across this region through Tuesday.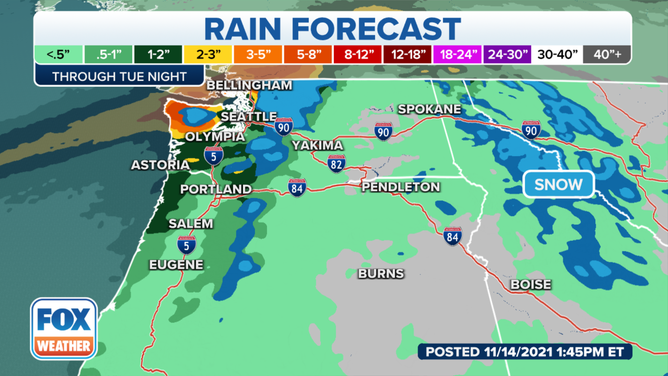 Seattle itself had received 6.89 inches of rain this month through midnight Sunday night. An average November in Seattle brings 6.31 inches of rain.
"In over 125 years of records, there have only been two years with more rain in the first two weeks of November," the NWS office in Seattle tweeted Sunday night.
While most of the Pacific Northwest will see rain Monday into Tuesday, northwestern Washington will see the bulk of the heaviest rain.
The NWS has issued Flood Watches, Warnings and Advisories for much of northwestern Washington through Tuesday afternoon.
NATIONAL WEATHER SERVICE REVAMPS FLOOD ALERTS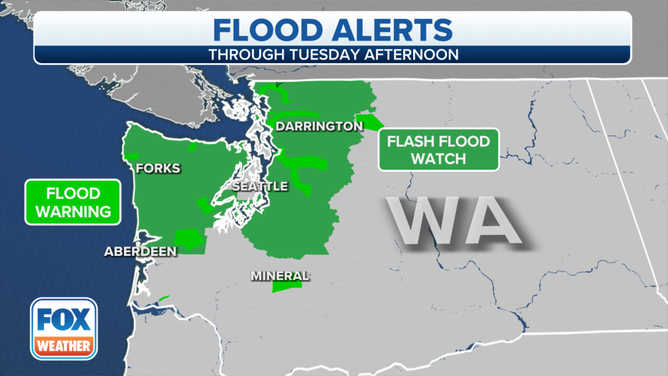 High Wind Warnings are also posted for much of the Washington and Oregon coasts, where gusts to 60 mph are possible into Monday evening. Some beaches and headlands could even gust to 70 mph. Wind Advisories are in effect inland, where 40- to 50-mph gusts are expected.
These strong winds could bring down trees and powerlines, resulting in potentially widespread power outages, especially along the coast.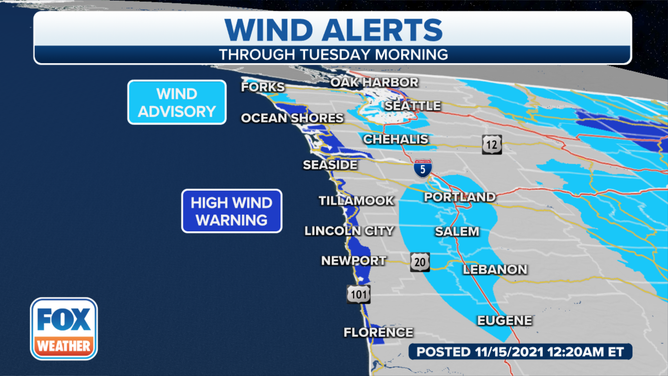 Rivers are also running high, and several have already reached flood stage.
In the North Cascades, the Skagit River at Concrete, Washington, is in major flood and predicted to reach a peak of more than 39 feet on Monday, according to the NWS. At this level, deep and swift floodwaters will inundate many roads, and levees east of Sedro Woolley may be damaged.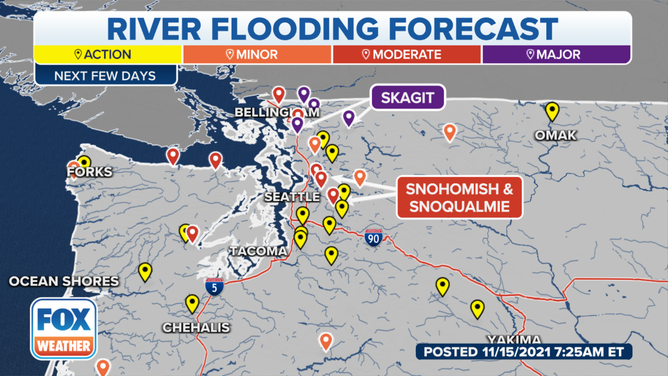 This storm system will spread eastward through the northern Rockies and Northern Plains into midweek.
A widespread high-wind event is expected in those regions Tuesday into Tuesday night. However, only modest snow amounts are forecast for the northern Rockies, with very little precipitation also expected in the Northern Plains as the storm loses much of its moisture.