High winds to impact Northern Plains, Rockies on Tuesday
The highest wind gusts could top 75 mph in Wyoming
A widespread high-wind event will impact the Northern Plains and northern Rockies on Tuesday, then spread eastward toward the upper Midwest by midweek.
An intensifying low-pressure system over the Pacific Northwest on Monday will track across the nation's northern tier over the next few days, whipping up strong winds along its path as high pressure quickly builds in behind it.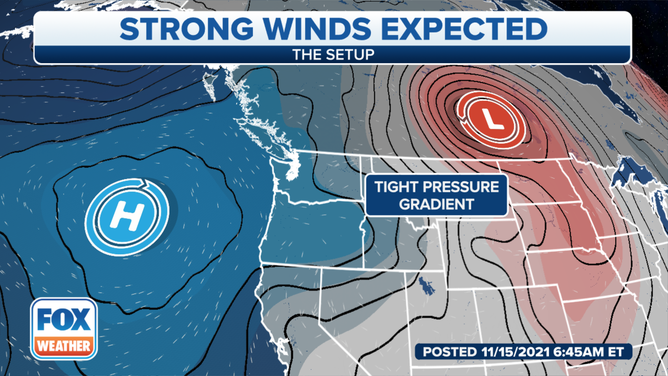 These high winds will be caused by the sharp difference in pressure between the high- and low-pressure systems.
ATMOSPHERIC RIVER BRINGS MORE HEAVY RAIN, RIVER FLOODING AND HIGH WINDS TO PACIFIC NORTHWEST EARLY THIS WEEK
The National Weather Service has issued High Wind Watches and Warnings and Wind Advisories from the Pacific Northwest eastward to parts of the Dakotas through Wednesday morning.
The highest gusts could top 75 mph in the mountains of Wyoming on Tuesday, according to the NWS. Other parts of the northern Rockies and Northern Plains are predicted to have 45- to 65-mph gusts.
Trees and powerlines will likely be blown down by the strong winds, possibly resulting in power outages. Travel will also be difficult, especially for high-profile vehicles.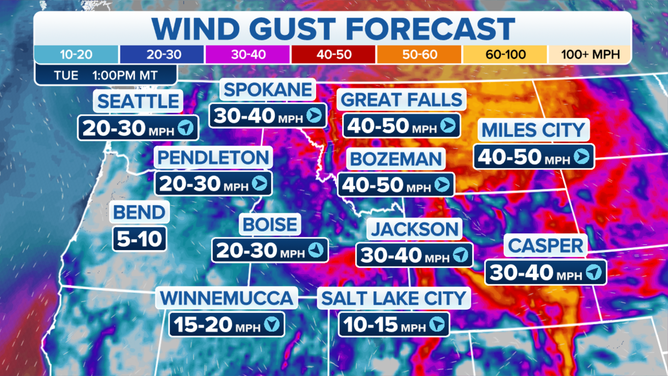 Even though this same system is bringing heavy rain to the Pacific Northwest early this week, only modest snow amounts are forecast for the northern Rockies, with very little precipitation also expected in the Northern Plains as the storm loses much of its moisture.