Arctic air blast sending major chill throughout Northern Plains
Temperatures will be 40 degrees below average this week
Temperatures will tank to start the week in the Dakotas, Wyoming, and throughout the Northern Plains as an area of high pressure from Canada pushes frigid cold air into the Northern Tier.
Temperatures will be running as much as 40 degrees below average through the week, with possible record-breaking low temperatures by midweek.
In Cheyenne, Wyoming, the National Weather Service warns the cold will set in throughout Monday, starting mild and then dropping into the single digits or below zero by nightfall. 
SEVERE THUNDERSTORMS, INCLUDING TORNADOES, POSSIBLE IN SOUTHERN PLAINS
Cheyenne could break a 100-year-old record low max temperature. The record was 5 degrees set back in 1922, and the forecast high is 3 degrees.

Warm isn't a word usually used to describe South and North Dakota in mid-February, but it will be downright frigid as this arctic air blast moves in by Wednesday. 
The average puts temperatures in the single digits around this time of year, and this week Grand Forks, North Dakota, is forecast to be -28 degrees on Wednesday. Rapid City, South Dakota, could drop to -12 degrees by midweek.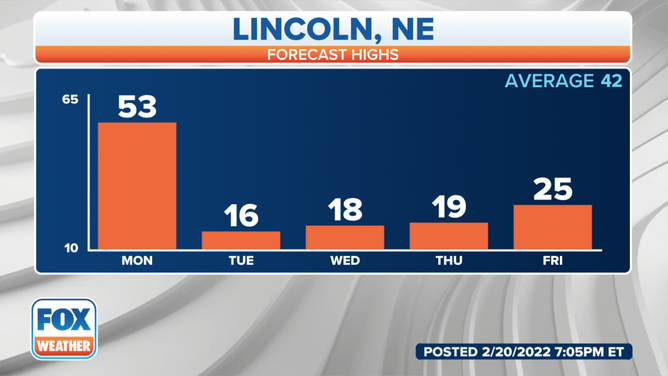 Wind Chill Watches, Warnings and Advisories have been issued by the National Weather Service for the Dakotas, Minnesota, and Nebraska through Wednesday.
A Wind Chill Advisory is in effect through Thursday at 11 a.m. MST in Wyoming along the northern and central Laramie Range and in lower elevations in eastern Platte County.
According to the NWS Office in Omaha, wind gusts will be around 30 mph Monday night into Tuesday in Nebraska, pushing the wind chill well below zero.
LEARN: WHAT DOES THE WIND CHILL MEAN?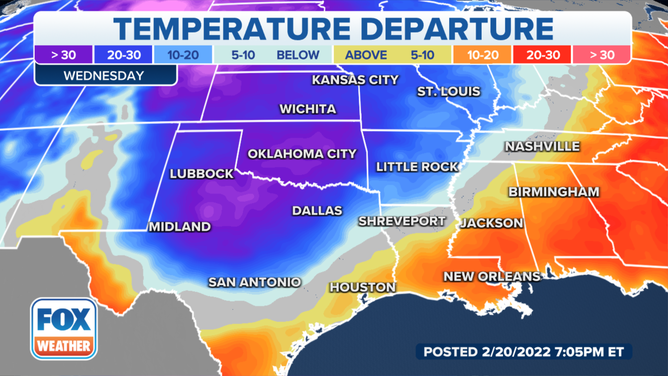 The cold will settle into the Southern Plains by mid-week, causing a temperature roller coaster in places like Texas, Oklahoma, and Arkansas.
Northwest Texas could see more winter impacts, including ice and a wintry mix on Wednesday and Thursday.
Dallas will see a high near 80 on Monday before dropping into the mid-30s on Wednesday.
THE GREAT TEXAS FREEZE TRIGGERED HOUSTON'S FIRST-EVER WIND CHILL WARNING
Temperatures will be 20 to 30 degrees below average throughout the Southern Plains. Oklahoma City is forecast to drop into the mid-20s by Wednesday, where the norm for this time of year is 55 degrees.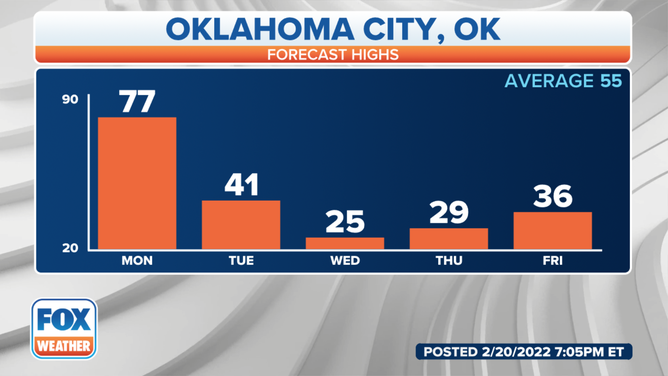 This arctic blast will persist throughout the week, with temperatures finally warming back up by Saturday.