The Great Texas Freeze triggered Houston's first-ever Wind Chill Warning
Wind chills plunged to zero during the morning of Feb. 16, 2021
HOUSTON – The Great Texas Freeze of February 2021 sent temperatures plummeting all the way to the state's Gulf coast, including the city of Houston.
The bitter cold was extremely rare for Houston, where the combination of winds and frigid temperatures resulted in wind chills plunging to zero at George Bush Intercontinental Airport during the morning of Feb. 16.
At Houston's Hobby Airport, the wind chill dipped to 1 degree on that same morning. According to meteorologist Alex Lamers at the National Oceanic and Atmospheric Administration, that was the lowest wind chill on an hourly observation at Hobby Airport since 1990.
WHAT DOES THE WIND CHILL MEAN?
The National Weather Service office in Houston had placed southeastern Texas, including the Houston metro area, under a Wind Chill Warning to warn residents of these dangerously cold conditions.
Lamers noted it was the first time a Wind Chill Warning had ever been issued by the weather service's Houston office.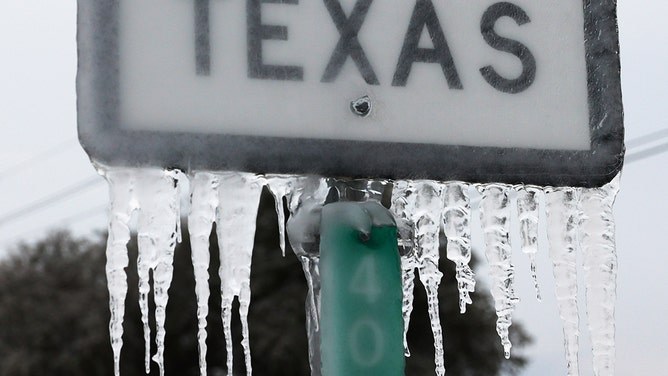 Single-digit wind chills are recorded in about 30% of winters in Houston. However, according to FOX Weather's senior weather data specialist Shane Brown, it is exceptionally rare for the city's feels-like temperature to drop to zero or lower – occurring in only about 7% of years.
The actual air temperature recorded at George Bush Intercontinental Airport on the morning of Feb. 16 was 13 degrees, officially Houston's coldest reading of the Great Texas Freeze. That tied the date's record low, which was originally set way back in 1895.
TEXAS POWER REGULATOR SAYS STATE'S GRID MORE PREPARED FOR WINTER 'THAN EVER BEFORE'
Houston spent 44 consecutive hours below freezing between Feb. 14 and 16. Its all-time record is 91 hours set in December 1983.
The high temperature of 25 degrees on Feb. 15 was Houston's fourth-coldest high temperature on record. The lowest temperature ever measured in Houston was 5 degrees on Jan. 18, 1930.