Air quality alerts issued for some major US cities amid smothering heat
Atlanta, Cleveland, Dallas, Pittsburgh among cities with poor air quality Tuesday
As heat bakes much of the eastern U.S., air quality is suffering in some of the nation's largest cities.
Temperatures will climb into the triple digits across parts of Texas and the Southeast, while temperatures near 100 degrees will be common across the Plains and Midwest. Heat Advisories have been issued Tuesday from Kansas to Michigan, as well as parts of Indiana and Ohio.
HOW TO WATCH FOX WEATHER ON YOUR TV
Heat Advisories are in effect for millions of Americans on Tuesday, June 21.
(FOX Weather)
---
All that heat is being caused by a huge area of high pressure that is dominating the weather pattern across the eastern two-thirds of the country. High pressure forces air to sink toward the surface and compress, which leads to increased heat.
WHY DOES THE AIR QUALITY GET SO BAD IN SUMMER?
That same type of weather pattern also keeps pollutants in the air closer to the surface instead of letting them rise and mix out of the atmosphere. Places where there are more cars on the road and little wind can experience poor air quality.
Air Quality Alerts have been issued Tuesday for major cities like Atlanta, Cleveland, Dallas and Pittsburgh. Tennessee's four largest cities – Chattanooga, Knoxville, Memphis and Nashville – also have Air Quality Alerts in effect.
THE AIR QUALITY INDEX EXPLAINED
Air Quality Alerts in effect Tuesday, June 21.
(FOX Weather)
---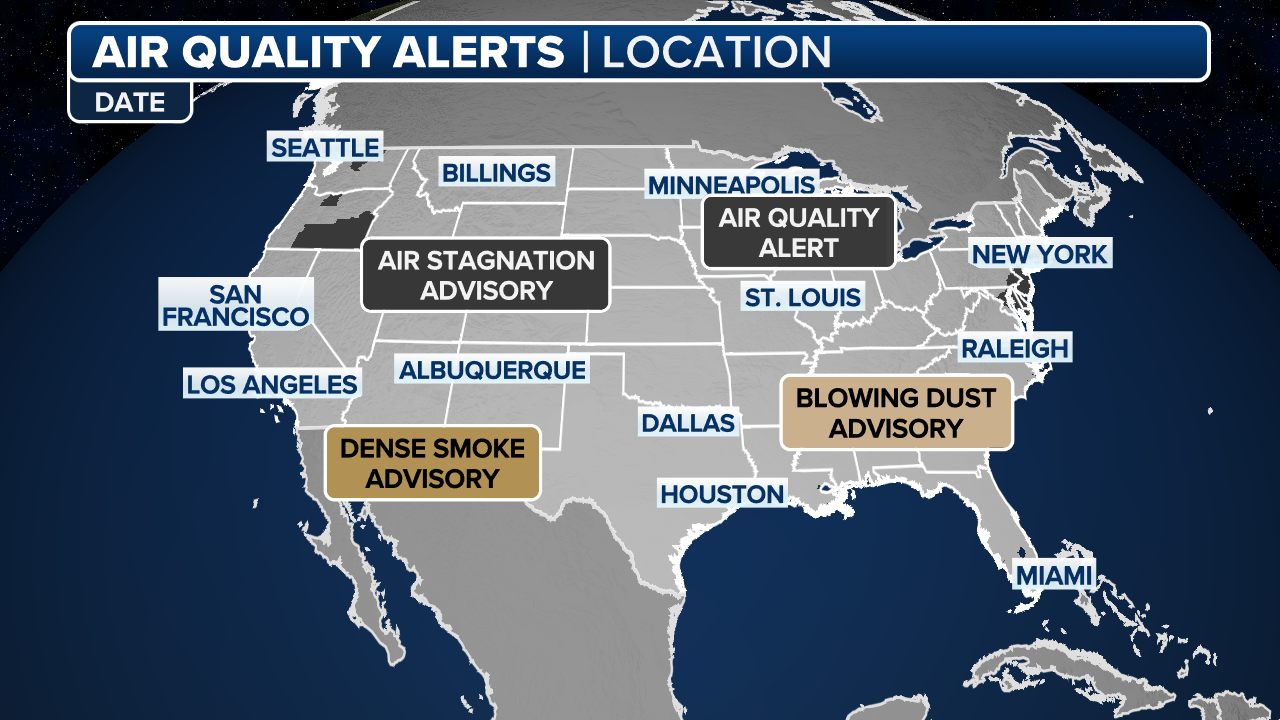 Air Quality Alerts in effect for the Dallas, Texas, area June 21, 2022.
(FOX Weather)
---
Air quality forecasts for the biggest cities show that ozone is the primary pollutant Tuesday, and the air will be unhealthy for sensitive groups, such as people with asthma. Those people should reduce the amount of time they spend outdoors.
GET THE LATEST EPISODE OF THE FOX WEATHER UPDATE PODCAST
Ozone is a colorless, toxic gas that occurs naturally in Earth's atmosphere. When it is found in the upper atmosphere, between 10 and 30 miles above us, the gas is harmless and helps form a protective layer that protects us from the sun's ultraviolet rays. However, when ozone is found near ground level, it can cause problems for people who breathe it.
You can help reduce ozone levels by driving less and putting off outdoor burns.
Be sure to download the FOX Weather app to track any storms in your area and receive potentially life-saving weather alerts issued by the National Weather Service. The free FOX Weather livestream is also available 24/7 on the website and app and on your favorite streaming platform. The FOX Weather Update podcast also provides weather information for the entire country.