97.1 million lightning strikes in the US so far this year – and it's right on cue
That's just about a half-million strikes above average, but it's the first time in the past 3 years the nation has reached those levels by June 30
LOUISVILLE, Colo. – Nearly 100 million bolts of lightning have flashed over the United States so far in 2022, according to data from Vaisala.
And it's just about spot-on normal.
Vaisala's Chris Vagasky says there were just under 97.1 million lightning strikes as measured by the National Lightning Detection Network through June 30.
WATCH: TRUCK 'COMPLETELY FRIED' BY FLORIDA LIGHTNING STRIKE CAUGHT ON CAMERA
The past seven years have averaged 96.6 million lightning strikes by June 30, though this year is the first in the last three years to have been close to that average, Vagasky says.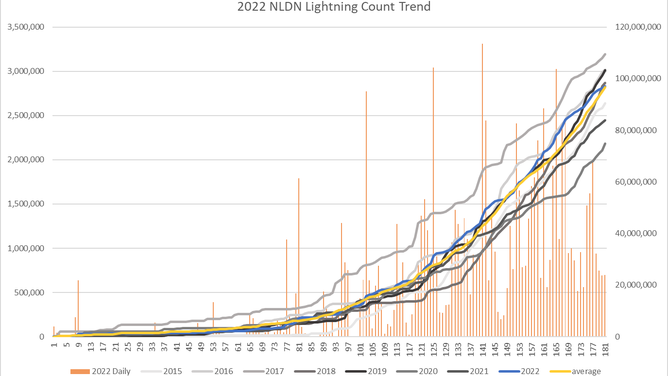 WHEN THUNDER ROARS, EVEN TAKING OUT THE TRASH CAN TURN DEADLY
"The last couple years were way below normal, due in part to less instability and anomalous ridging," Vagasky says. Anomalous ridging would mean higher pressure and fewer storms.
"This year, (atmospheric) heights [a measure of the strength of ridges and troughs] are much closer to normal and I suspect the instability has come back a bit as well."
May 21 has had the most lightning so far with just over 3.3 million lightning strikes, Vagasky said. May 5 (3.04 million), June 14 (3.02 million), April 13 (2.77 million) and June 10 (2.58 million) round out the Top 5 most active lightning days. 
WHAT HAPPENS WHEN SOMEONE IS STRUCK BY LIGHTNING
And Vagasky says the flashiest time of year is still yet to come. July and August rank as the top two months for lightning strikes in the U.S., with June in third place.
Last year, Vaisala detected just over 194 million strikes across the nation, about 24 million more than in 2020.
U.S. STRUCK BY 194 MILLION BOLTS OF LIGHTNING LAST YEAR, LED BY TEXAS' 42 MILLION
"There is still a lot of lightning season left to go," he said.
At least four of the strikes have turned deadly, claiming lives in California, Kentucky, Georgia and North Carolina.