Historic Blizzard of 1966 brought 40-foot snow drifts to Dakotas
The storm began on March 2, 1966, and lasted four days with unrelenting snowfall and wind gusts of 70 mph. At least 18 people died in the storm.
GRAND FORKS, N.D. – As the Dakotas and Montana deal with potentially one of their stronger blizzards on record this week, long-timers in the area might remember back to the historic Blizzard of 1966 that remains among the storms to beat.
The storm began on March 2, 1966, and lasted four days with unrelenting snowfall and wind gusts of 70 mph.
HERE'S WHY 'BLIZZARD ALLEY' IS IN THE NORTHERN PLAINS
Snowfall totals generally reached 20-30 inches but measured as high as 38 inches.
Perhaps the most iconic image from the storm was of North Dakota DOT employee Bill Koch standing next to a set of power lines -- not at the bottom, but at the top -- as snow drifts reached 30-40 feet in spots, though neither the height of that particular power pole nor depth of the snow pack is clear in the photo.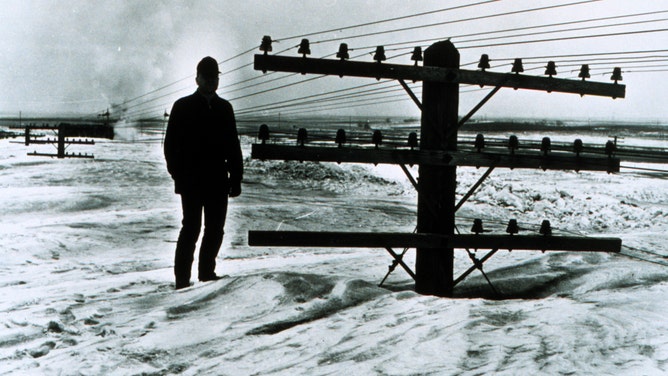 The impacts of the storm were wide and felt for days.
"For the first time in the history of many towns, schools were closed, all business was suspended, newspapers failed to publish, and all forms of traffic came to a complete halt," according to a National Weather Service summary of the historic storm.
WHAT MAKES A BLIZZARD DIFFERENT FROM AN ORDINARY SNOWSTORM
At least 18 people were killed -- some of them, including children, froze to death after simply getting lost in whiteout conditions just steps from their home.
"A 6-year old girl of Strasburg, fully clothed for the outdoors, became separated from her two brothers when the children went from their home to a barn 60 feet away," the NWS wrote. "She was found two days later a quarter mile from home, frozen to death."
A 12-year-old girl went out of her home to close a chicken-coop door about 100 feet away. She too, was never able to find her way back home. Her frozen body was later discovered a half mile away.
WHAT YOU SHOULD KNOW ABOUT BLOWING, DRIFTING SNOW
Some 500 passengers were trapped as three trains became stuck in railway cuts and then nearly buried in snow. Phone service was knocked out for days, and sheds and aircraft hangars were crushed by heavy snow.
But the heavy snow had some other unusual impacts.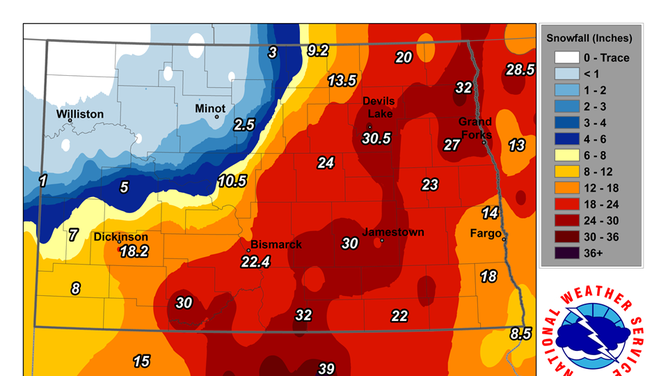 Snow blasted into attics, freezing chimney vents and causing cases of gas poisoning.
Livestock losses were into the tens of thousands of animals and $4 million in loss. Aside from collapsed structures, some cattle suffocated when their barns were sealed by heavy snowfall. Other livestock left milling outside eventually compacted the snowfall to where the base rose above the fence line, allowing the cattle to wander away and eventually freezing to death.
Snow records may fall in current blizzard
So far in the current storm, snowfall totals ranged from about 18-24 inches across Montana and 12-18 inches across North Dakota into western Minnesota, with more snow expected Wednesday into Thursday in North Dakota.
This storm even has the potential to break the North Dakota state record for the greatest three-day snowfall. The current record is held by Lisbon, which picked up 35 inches from Feb. 13-15, 1915.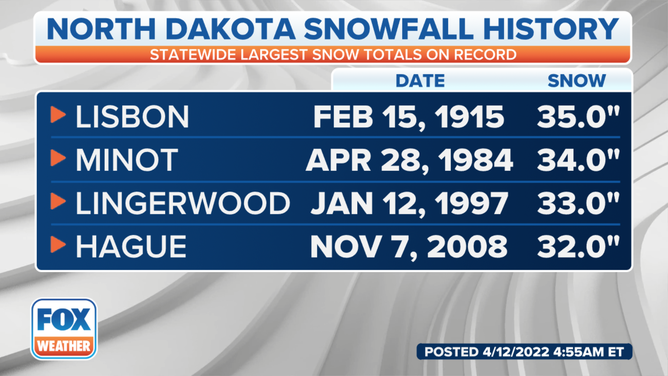 POTENTIALLY LIFE-THREATNING BLIZZARD POUNDS NORTHERN PLAINS WITH HISTORIC SNOW, HIGH WINDS
Travel has been restricted across much of the region with the main Interstate 94 freeway shut down between Jamestown and the Montana border.
Additional snowfall of about 12-18 inches was forecast across the northern areas of North Dakota into Thursday.
So far there are no reports of any injuries in the current blizzard.