2 wildfires in New Mexico merge for a total of 56,000 acres burned
Thousands of residents have been told to evacuate immediately or be prepared to leave
Two wildfires in New Mexico merged over the weekend increasing the total acres burned so far to more than 56,000 acres.
HOW TO WATCH FOX WEATHER ON TV
The Hermits Peak Fire was declared a wildfire on April 6 after a prescribed burn got out of control and quickly began to spread.
Officials said conditions were within the parameters for a prescribed burn, but unexpected, erratic winds during the afternoon caused multiple spots to spread outside the perimeter, according to officials.
The Calf Canyon Fire, located on the Santa Fe National Forest in Gallinas Canyon along Highway 65, began on April 19.
Thousands of residents have been told to evacuate immediately or be prepared to leave at a moment's notice if the order is given.
WILDFIRES CAN BE DANGEROUS TO YOUR HEALTH EVEN IF YOU'RE NOWHERE NEAR ONE
GO (mandatory full evacuation):
San Miguel County: Big Pine, Canovas Canyon, Porvenir Canyon, El Porvenir, Lower Canyon Road, Gallinas, Trout Springs, San Ignacio, Lone Pine Mesa, Chavez, Canoncito, Pendaries Village, Pendaries Valley East, Rociada, Upper Rociada and Tierra Monte Canon, La Canada, Las Tusas and Manuelitas
Mora County: Penasco Blanco, South Carmen, Rito Cebolla, Ledoux, Upper Morphy, Santiago Creek, Abuelo, Puertocito and Buena Vista
SET (prepare to evacuate):
Mora County: Watrous and Valmora
READY (get ready for possible evacuations): 
San Miguel County: Las Dispensas, County Road A3 and Los Alamitos
Roads across the area have also been closed while crews work to extinguish the fire.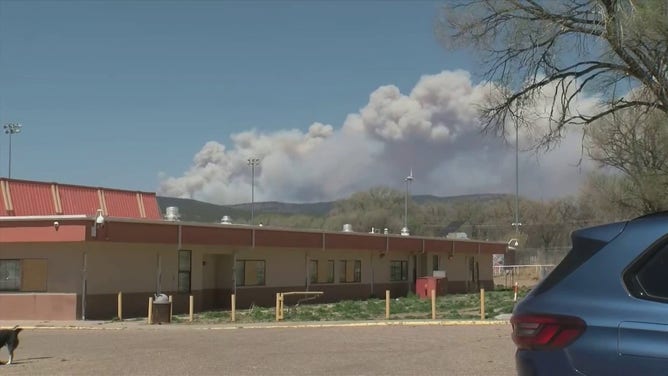 HOW THE LAY OF THE LAND AFFECTS WILDFIRE BEHAVIOR
San Miguel County: 
State Road 65 at Montezuma Pond and CR A27 will be closed
CR A3 and CR A4A
County Road A3A remains open to fire personnel and residents only
State Roads 105, 94, 266 and 276 will be closed
State Road 518 at the 94 is closed northbound
Mora County:
State Road 161 at 518
State Road 442 at 518
State Road 94 at 518
State Road 518 is closed from La Cueva to Sapello
Mora residents are only able to evacuate on 434 to Angel Fire or 518 to Taos
County Road A011 is closed at 518
Routes to Las Vegas or I-25 aren't accessible
Officials said power has been shut off to all evacuated areas and will be turned back on when conditions are safe for first responders.