1 dead, several firefighters injured and livestock killed by Nebraska wildfires
Nebraska's Emergency Operations Center activated
Crews are working to extinguish several fires burning across Nebraska that have claimed the life of at least one person, injured three firefighters and killed 100 calves.
According to the Nebraska National Guard, the state's Emergency Operations Center was activated Friday night to coordinate a statewide response to the fires burning in the western and central parts of the state.
Fire crews responded to reports of wildfires burning in 14 counties. The Rocky Mountain Complex Incident Management Team One assumed control as of Sunday.
HOW TO WATCH FOX WEATHER ON TV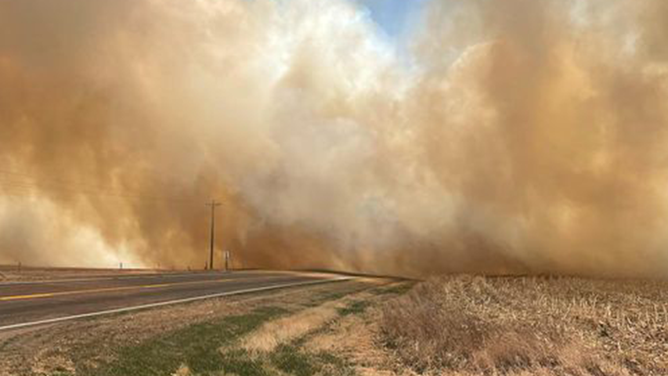 John Trumble was killed and 11 firefighters were injured during those fires, Tweeted the Nebraska State Patrol.
The Nebraska Emergency Management Agency posted that Trumble, a retired fire chief, was overcome by smoke and fire while working as a spotter in Red Willow County
HOW THE LAY OF THE LAND AFFECTS WILDFIRE BEHAVIOR
A frontend loader bucket sparked near a hay facility and the fire quickly spread on gusty winds. The Rising City Fire set calving sheds ablaze and about 100 animals died. Two firefighters suffered smoke inhalation. Crews felt they extinguished the flames early Sunday morning, but the fire erupted again as gusty winds picked up in the afternoon.
The Road 702 Fire already burned 50,000 acres. Officials dropped earlier evacuation orders across Red Willow, Furnas and Frontier Counties. A Multi-Mission Aircraft arrived from Colorado to better asses the size and containment. Sunday's briefing stated that the fire was still growing.
Winds gusted to 60 mph in Burt County where four people were injured and a firetruck burned.
Several neighborhoods across the state were under mandatory evacuations over the weekend, but all orders have been lifted.
State officials said the Emergency Operations Center would continue with 24-hour operations to monitor conditions.