What to do with your Christmas tree after the holidays
Christmas trees are biodegradable, which means they can be reused or recycled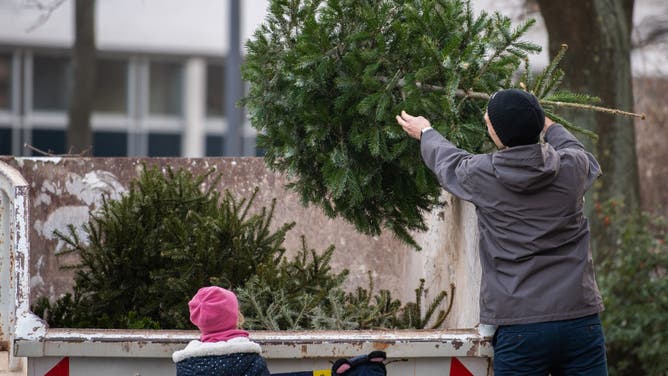 After the creatures start stirring and the stockings are removed from the chimney, the attention usually turns to what to do next with the Christmas tree that's likely giving the state of Charlie Brown's tree a run for its money.
Horticulturists and Christmas tree experts advise holiday-goers not to use the trash and to find a more eco-friendly alternative for their natural tree.
The best choice likely depends on your community, but experts say you shouldn't have to look far for a variety of options.
HOW ASTRONAUTS CELEBRATE CHRISTMAS 200 MILES ABOVE EARTH
Mulch and landscape uses
Communities across the country offer recycling pick-ups or drop-offs sites, where trees are usually turned into mulch and used by local governments.
Arborists say mulch has various benefits, including limiting erosion and helping inject essential nutrients into the ground. 
But for those areas where pick-up isn't available or if you are a venturous enough to create your own landscaping material, the experts at Home Depot have several tips to help earn that green thumb.
The home improvement retailer suggests:
Renting or buying woodchopper
Storing the mulch for a year before using
Making the mulching a community project
Benefit neighboring animal population
Horticulturists say plenty of animals outside a home can take advantage of an old Christmas tree.
If there is enough space on your property, suggestions include making the natural tree a bird or fish feeder.
University of Georgia Extension specialists suggest if you have your heart set helping out the fish population, attach some type of natural weight to the end of the tree to help anchor it below the surface of the lake or pond.
From there, the experts say the fish will take care of the rest and could use the area around the tree for feeding or use the branches and stem for safe cover.
If birds are more your forte, the Oklahoma State University Extension has several tips to treat your feathered friends.
Horticulturists suggest finding a steady location and decorating the remnants of the tree with nourishing food for the winter months.
Popular treats for birds include:
"Turn this time into an ongoing science project," Casey Hentges, a horticulture specialist with OSU Extension, said. "Together with your children, learn about wildlife that's right in your own backyard. For the best results, don't place the tree right next to your home. Move it toward the back part of your yard, so you won't scare the birds when you're trying to observe them."
HOW CHRISTMAS LIGHTS WERE INVENTED TO PROMOTE EDISON'S LIGHT BULB
Donate the tree to an organization
Believe it or not, many local groups take part in tree pick-up or drop-off programs. You'll want to check with your local boy scout pack or your area's zoo for specific needs.
Some boy scouts use the opportunity of collecting the trees and recycling them as a fundraiser to kick off the New Year.
If you don't live far from a zoo and have the means to transport your old Christmas tree, several animal care organizations around the country are always looking for a donation.
Zoos and animal sanctuaries use old Christmas trees as treats and enrichment objects for the animals.
The Catty Shack Ranch Wildlife Sanctuary in Jacksonville, Florida, has welcomed donations of old Christmas trees for years.
The non-profit cares for a range of animals from tigers and lions to pumas and foxes and says the trees always to a wintertime treat.
Officials at the North Georgia Zoo say anyone interested in donating a tree to a wildlife sanctuary should doublecheck to make sure all the tinsel and decorations have been removed.
The zoo also reminds everyone never to donate a tree that has been treated with chemicals, as it could be harmful to animals.