Artificial reef experiments aim to protect coastal military bases from hurricanes' massive waves, erosion
In Miami, the University of Miami is constructing an artificial reef made from coral to safeguard military bases from storms.
MIAMI – The U.S. Department of Defense has issued a challenge to three universities to develop self-sustaining reefs that can protect its coastal bases from hurricanes and erosion.
In Miami, the University of Miami is constructing an artificial reef made from coral to safeguard military bases from storms.
In 2018, Hurricane Michael made landfall close to Florida's Tyndall Air Force Base as a Category 5 storm. This led to severe wind damage and storm surge across the Florida Panhandle area, resulting in more than $4 billion worth of damage to the military base alone.
"Hurricane Michael wiped Tyndall off. It was scoured," said Catherine Campbell, DARPA "Reefense" program manager. "I mean, it was catastrophic damage to the base."
WHAT HAPPENS UNDERWATER DURING A HURRICANE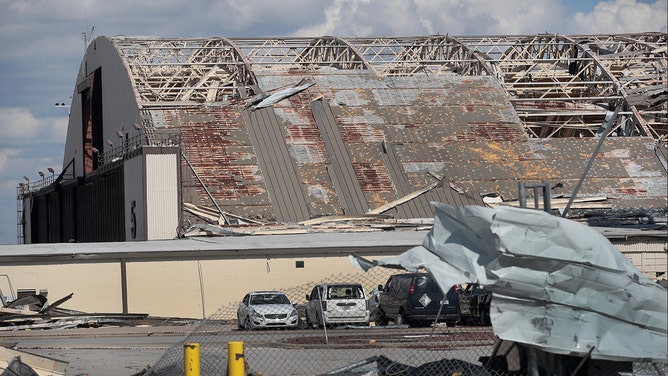 Michael destroyed 99% of Tyndall Air Force Base. According to the base, they are undergoing a five-to-seven-year rebuild. The projects to complete the base are priced at $4.9 billion. Separately, the Defense Advanced Research Projects Agency (DARPA) is investing almost $60 million in researching these protective reefs for their bases to help mitigate these damages to bases.
"We're looking for a hybrid system that is both some great infrastructure to get this reef jump-started, but also has a healthy ecosystem on top," Campbell said.
In the first phase of testing, the University of Miami is using a hurricane-simulating wind wave tank to test a scaled-down version of the system using metal tubes.
In order to disrupt wave momentum before reaching land, structures with a base that resembles honeycombs with holes and wavy tops are built. Additionally, corals are being bred to be thermally tolerant and grow at a faster rate on these structures.
FLORIDA ISLAND TRANSFORMED INTO RESILIENT ECOSYSTEM FOR MARINE LIFE TO THRIVE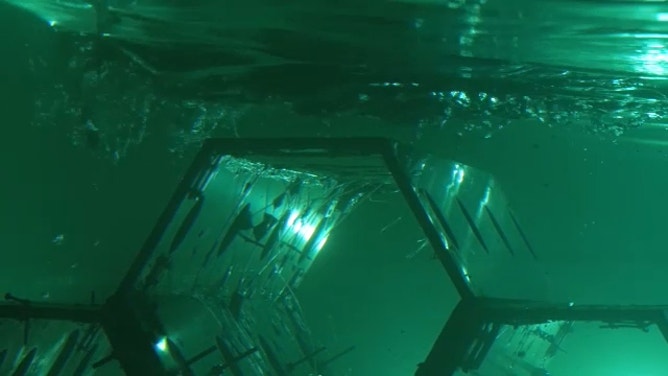 "In phases two and three, we have to create two 50-meter hybrid reefs, so everything will be 20 times larger," said Landolf Rhode-Barbarigos, associate professor at the University of Miami College of Engineering, referring to the metal tubes in the tank. "So in real life, we're talking about four to five feet diameter tubes made out of sustainable biophilic concrete."
Researchers will evaluate the performance of both the design and the corals on it afterward. Their efforts will have a positive impact on the Atlantic sites.
'SHOCKING': FLORIDA CORAL REEF FOUND COMPLETELY BLEACHED AS MARINE HEAT WAVE CONTINUES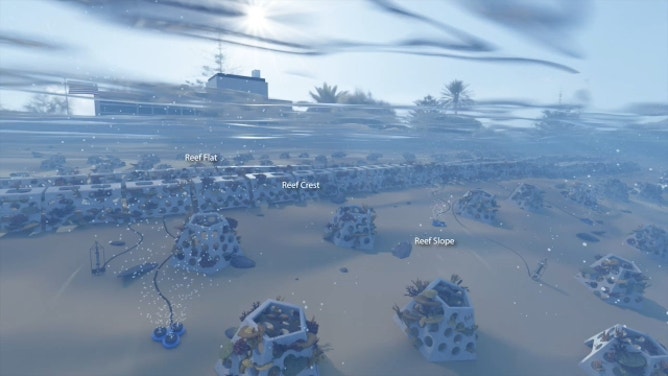 Rutgers University in New Jersey is developing oyster reefs for Gulf Coast sites, while the University of Hawaii is creating a coral reef for Pacific Ocean locations in Hawaii.
"We're just in DARPA, proving out the concept that this will work. And then if it works, then it will be adopted on a much larger scale in front of bases," Campbell said.
The "Refeense" program by DARPA aims to place 100 meters of each design along coastal areas over a span of five years. The objective is to reduce at least 70% of wave energy with every structure aiming at 90% with their final versions.
For testing purposes, the Miami team plans to position their reef south of the city in Biscayne National Park.