Hungry goats will gladly munch on your old Christmas tree
Old Christmas trees must have all decorations, tinsel and garland removed before they can be fed to goats
If you're getting ready to take down your Christmas tree, some farms in Massachusetts have the perfect way to dispose of it – feed them to hungry goats!
"Don't throw away that Christmas tree," the Carl E. Dahl House said in a Facebook post. "Just a reminder that our goats would LOVE to recycle that tree for you!"
However, there are some things you need to do before providing that snack for the goats.
The trees need to be undecorated, and all the tinsel and garland must be removed beforehand.
The farm said it would pick up old Christmas trees for anyone in the Gardner, Massachusetts, area. But anyone else can drop them off if they don't live nearby.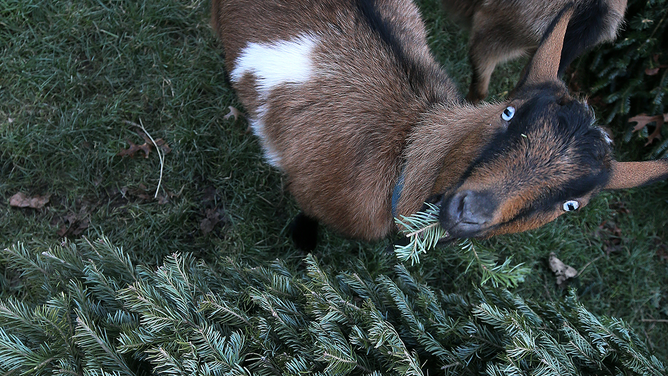 Several other farms in Massachusetts are also accepting old Christmas trees to help feed their goats.
The Channell Homestead in Hanson, Massachusetts, is also accepting old trees, but anyone wishing to donate is asked to confirm the trees haven't been sprayed with pesticides or fire retardants. The farm said in a Facebook post that the trees need to be alive, so if you have one that's dead, it can't be donated.
The Hidden Hill Farm, located in Spencer, Massachusetts, accepted nearly 300 Christmas trees last year for their goats, and they'll be taking them again this year until Jan. 9.