Video: Bison charges at Yellowstone tourist who tried to touch it
One animal expert blames the desire for likes on social media for people ignoring common sense when it comes to encounters with wild animals at Yellowstone National Park.
YELLOWSTONE NATIONAL PARK, Wyo. – A tourist nearly got gored by a bison earlier this month after trying to pet it.
The bison was grazing May 20 near a walkway in Yellowstone National Park. For about 10 minutes, the photographer said, person after person approached for selfies.
The video showed one woman tried to reach out and pet the massive animal's head. The bison then lowered his horns and luged at the women. One horn actually snagged the sweater around her waist as she tried to run away.
'DUDE, THAT THING WILL KILL YOU,' EMERGENCY ROOM NURSE YELLS AS MEN APPROACH BISON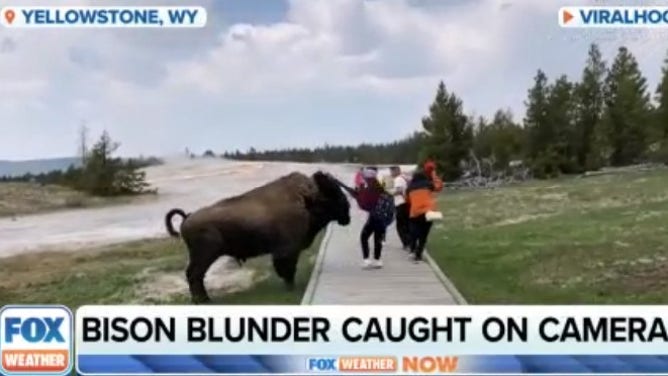 SNOWMOBILER NEARLY CRUSHED BY ANGRY MOOSE WHEN ANIMAL CHARGES IN IDAHO
"You know, people look at them, they think it looks like a big brown hairy cow. 'I want to take a picture because I've seen all the pictures with the bison,'" said Zoo Miami ambassador Ron Magill. "I credit a lot of this stuff to social media – people who want to get that selfie. They want to get more likes, and they might not realize they are going to end up in the hospital."
Bison are the largest land mammal in North America, can run up to 35 mph and can turn on a dime, according to Magill. Large males can weigh up to a ton.
Spring is most dangerous season for bison interactions
Guidelines at Yellowstone tell visitors to stay at least 25 yards away from bison. Magill thinks the need of some people to get likes on social media may cause them to ignore common sense.
"They're taking their phones out. They're trying to pose. They're turning their backs to a wild animal. I don't know what they're thinking," Magill said. "Now, the calving season comes along, the females are going to be very protective of their calves."
TOURISTS WARNED TO MOVE AWAY FROM BISON FIGHT IN YELLOWSTONE
Males in the area are also very frisky, he said. They can become aggressive when threatened or disturbed, especially during rutting season. They are also territorial. Magill said the body language of the bison in the video made it clear he was upset.
"When a tail goes up on a bison, that is bad news, guys, really bad news," Magill said. "This woman actually looked like she was going to go pet that animal. I don't know what she's thinking. It's like people think they're at Disney World."
It is not only humans in danger of getting hurt by wildlife interactions. Just last week, authorities had to put a bison calf down after they said a man touched the animal, and the baby was shunned by the herd.
YELLOWSTONE OFFICIALS EUTHANIZE BISON CALF AFTER THEY SAY MAN "INTENTIONALLY DISTURBED" IT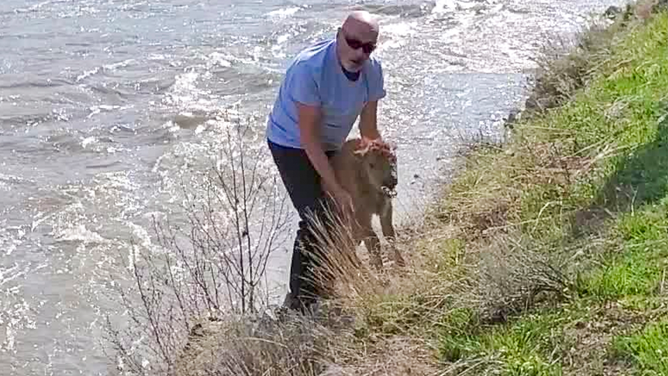 'Give wildlife room, use a zoom'
The National Park Service advised on its website that people should use a telephoto lense, spotting scope or binoculars to get an up-close look at the wild animals. 
"Give wildlife room, use a zoom," the website reads.
Magill said that people who find themselves face-to-face with a one-ton bison are probably ignoring proper protocol. He recommended that people should back away slowly and move behind an object like a tree or car. He said people should never raise their arms and yell like they would with a bear – an action a bison interprets as a challenge.