Snowmobiler nearly crushed by angry moose when animal charges in Idaho
The man who recorded the video said had his brother not jumped off the snowmobile when he did, he would have been crushed between the moose and handlebars of the vehicle.
PALISADES, Idaho - A snowmobiler in Idaho leapt from his vehicle and escaped being crushed by a moose when the animal charged at him in Idaho, and the whole thing was caught on camera.
The dramatic incident occurred over the weekend near the town of Palisades, Idaho.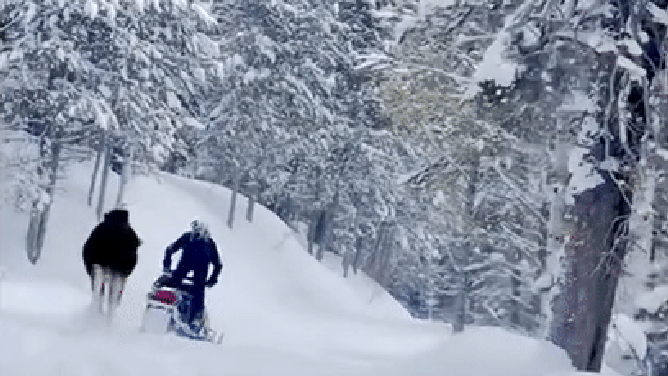 Jeremiah Bigelow posted the video to social media and said that had his brother been just one second slower when jumping off the snowmobile, catastrophe could have occurred.
Bigelow said he, his son, his brother and two of his friends were out enjoying the snowy landscape when the brother pulled farther ahead of the group.
That's when the moose got between them and began to charge, stopping about 20 feet from them.
"My brother saw what happened and was trying to draw the moose's attention away from us," Bigelow said in a Facebook post.
That plan worked, but maybe a little too well.
VIDEO SHOWS MOOSE KICKING WOMAN IN THE HEAD IN ALASKA
Bigelow said it appeared as though the moose was going to saunter off into the woods, but it changed its mind and started to charge at his brother.
"My brother thought he could hit the throttle and get out of there, but the engine died when he did," Bigelow added. "Had my brother not jumped when he did, he would have been crushed under the full weight of the moose against the handlebars."
The brother jumped off the snowmobile in the nick of time and avoided being crushed by the moose. Once the moose slammed into the snowmobile, it flipped over and landed on its side.
MOOSE MAYHEM: BATTLE CAPTURED ON VIDEO AS DUO SPAR IN COLORADO DRIVEWAY
That's when Bigelow raced ahead to try and protect his brother if the moose decided to get back on its feet and charge again, but it got up and took off into the woods.
Bigelow added that if he were in the same situation again, he would give the moose much more space.
"Bad scenario with an OK outcome," he said.
Bigelow noted that the moose was unharmed and that he saw it a short time later, walking just fine.