'It was terribly tippy': Nebraska farmer recounts sailing down river in 846-pound pumpkin
Surrounded by cornfields in southeastern Nebraska, a Syracuse farmer spent six months growing an 846-pound pumpkin that he would later paddle 38 miles down the Missouri River, hoping to set a new Guinness World Record.
SYRACUSE, Neb. – It was a love affair destined for the record books and something Duane Hansen said he has spent years perfecting.
Surrounded by cornfields in southeastern Nebraska, the farmer said he spent so much time away from his wife over the last six months that she even began to get jealous. However, it wasn't a secret what he was doing. Everyone knew he was busy growing an 846-pound pumpkin, which his wife named Berta.
"I spent so much time with Berta, and she knew it," Hansen said with a laugh. "She knew where I was. I was out there with Berta."
He admitted there was no money in perfecting the craft, and he had spent thousands of dollars over the years trying to grow giant pumpkins. The Syracuse man said he has been harvesting vegetables as a hobby since childhood, but raising Berta was no easy task.
"It sounds like a lot, but if you want to grow giant pumpkins, this is what you have to do."
Hansen said he started the process 10 years ago, but the harder he tried, the more he failed. After five years of unsuccessful attempts, Hansen heard about a giant pumpkin-growing seminar in Portland, Oregon, and decided to attend.
MAN BREAKS WORLD RECORD BY FLOATING 38 MILES DOWN MISSOURI RIVER IN 800-POUND PUMPKIN
"I just finally, this year, got it dialed in where I can get the pumpkins up to at least maybe 1,000 pounds," he said.
Hansen decided he would celebrate his 60th birthday by turning Berta into a boat. He used it to float down the Missouri River and into the record books, he hopes.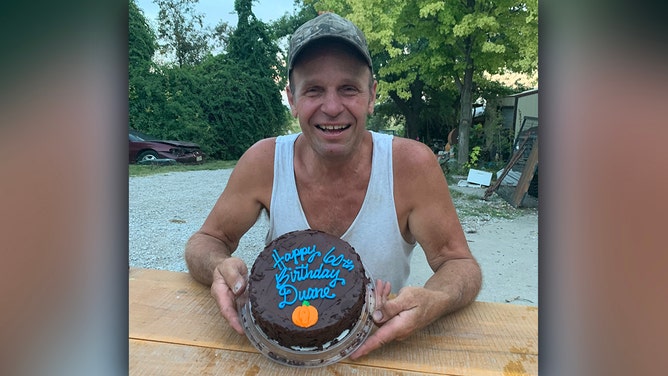 A Fergus Falls, Minnesota, man currently holds the Guinness World record for the longest journey by pumpkin boat at 25.5 miles. His hollowed squash sailed down the Red River that connects Grand Forks in North Dakota, to Breckenridge, Minnesota, on Oct. 15, 2016.
Hansen said his 38-mile trip from Bellevue to Nebraska City in his floating gourd will soon smash that record once it becomes official.
"I didn't expect all this attention," he said. "I just wanted to have that record. Personal achievement, you might say. This is not an official record until they accept my documentation."
WHEN IT IS METEOROLOGICALLY OK TO DRINK A PUMPKIN SPICE LATTE
With more than enough documentation to prove his lifelong accomplishment, Hansen said he is more confident about gaining the new title than he ever had in accomplishing it.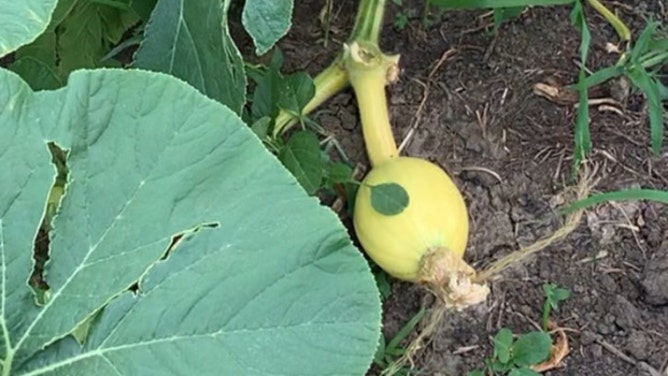 The birth of Berta
It was a name Hansen's wife adopted that stuck with him, and Berta would soon become a member of their family. 
While her scale-tipping weight might seem like a lot, Hansen feels he cut her weight short by 200 pounds because time was not on his side.
"This was the time," he said. "I had to do it before it got too cold. You would freeze to death going down the river for 12 hours."
Last month, Berta was growing about 15 pounds a day and could have been pushed to 30 pounds, but Hansen was afraid he would kill the gourd due to past experiences.
HOW THE HUMBLE PUMPKIN BECAME A FALL FAVORITE
Timing had to be perfect. Berta was planted about the first week of March and germinated in about four days. The sprout was then carefully transferred out to the garden into its own separate greenhouse, locked in with plenty of heat.
"You need to count the number of days in order to get this thing big enough," Hansen said. "It's complicated. You don't just go putting a seed in the ground like you do with other stuff."
After working 12-hour nights pushing coal at the city power plant, Hansen would come home and tend to Berta. He said he would worry about the growing gourd all the time. Aside from hail, heat would also become his worst enemy in Nebraska. It would be common to see a week of 100-degree days.
"And these giant pumpkins like the perfect temperature about 85," he said. "So you have to start pulling back the heat with shade cloth and water misters. It sounds like a lot, but if you want to grow giant pumpkins, this is what you have to do."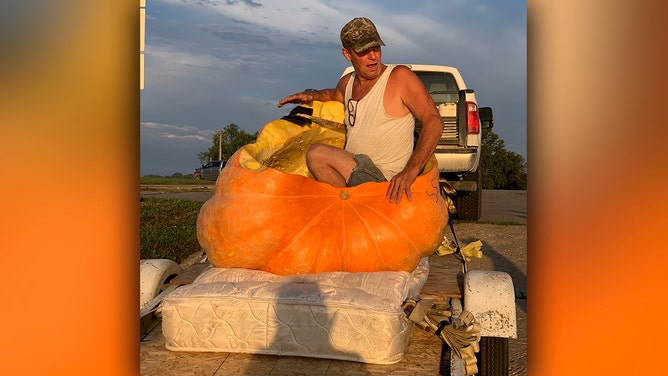 Ready for pickin'
The time had come to pick Berta.
"I had never done this, and so I didn't want to run out of time," Hansen said. "I picked her two days before we went to go."
Once the pumpkin was cut from the vine on Aug. 25, Berta was lifted onto a skid loader to haul her to the shop to begin the next transformation. After determining where the top of the boat would be, Hansen cut it open and cleaned out about 150 pounds of innards to allow him to fit inside. Each step along the way was carefully documented.
"The next problem is you got to get it to the river," he said. "So I used a boat trailer with a mattress on it. And we strapped her down, and we got to the river in one piece."
Once Berta was in the river, Hansen knew he finally had a shot at a world record.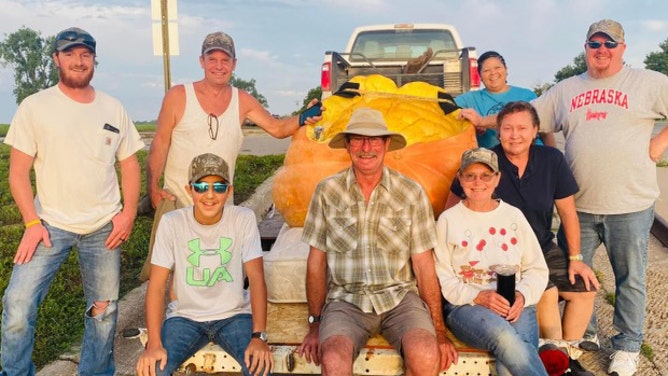 'It was terribly tippy'
Hansen's laborious journey down the Missouri River was mapped out ahead of time.
"The record was 25.5 miles, and, actually, I wanted to double it," Hansen said. "And it's a good thing I didn't try to do that because I would never have made it back to Nebraska City."
Hansen said Berta hit rocks twice and almost tipped him over. Watching his every move along the way was a rescue boat filled with family monitoring him as he navigated the river.
"At any moment, this pumpkin could go over," Hansen said. "It was terribly tippy. It was like taking a humongous cork and cutting a hole in the middle and trying to sit in it and go down the river."
HOW TO WATCH FOX WEATHER ON TV
This wasn't like taking a kayak down the river, and there were a couple of times Hansen wished he was in a kayak. He had to keep it perfectly balanced the whole time, because the water level was only about 8 inches below the top of the pumpkin. He said he even took on some water at times, but never swamped it.
Hansen said he spent his 12 hours sailing the Missouri River paddling and listening to current events on his plastic bag-wrapped phone.
"I got my butt chewed for listening to FOX News going down the river in my pumpkin," he said with a chuckle.
He said his family was yelling at him to conserve the battery on his phone so he could track his miles and document his travels.
"You know, it got kind of boring (on the river)," Hansen said. "That's just the way it is, but I guess that's what I signed up for."
However, the one thing that wasn't dull that day was the weather. Hansen said it was perfect in the morning and then got hot in the afternoon.
"Then, 8 miles from Nebraska City, a storm came through, and it just poured down rain for about 10 minutes," Hansen said. "Then, you start to get cold because I'm soaking wet."
Another couple miles down the river after that, Hansen said, there was another round of torrential rain. He said the last few miles weren't enjoyable.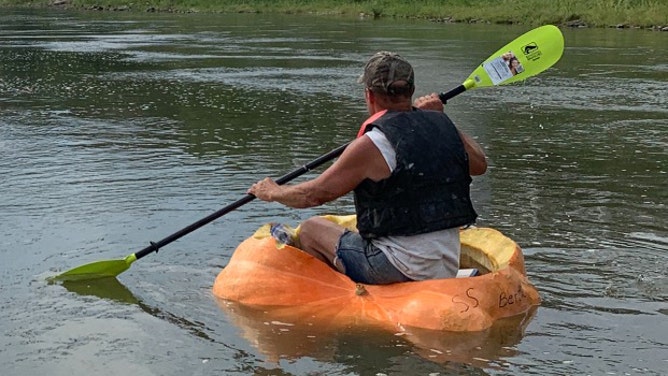 Love and marriage
After completing the journey, Hansen was overwhelmed by the welcome at the marina from a crowd of 100 cheering people. However, he only had his mind set on one thing: a hot shower.
"I was freezing. I was freezing to death," he said.
While Hansen is now making up lost time with his wife, his next goal is to grow a 1-ton pumpkin. He kept the nearly 200 seeds from Berta and plans to hand-pollinate them for his next love affair.
"My daughter, I think she might be crazier than me," he said. "She's got this idea, and I'm actually considering it."
Hansen said his daughted asked him if he could grow a pumpkin big enough for the both of them to paddle down the river. He said he would hate to try it with anything less than an 1,800-pound gourd. 
"That's the next thing I'm thinking about," he said. "There's always something new."