Underwater spectacle: Divers promote reef protection at Florida music festival
Looe Key was named after the H.M.S. Looe, a British frigate that sank there in 1744
LOOE KEY REEF, Fla. – Divers and snorkelers can promote reef protection and explore the continental United States' only living coral barrier reef during a one-of-a-kind underwater concert.
The 38th annual Lower Keys Underwater Music Festival takes place Saturday at Looe Key Reef, an area of the Florida Keys National Marine Sanctuary approximately 6 miles south of Big Pine Key. 
HOW TO WATCH FOX WEATHER ON TV
Several hundred underwater enthusiasts from all over the world submerged in the ocean enjoy the melodies of music broadcast by a local radio station that is piped underwater through speakers suspended beneath boats above the reef.
REEF WRECK: WORLD'S 3RD-LARGEST INTENTIONALLY-SUNK SHIP CELEBRATES 20 YEARS AS MARINE HABITAT
The subsea concert, complete with costumed performers is set for 10 a.m. to 2 p.m., will entertain visits with a sea-focused playlist that typically includes humpback whale songs and tunes like the Beatles' "Yellow Submarine" and Jimmy Buffett's "Fins." 
Diver awareness announcements are also made to emphasize ways to enjoy the reef while minimizing environmental impacts. 
THIS COULD BE KEY TO SAVING NORTH AMERICA'S ONLY BARRIER REEF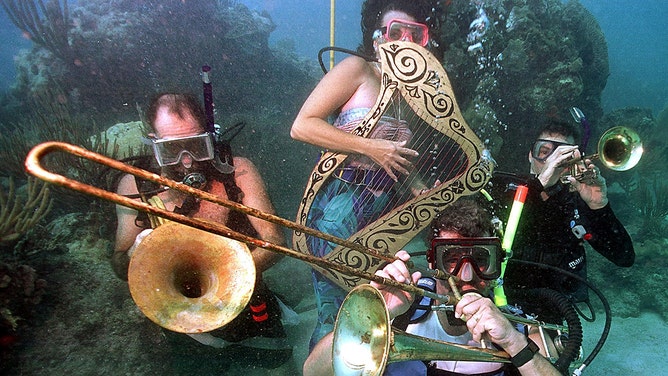 Looe Key was named after the H.M.S. Looe, a British frigate that sank there in 1744. The 5.3 nautical mile park is fully protected from spearfishing, fishing and shell collecting. It's also known as the most spectacular living reef in North America for its diverse population of corals and its colorful array of tropical fish.
Click here to learn more about the event.
CLICK HERE TO GET THE FOX WEATHER UPDATE PODCAST
Be sure to download the FOX Weather app to track the temperatures in your area. The free FOX Weather livestream is also available 24/7 on the website and app and on your favorite streaming platform. The FOX Weather Update podcast also provides weather information for the entire country.