Reef wreck: World's 3rd-largest intentionally-sunk ship celebrates 20 years as marine habitat
"Ultimately, the Spiegel Grove is a story that Hollywood would never have been able to script in a million years," said Rob Bleser, the sink project manager of the vessel
KEY LARGO, Fla. – It has been 20 years since a former Navy ship was intentionally sunk to become an artificial reef off the Florida Keys.
Recreational divers affixed a commemorative plaque to the 510-foot-long USS Spiegel Grove on Sunday honoring the group of veterans who served on the dock-landing ship that was commissioned in 1956. It also recognizes the supporters of the multimillion-dollar project.
SURVIVOR OF TYPHOONS AND HURRICANES, RETIRED NAVY SHIP TO BECOME A MUSEUM IN FLORIDA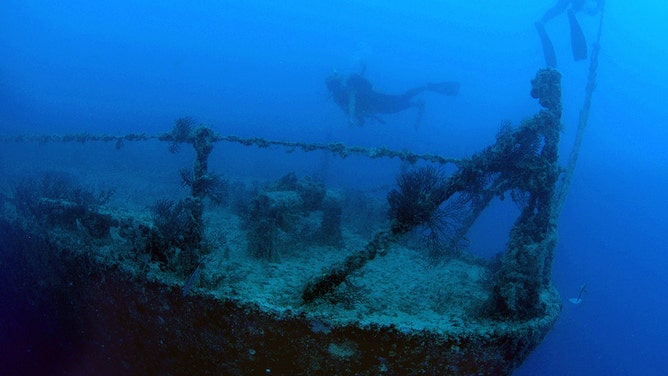 Decommissioned in 1989, the ship spent 12 years tethered in the Navy's "mothball fleet" in Virginia's James River. It earned international notoriety after it sank prematurely on May 17, 2002, while in tow to the Florida Keys, about 6 hours before its intended scuttling. Strong currents and waves generated by Hurricane Dennis three years later pushed the ship into the intended upright position.
HOW THE TITANIC WAS TAKEN DOWN BY A MIRAGE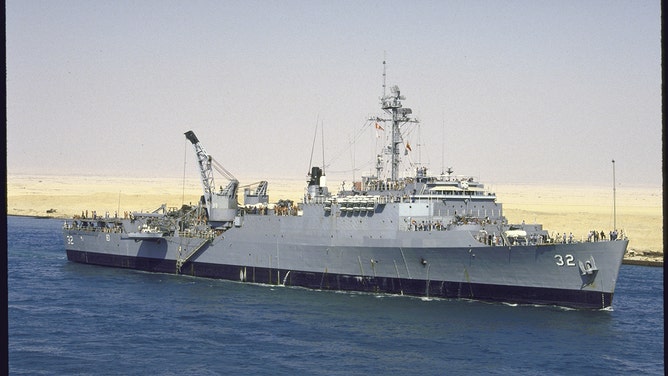 "Ultimately, the Spiegel Grove is a story that Hollywood would never have been able to script in a million years," said Rob Bleser, a Key Largo dive operator and the sink project manager of the vessel that rests on the ocean bottom 130 feet below the surface.
The ship opened to recreational diving in June 2002.
LOST SHIP ENDURANCE FOUND BRILLIANTLY PRESERVED 107 YEARS AFTER SINKING OFF ANTARCTICA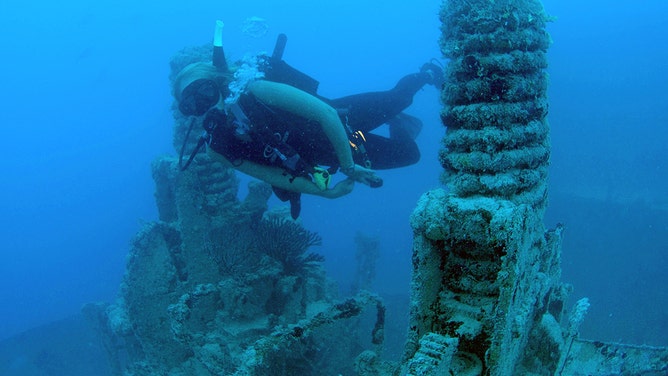 South Carolina resident Karen Berrios has been trained as an advanced diver to experience the former military vessel on which both her late father and uncle served during the Cold War era. 
"So, when I went down, I was just trying to imagine myself kinda in my dad's footsteps looking around, did he step here at one point of time, just like I am right today," recalled Berrios, who helped install Sunday's plaque that bears her family members' names.
WRECKAGE OF 207-YEAR-OLD WHALING SHIP THAT SANK IN GULF OF MEXICO FOUND
The vessel remains the world's third-largest ship ever intentionally sank to become an artificial reef. The popular Florida Keys dive site also attracts thousands of wreck-certified divers each year.
Dan Dawson owns Horizon Divers in Key Largo and runs daily dive trips to the Spiegel Grove. He feels the ship offers a glimpse into history, attracting divers who have served on it as well as their kids and grandkids.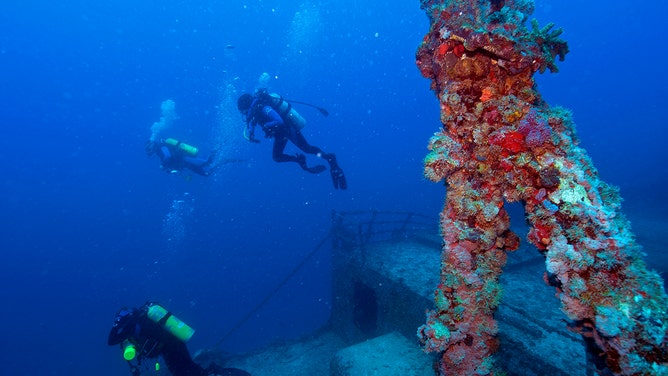 "This wreck itself brings many, many divers from all over the world just to see what we have here in Key Largo," Dawson said.
FAST FACTS: Spiegel Grove
Date sunk: June 10, 2002. (Hurricane Dennis turned the ship upright in July 2005.)
Location: 6 miles off of Key Largo
Maximum depth: 130 feet
Minimum depth: 45 feet
Ship length: 510 feet
Ship height: 84 feet
Tonnage: 6,880
Ship type: U.S. Navy Landing Ship Dock
Date commissioned: 1956
Date decommissioned: 1989
The ship was named after the Ohio estate of President Rutherford B. Hayes.