A royal 'brolly': Queen's love of umbrellas sheltered her humble style
'There's a level of humility that you do not expect in someone who is so world-famous,' said Nigel Fulton, CEO of Fulton Umbrellas. The company has provided the rainy-day accessory to Queen Elizabeth II for decades.
LONDON – Long live the queen. Long live her classic fashion.
Queen Elizabeth II's understated and humble style was filled with bold and colorful palettes throughout her 70-year reign until the 96-year-old's peaceful death last week at her beloved Balmoral Castle.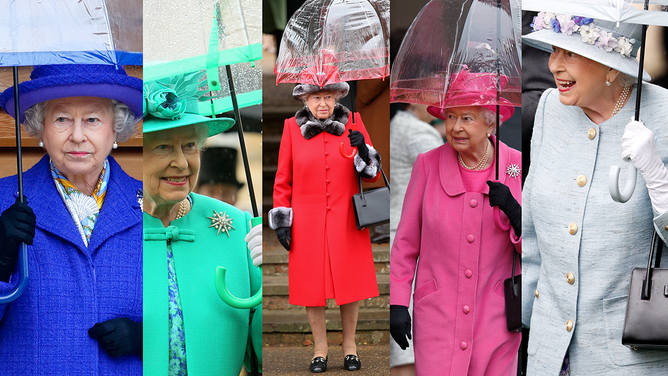 "There's a level of humility that you do not expect in someone who is so world-famous," Fulton Umbrellas CEO Nigel Fulton said. "I think that is reflected in all aspects of her life, including her dress."
PHOTOS: QUEEN ELIZABETH II MOURNERS SPOT RAINBOWS OVER GREAT BRITAIN
Fulton's father, Arnold Fulton, an inventor and mechanical engineer, began designing and producing umbrellas in 1956. The company, which has been around nearly as long as the late monarch's rule, is considered a global rainwear brand, protecting millions of people from the rain throughout Europe, the U.S., Canada, Russia, Asia, the Middle East and Australia every year.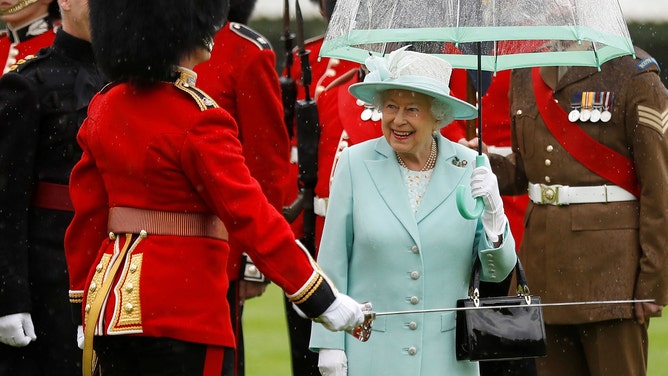 "We spent ages developing in wind tunnels," Fulton said. "Every one of our umbrellas – there's nothing standard about it. We go from top to tail, and we look at every single component," Fulton said.
Two of Fulton's biggest fans were the queen and her mother, Her Majesty Queen Elizabeth The Queen Mother.
In the 1960s, Arnold Fulton developed the world's first clear-domed umbrella. After collaborating with British fashion designer Mary Quant, the umbrella sold well.
An umbrella is an outdoor performance product. If it's not going to perform in the wind outdoors, it just goes in the bin.
But like many fashion items, sales dropped, and by the late 70s, sales were so slow that Fulton decided to drop it as a line. When the queen mother sought out the British heritage brand umbrella, Fulton placed them back into production.
"And in doing so, we tailored them to the queen mother and made the shaft slightly thicker so that (it) could be used more like a walking stick. We made the cover the size that she wanted," Fulton said. "Before you knew it, we had an umbrella that the queen mother was very happy with."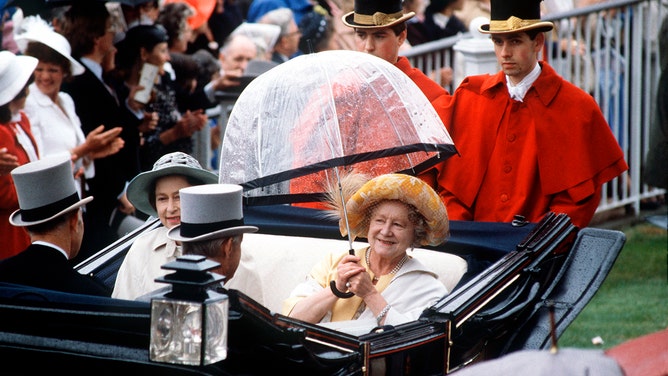 A warrant worthy of royalty
After supplying the umbrellas to the Royal Household for five years, they applied for a Royal Warrant – a document that allows a company to provide products and services to the royal family. In 1993, they were fortunate enough to be awarded the queen mother's Royal Warrant, which went on for several years.
Fulton made contact with Buckingham Palace in the early 2000s and started a direct supply to the queen, and that's when the company started color matching for the Royal Household. The queen's senior dresser would send Fulton a color swatch of the outfit she would be wearing before an engagement, and they would create an umbrella with a perfectly matched trim.
In 2008, Fulton was awarded the Queen's Royal Warrant, which still holds today.
LONDON'S BIG BEN NOW ABLE TO WITHSTAND FORCES OF MOTHER NATURE FOLLOWING RESTORATION PROJECT
"We put a lot of effort into the technology behind an umbrella," Fulton said. "We take a very scientific approach. An umbrella is an outdoor performance product. If it's not going to perform in the wind outdoors, it just goes in the bin."
Fulton believes the clarity was what the queen liked most about the "brolly," a British nickname for an umbrella.
"It gives a very good coverage over her head and shoulders. But most importantly, she can be seen while she's using it, which I think is especially important," he said.
The royal engagements of the 39th Sovereign to be crowned at Westminster Abbey took her anywhere, and she dressed for every possibility due to British weather's unpredictability.
'It's tipping down!'
It's all about the weather in the U.K., Fulton said, and when it's "tipping down," as the Brits like to say, the rain is a beautiful part of that.
According to data from the U.K. Met Office, London averages 112 days with measurable rain (>1 mm, >0.39 inches) per year. October-January sees the wettest days on average, with January being the highest (about 11 days of the month see measurable rain).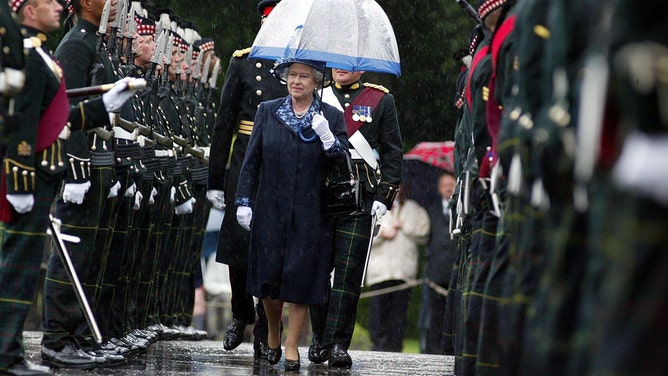 "We have very interesting weather. It's changeable," Fulton said. "We can have four seasons in one day. It can go from really sunny to rainy, windy in literally five minutes, and then back to sunny again. And then we can get hail."
HOW THE PHRASE 'THE QUEEN'S WEATHER' CAME TO MEAN FAIR WEATHER
When the weather turned less than beautiful, the queen was regularly spotted holding Fulton's iconic $26 birdcage-style clear umbrella as she carried out her more than 21,000 engagements, linking more than 2 billion people worldwide.
Timeless love
Fulton imagines that the longest-reigning monarch in British history felt the personal nature of umbrellas.
"These are personal items that the queen used with her own hands, and I think she always felt this emotional attachment to them," he said.
QUEEN ELIZABETH II: A STAUNCH SUPPORTER OF SPACE EXPLORATION
While Fulton said he hasn't kept count of the amount of Fulton umbrellas the queen owned over the years, it was a nice rainbow of colors.
Catherine, the Princess of Wales, also owns several, as do Meghan, Duchess of Sussex, and Camilla, the Queen Consort. The queen had the biggest collection by far.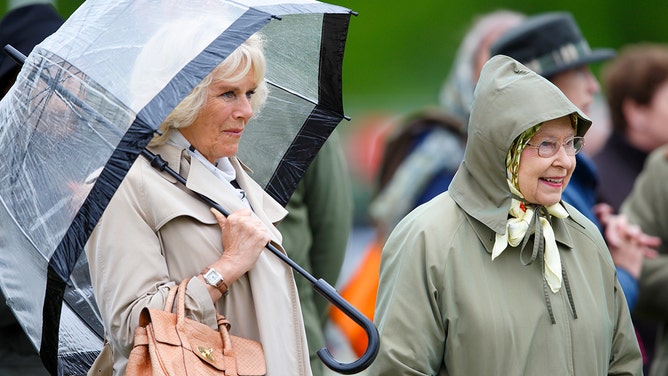 "We are known in the Royal Household as the sort of go-to umbrella supply," Fulton said.
The queen also hated waste, which is why Fulton said he was confident they wouldn't be thrown away. What will happen to them now is unknown.
Queen Elizabeth II's state funeral will take place at Westminster Abbey at 6 a.m. EDT Monday. Toward the end of the service, the last post will sound, followed by two minutes of silence throughout the U.K.
Her Majesty The Queen will be buried beside her husband of nearly 74 years, Prince Philip, at the King George VI Memorial Chapel at Windsor Castle.
And it will be a reunion as beautiful and timeless as Her Majesty's notable fashion.