Queen Elizabeth II: A staunch supporter of space exploration
The queen died Thursday at the age of 96 at her palace in Scotland and NASA leaders are marking her historic passing.
As the world morns the passing of Queen Elizabeth II, the space community has let their appreciation for the Royal Family's interest in exploration be known.
Space agencies, astronauts and other pioneers around the world remembered and reflected upon the legacy of the 96-year-old monarch upon hearing the news of her passing Thursday.
Buckingham Palace said the queen and the duke of Edinburgh were longstanding supporters of science, technology, engineering and endeavor but their actions during seven decades on the throne put an extra spotlight on the conquests in space.
Queen Elizabeth II's reign spanned all of human spaceflight, which kicked off in the 1960s and continues to the present day, where entrepreneurs such as Elon Musk and Sir Richard Branson have occasionally dominated the scene. 
HOW THE PHRASE 'THE QUEEN'S WEATHER' CAME TO MEAN FAIR WEATHER
The queen and the duke of Edinburgh first became interconnected with the space race in 1961 while hosting a celebration for the first human ever to achieve spaceflight.
Cameras produced black and white imagery, and photos captured the joy Soviet cosmonaut Yuri Alekseyevich Gagarin had while visiting Buckingham Palace and touring London.

It was several years later before the first U.S. astronauts visited the Royal Family, but as Americans tend to do, the event was bigger and bolder than anything the world had seen before.
The entire crew of the Apollo 11 moon mission visited Buckingham Palace, where it was made strikingly clear that there was a new leader in the space race.
Upon hearing news of her passing, the now 92-year-old Apollo 11 astronaut Buzz Aldrin tweeted a photo of the occasion that took place more than 50 years ago.
"God bless Queen Elizabeth, a gracious leader, lady, and our host on return from the moon. On behalf of the Apollo 11 crew, Godspeed and God bless the Royal Family. Sincere condolences," the post read.
PHOTOS: QUEEN ELIZABETH 11 MOURNERS SPOT RAINBOWS OVER GREAT BRITAIN
Aside from meeting astronauts from afar, the queen made a couple of visits to major NASA facilities in the United States to give leaders her wishes and connect with the crew aboard the International Space Station.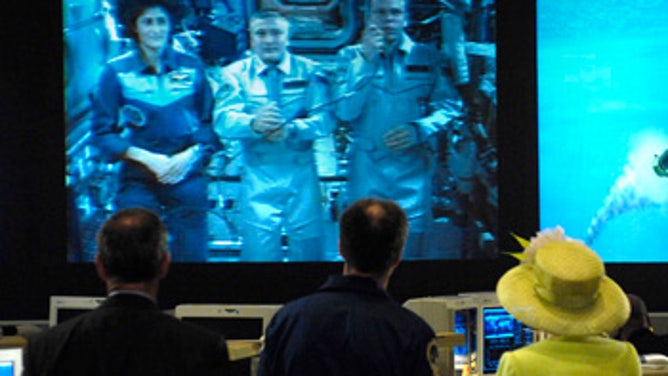 One of those occasions happened in 2007 when the royal couple toured NASA's Goddard Space Flight Center in Maryland and met with leaders of the ISS.
After her historic passing, NASA summed up its relationship with the queen in a statement that read in part, "As we join the planet in marking her passing, we are moved by the curiosity Her Royal Highness showed our explorers over the years."