Forecasting with AI: Company creates first weather and climate generative artificial intelligence
Tomorrow.io announces the launch of 'Gale,' the first AI product dedicated to weather and climate for businesses and governments that will easily identify key trends, risks and opportunities and share that potentially life-saving information with teammates and colleagues
When the forecast calls for conditions such as severe weather, blizzards or destructive winds, companies and governments across the U.S. make important decisions that could potentially save lives.
And it's not an easy task.
Businesses and governments make those critical weather decisions by looking over copious amounts of data to check on the potential impacts over specific areas.
But Tomorrow.io, the world's leading weather intelligence platform, just released Gale—the industry's first weather and climate-generative AI, designed to summarize millions of data points in actionable weather summaries.
The interactive product is a new feature within Tomorrow.io's platform that can use generative AI technology for specific uses customized to the specific user's needs and goals.
AIRLINE HARNESSES 'NEXT GENERATION OF FORECASTING' TO CUT DOWN ON WEATHER DELAYS AND CANCELLATIONS
Company officials say Gale addresses the challenges businesses and governments face when processing large amounts of weather and climate data and enables them to identify key trends, risks and opportunities, and can then share that information with teammates and colleagues.
"With the launch of our new generative AI assistant, Gale users can effortlessly convert the myriad of climate and weather insights the Tomorrow Platform is renowned for into a succinct, visually appealing and shareable outlook," said Cole Swain, vice president of Product at Tomorrow.io, in a statement. "This is just the beginning of an exciting journey for Tomorrow and our customers."
Swain added that the emergence of generative AI has unlocked new ways Tomorrow.io's team sees how customers engage with critical weather and climate data used to make important decisions.
"We envision a future in which our users are making confident decisions around their weather and climate operations in ways previously unimagined," Swain added.
NEW SHARK-SAVING TECHNOLOGY AIMS TO PROTECT SPECIES' MOST VULNERABLE HABITATS
Millions of data points turn into a forecast
Here's how it works: Within Tomorrow.io's weather intelligence platform, users will be able to incorporate any customized set of data inputs such as location, more than 40 different weather parameters, frequency and intensity to highlight the most important trends based on the user's needs.
HOW RADARS EVOLVED TO PROVIDE LIFE-SAVING INFORMATION
Gale will be able to quickly analyze millions of data points and summarize those details into an easy-to-read summary of that information.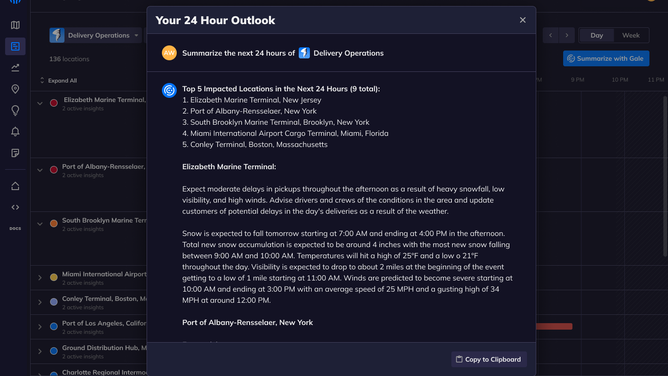 The example above shows a summary of impacts from a hypothetical winter storm on shipping operations along the East Coast. In this scenario at the Elizabeth Marine Terminal in New Jersey, delays for the shipping company are expected during the afternoon hours because of heavy snow, low visibility and strong winds.
In the summary, Gale recommends that the shipping company's drivers be warned about the conditions and provide updates to their customers about potential delays.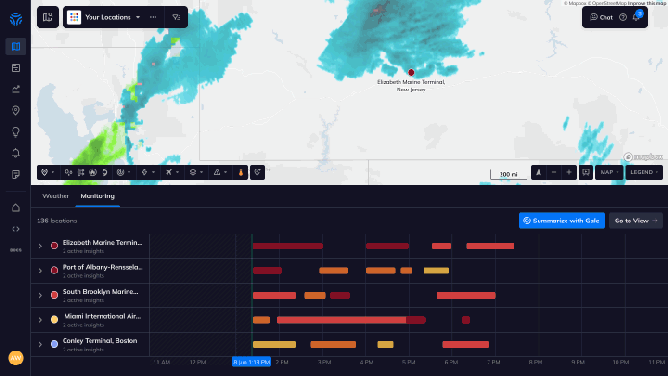 "It's not always easy for companies to make the right decision when it comes to the forecast," said Tomorrow.io's co-founder and chief customer officer, Itai Zlotnik. "Weather decisions are hard to make in the face of endless weather data, and it's even more challenging for users to grasp its impact on their operation."
And this generative AI technology could be a game-changer when it comes to making those potentially life-saving decisions.
"Gale's unique ability to analyze and summarize weather impact allows our customers to make smarter decisions by leveraging the industry's first fusion of weather intelligence and AI," Zlotnik added.