Election Day forecast: Southeast warmth continues as chill sets in across Midwest
New Jersey, Virginia gubernatorial elections happening Tuesday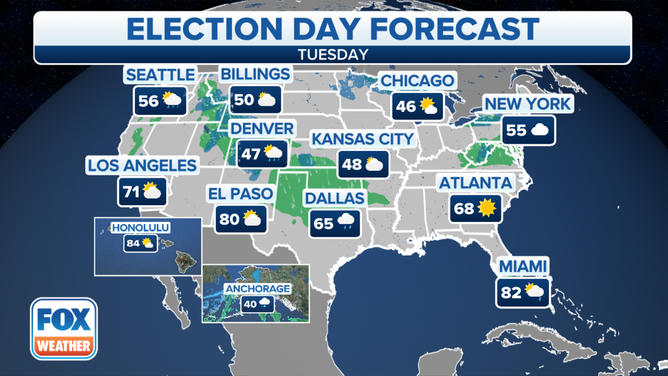 Election Day happens regardless of the weather, and 2021 will be no different. On Tuesday, voters across the U.S. will decide on critical gubernatorial elections, mayoral seats, and municipal elections directly impacting their communities. 
It's no surprise that weather can play a role in voter turnout. Absentee or mail-in ballots can help prevent low voter turnout in states where that's an option, but by now, those ballots will have been mailed in or need to be dropped off at your local election office. 
Plains and Midwest
The first days of November are likely to bring the first freeze of the season, with the coldest air moving in, dropping low temperatures below 20 degrees across the Northern and Central Plains and parts of the upper Midwest. 
In Minneapolis, where the mayoral race will be decided by rank-choice voting, highs will be in the lower 40s through Wednesday. 
Northeast
New Jersey is one of two states where gubernatorial races are on the ballot Tuesday. 
New Jersey Democratic Gov. Phil Murphy is seeking a second term while Republican Jack Ciattarelli is vying to flip the state's top elected position. All 120 New Jersey state legislature seats are also on the ballot, reports NJ.com.
Incumbent Larry Krasner is facing off against Charles Peruto Jr. in a bid to remain Philadelphia's district attorney.
Fox 29 Philadelphia meteorologist Sue Serio said there is only a 30% chance of a stray shower Tuesday afternoon making it a good day to get out and vote. Temperatures will be in the low-50s and start in the mid-40s on Tuesday.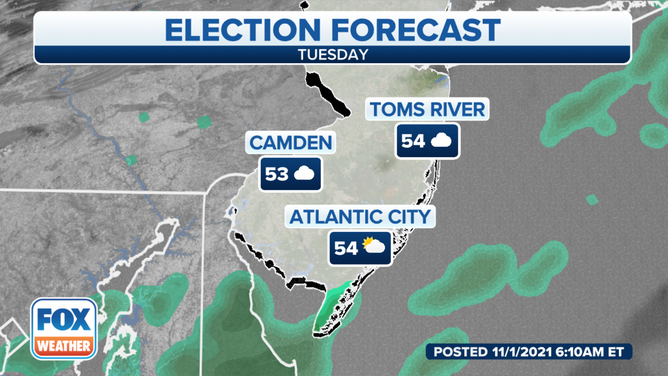 Mid-Atlantic
Virginians casting their ballots for governor will have overcast conditions and cool temperatures in the low to mid-50s. FOX 5 reports the Nov. 2 ballot also includes lieutenant governor, attorney general, and the house of delegates. 
South
Across the southern U.S., voters will have pleasant temperatures to look forward to Tuesday. 
After Atlanta Mayor Keisha Lance Bottoms decided not to run for re-election, the city hall's top seat is up for grabs. There are fourteen people on the ballot running for office.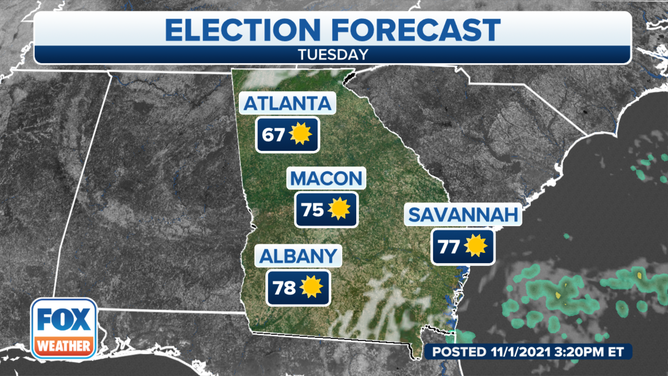 Atlanta's voters can expect a sunny day at the polls with a cooler start in the morning. Temperatures will be in the mid to upper 60s by afternoon. 
In Miami, where Mayor Francis Suarez hopes to secure a second term on Election Day, voters who head to the polls will enjoy temperatures in the low 80s.
West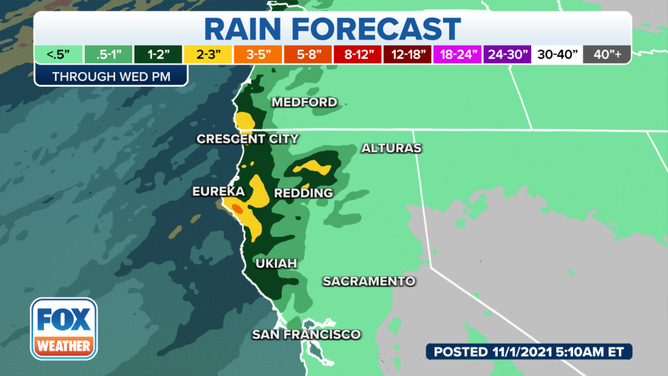 After a bomb cyclone brought flooding and heavy rain to parts of the west last week, more rain is forecast this week, including part of the day Tuesday when Seattle decides on its next mayor. The rain is not likely to deter many people in Washington, where all counties offer vote-by-mail.
By noon Monday, rain is expected along Interstate 5 from Seattle to Portland and into San Francisco. Some breaks in the rain Tuesday morning should provide voters a gap to get out and vote, but it's expected to pick up again in the evening hours. 
Download the FOX Weather app to help plan for forecasts on future election days.