Busy travel Sunday as millions of Americans head home after Thanksgiving
Sunday will be one of the busiest travel days as millions of people travel home after the Thanksgiving holiday. 

Airports have been gearing up for the anticipated return rush, and travel experts believe the weekend travel scene could be busy. Delta Airlines expects Sunday could be one of the busiest days for the company. The airline says more than 500,000 passengers will use its services to get to their destination.
TSA says that their busiest days during the Thanksgiving travel period are Tuesday and Wednesday before Thanksgiving and Sunday afterward. On Wednesday, a new pandemic-era air travel record was set as more than 2.3 million passengers were screened.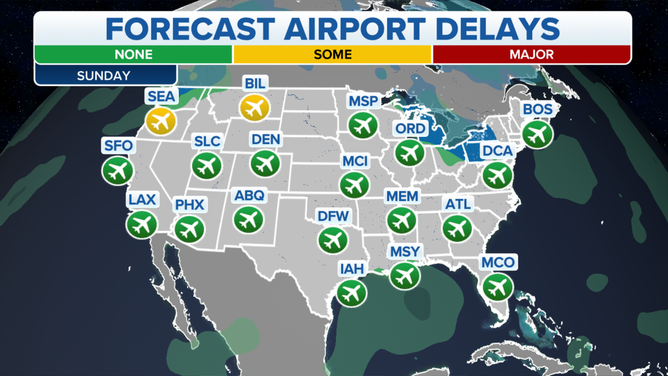 Rain showers will remain a threat in the Pacific Northwest and northern Great Basin, with additional delays in Seattle.

Strong winds will also make travel difficult in Montana, as High Wind Warnings are in place for a good portion of the state.  

MORE: 100 mph wind gusts possible across parts of Montana

As of 11 a.m. ET on Sunday, there were more than 1,000 delays across the U.S.