'It became all about hurricanes': Nearly 50 years in Florida taught Bryan Norcross about monster storms
From math major to meteorologist, the FOX Weather hurricane specialist took a zig-zag path to keeping people safe during natural disasters
As the atmosphere whispers of a hurricane, FOX Weather hurricane specialist Bryan Norcross stands at the ready. He watches the data closely and communicates what he sees to those potentially under threat.
Norcross celebrates a broadcasting career spanning over 50 years. During that time, he's built a reputation for his life-saving hurricane analyses.
But unlike the paths of most of the storms he studies, Norcross's path to meteorology was a bit of a zig-zag.
Through a series of fateful — and historic — events, Norcross has become the most trusted voice when helping people understand some of the country's worst natural disasters.
Before meteorology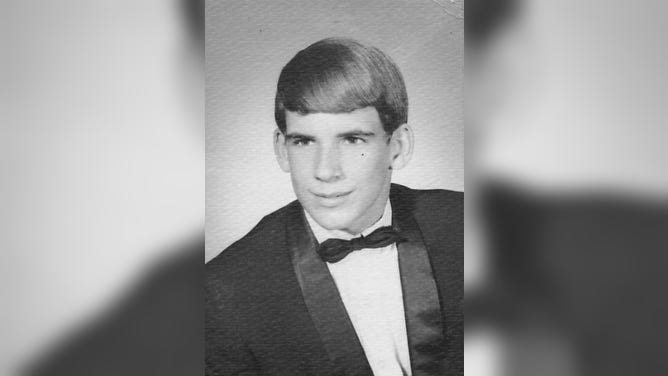 "The hurricane thing came to me in a weird kind of way," said Norcross. "It certainly never entered my mind that it would turn out to be the main thing I was doing in my life at the time."
As an undergraduate at Florida State University in Tallahassee, Norcross majored in math and minored in physics. After graduating, he then delved into the world of radio broadcasting, working at the university's station and as a radio disk jockey on the local Top 40 station.
LISTEN TO THE NEW PODCAST TRACKING THE TROPICS WITH BRYAN NORCROSS 
Norcross then shifted over to television soon after, working his way up the industry to become the head of a news department.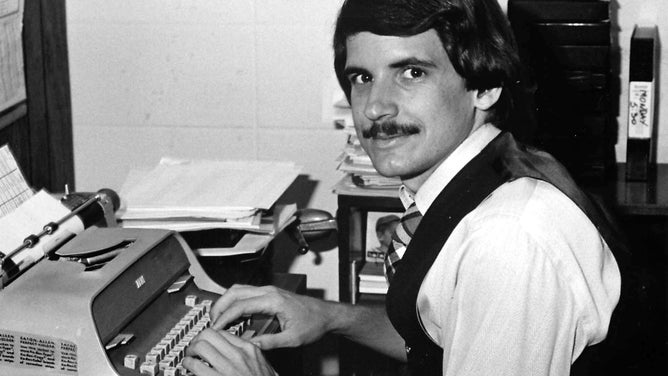 While running a news department in Louisville, Kentucky, he found himself needing to hire a new weathercaster for the station. As he worked to fill the position, he came to a life-changing realization.
"It came to me that it might be interesting to be a meteorologist," Norcross said.
"It triggered the idea of going back to school because meteorology is physics and really dependent on math — math and physics and meteorology really are all related," he added. "It's just a department, a division of physics, so it all made sense."
Norcross went to graduate school with a Master's degree from Florida State to study meteorology and communications, triggering a pivotal change in his career path.
Changing the weather game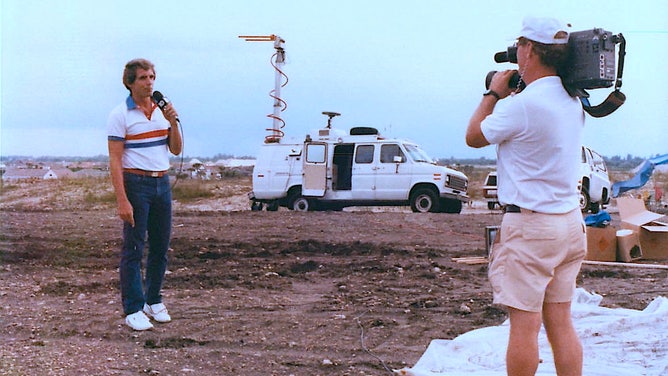 As Norcross embraced the world of weather, he also embraced the world of storytelling.
While he was working on a daily segment called Neighborhood Weather in the 1980s, Norcross went into the field every day to report the weather outside. In doing so, he evolved the program to also tell a story about each location.
"I researched a lot about the history of Miami and South Florida," he said.
"There was a tremendous hurricane history in Miami and Fort Lauderdale and all of South Florida, and I thought, 'Wow, if that starts happening again, this is going to be a completely different place. And if I'm going to be doing the weather here, I probably should learn a lot more about hurricanes'," he added.
When he changed stations and became chief meteorologist, he made hurricanes a priority at his new station.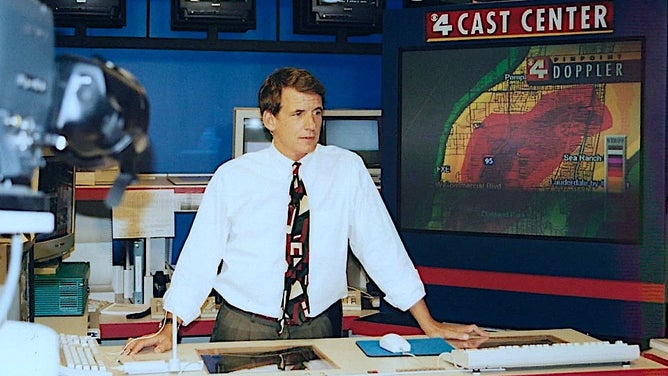 "I said, 'We need to be the hurricane station. We really need to study this. Even though I know there haven't been any hurricanes in a long time, they used to hit regularly'."
According to Norcross, South Florida took direct hurricane hits in each of the first seven decades of the 20th century. But by the late 1980s, the area hadn't seen a significant hurricane in 25 years.
Then everything changed in 1992.
"We got the TV station prepared and then had this hellacious hurricane, Hurricane Andrew, and just that confluence of events came together," he said.
"After that, it became all about hurricanes."
Revelations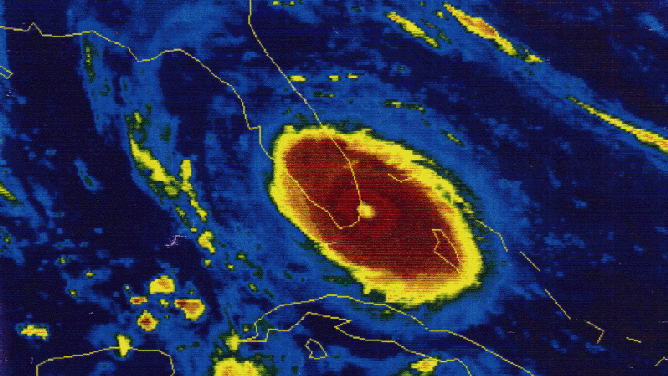 "The biggest moment in my career was the Hurricane Andrew experience," Norcross said. "I had two thoughts during that time. I've said, 'These are the best ideas I ever had in my life'."
One of those ideas occurred about three hours before Andrew hit, when it looked like it was going to be a worst possible situation for people in their homes, he added.
"I was racking my brain thinking, 'What can I suggest that's beyond what we've already talked about, beyond the basics of getting your house ready and so forth?'," he said.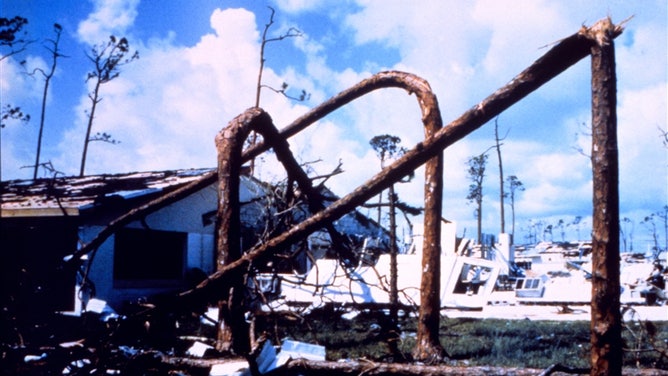 He recalled a book he read about the Great Miami Hurricane in 1926 by L.F. Reardon. In the book, Reardon uses a mattress to protect his family as a hurricane came barreling through their Miami suburb.
"I said, 'Friends, here is what I want you to do. I want you to get a mattress off the bed and get ready to get under that and get your family under that and ride this thing out'," Norcross said. "That idea came to me on the fly. That was not part of the plan."
His next idea involved telling people to get to a safe spot.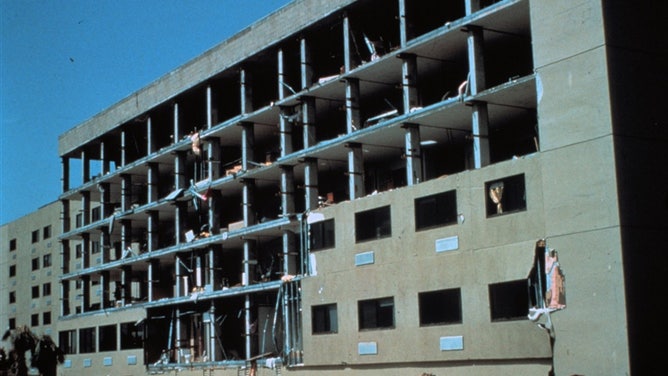 While he and his team were in the studio, as the high winds were bearing down in the early morning hours, he moved his team to their safe spot — just as he was advising the people of South Florida to do.
"I can't tell you how many hundreds of people probably over the years have told me that that was what convinced them to get out of the bedroom or the kitchen and go into the hallway or go into a bathroom and get the mattress ready," he said.
"Those two ideas really were the most important ideas that I ever came up with in terms of helping other people do important things."
Hurricane Andrew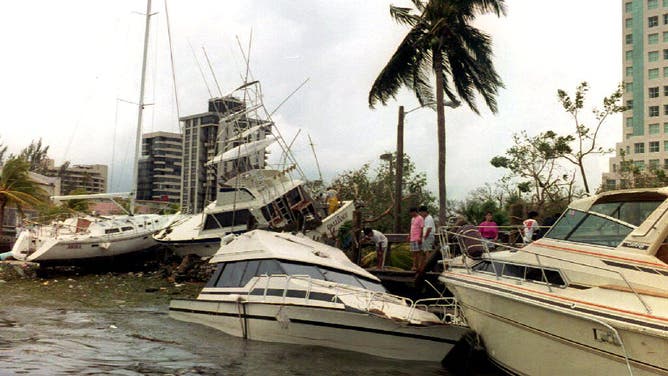 In the early hours of August 24, 1992, Hurricane Andrew made landfall in South Florida.
According to NOAA, the category 5 storm had maximum sustained wind of about 165 mph and had a maximum storm surge of nearly 17 feet.
HERE'S HOW TO PREPARE FOR HURRICANE SEASON NOW
For Norcross, one of the most stunning moments of his career happened once the storm subsided, when he was able to survey the aftermath from the air.
"It was total destruction as far as you could see, and it was stunning," he said. "It was really even more than I had seen when we saw it on television from the helicopter that first afternoon. We got a helicopter down there, and that was unbelievable. But to see it in person, some place that I was so familiar with was – it gives me chills today."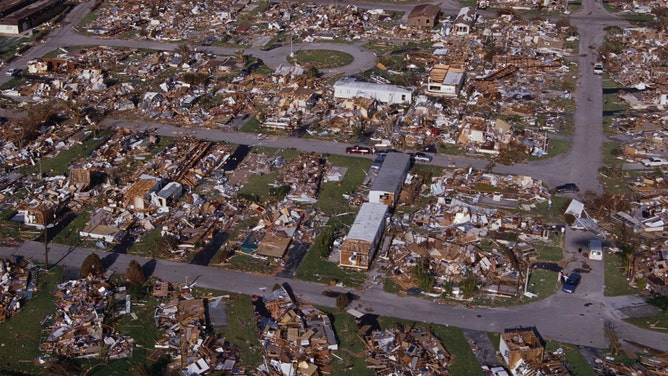 He remarked how the landmarks and trees were gone, leaving him unable to orient himself in a city he was so familiar with.
"Everything was wiped out. There was no communications, there was no food, the roads were blocked," he said.
"Those days there at the end of the week, three to four to five days after Andrew, were really hellish — just a lot of revelations, one worse than the other, about how people were surviving in this unimaginable situation."
HOW TO STAY SAFE AFTER A HURRICANE
Hurricane Andrew became the most expensive natural disaster in U.S. history at the time.
An open mind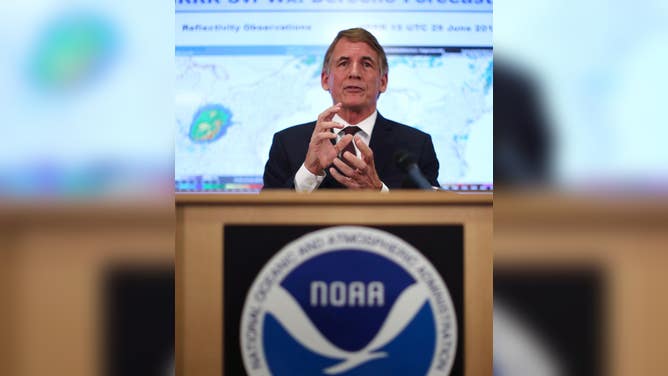 To this day, Norcross is known as the man who "talked South Florida through" Hurricane Andrew.
In the years since, he's continued to be the voice calmly talking people through many more storms.
"There's a school of thought that if you talk about storms too early, you're kind of hyping them. What I have evolved to is that you should talk about the threat as soon as there is a reasonable threat," he said.
"I like to try and identify when to start talking about the threat and not overhype or overpromise the certainty of what's going to happen — and I've been diligent about that," he added.
LEARN MORE ABOUT BRYAN NORCROSS'S CAREER
To aspiring meteorologists, Norcross — the math major-turned-meteorologist and emergency communicator — also advises against forecasting their careers with absolute certainty.
"So many young people I know project where they want to be in their thirties or forties, and that didn't work for me," he said.
"I think people should keep their mind open enough that they can take an opportunity that is in a different direction without dismissing it out of hand."
Three decades ago, renowned hurricane specialist Bryan Norcross did a 23-hour marathon broadcast as Hurricane Andrew slammed into the Florida coast. His broadcast was the only one to stay on the air and many people's only link to the outside world during the worst of the storm.  He is credited with saving countless lives due to his life-saving advice. Now, 30 years later, Bryan will re-live the storm that devastated South Florida and look at the infrastructure changes that resulted. Watch The Wrath of Hurricane Andrew: Tragedy and Triumph on FOX Weather, premiering August 23rd and 24th at 10 P.M. EDT. 
HOW TO WATCH FOX WEATHER ON TV
FOX Weather Hurricane Specialist Bryan Norcross has a podcast, Tracking the Tropics with Bryan Norcross, available now on FOX News Audio. You can get it on your device by clicking here.