Banana Boat sunscreen recalled, may contain cancer-causing chemical
Benzene, a carcinogen, was found in samples of Banana Boat Hair & Scalp Sunscreen Spray SPF 30
On Friday, three batches of Banana Boat Hair & Scalp Sunscreen Spray SPF 30 were recalled due to trace levels of benzene being found in samples of the sunscreen spray.
Benzene is a colorless or light-yellow liquid chemical at room temperature that quickly evaporates into the air, according to the Centers for Disease Control. The chemical is found to cause cancer in humans.
HOW TO WATCH FOX WEATHER ON TV
According to the Food and Drug Administration, "exposure to benzene can occur by inhalation, orally, and through the skin, and it potentially can result in cancers including leukemia and blood cancer of the bone marrow and blood disorders which can be life-threatening."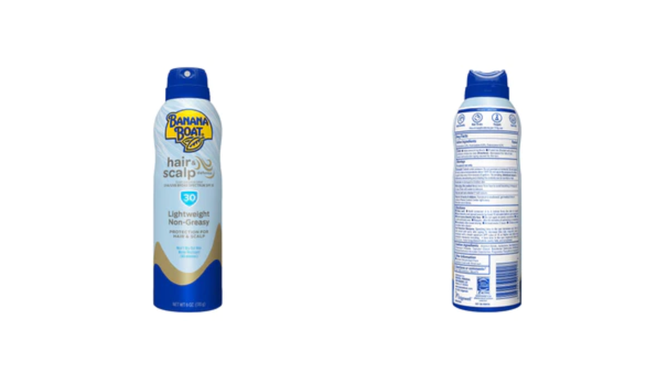 The three batches of Banana Boat Hair & Scalp Sunscreen Spray SPF 30 that may have benzene are listed under three lot codes, which can be found on the bottom of the aerosol cans:
7 FACTS YOU NEED TO KNOW ABOUT UV RAYS TO KEEP YOU SAFE
In this voluntary recall, Banana Boat parent company Edgewell Personal Care Company states that while benzene is not an ingredient used in Banana Boat products, an internal review found benzene in the propellant that sprays the sunscreen spray out of the can.
Edgewell Personal Care advised consumers to immediately stop using the product and to appropriately discard it. The company has also asked retailers to remove the recalled product from their shelves.
Consumers with questions about the recall may contact Edgewell Personal Care. They may contact Banana Boat for information about reimbursements.
Adverse reactions maybe reported to the FDA's MedWatch Adverse Event Reporting program.
GET THE LATEST EPISODE OF THE FOX WEATHER UPDATE PODCAST
The FOX Weather app is a great resource that can be used to alert you of any watches or warnings issued for your area. The free FOX Weather livestream is also available 24/7 on the website and app and on your favorite streaming platform. The FOX Weather Update podcast also provides weather information for the entire country.