Tropical cyclones rarely, if ever, make it from the Pacific to the Atlantic
This week could see a rare occurrence of a tropical system form in the Gulf of Mexico that had some of its remnants from a Pacific Ocean hurricane.
MIAMI – Hurricane Agatha just made landfall this past weekend along the Pacific coast of Mexico as a Category 2 hurricane before breaking apart over land. Now there's talk of renewed tropical development in the Gulf of Mexico as Agatha's remnants drift back over water.  
Could the storm be reborn as Agatha in the Atlantic basin? No, but it could eventually turn into Tropical Storm Alex.
"Fragments of Agatha will likely cross the mountains into the extreme southern Gulf of Mexico and mix into a stew of disturbed weather that extends across the Yucatán Peninsula into the Caribbean," said FOX Weather Hurricane Specialist Bryan Norcross. 
Current area to watch in the tropics.
(FOX Weather)
---
HERE ARE THE NAMES YOU'LL SEE DURING THE 2022 ATLANTIC HURRICANE SEASON
The World Meteorological Organization maintains separate names for hurricanes in the Pacific Ocean basin and the Atlantic Ocean basin, which includes the Gulf of Mexico. But the agency did change its policy in 2001 to allow a storm to keep its same name if it managed to crossover from one basin into the other.
It's easier said than done.
Getting a tropical storm or hurricane to survive a journey from the Pacific Ocean and a trek over land before reentering the Atlantic basin to keep its same name would only occur if the storm maintained enough of its original circulation.
"It's not likely, however, because Mexico has huge mountains at the latitude that crossovers would most likely happen," Norcross said. "The eastward movement that would be required for a storm to head toward the Gulf or Caribbean (from the Pacific) happens, but it's rare, and usually only happens at the beginning or end of hurricane seasons."
7 FACTS TO KNOW ABOUT HURRICANES
And so far, no storm has managed that Pacific-to-Atlantic crossover feat since the naming policy went into effect in 2001. 
Remnants of tropical systems have had better success going from the Atlantic basin to eventually span a new storm in the Pacific though only one – Hurricane Otto which struck Nicaragua in November 2016 -- has held together enough along the trek to maintain its same name.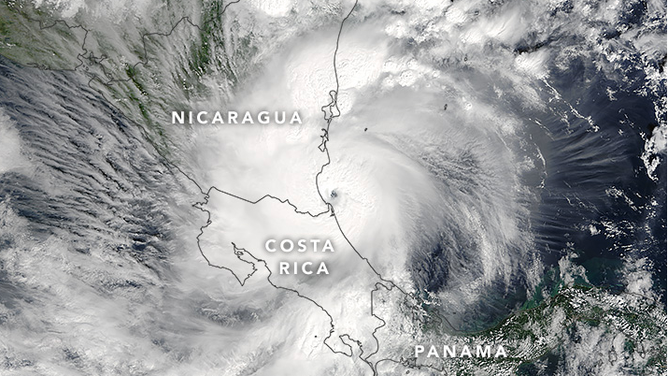 BEWARE THE 'I' STORM: IT HAS MORE RETIREES THAN ANY OTHER LETTER USED FOR ATLANTIC HURRICANE NAMES
"A number of storms have crossed from the Atlantic to the Pacific," Norcross said. "Storms usually track east to west farther south, where the terrain is more cooperative.  Also, the 'normal' direction of movement of a hurricane is east to west or northwest."
94 HURRICANE OR TROPICAL STORM NAMES THAT HAVE BEEN RETIRED
Yet this week could bring a rare occurrence of at least taking ancestral remnants of a Pacific hurricane and regenerating as tropical storm in the Gulf of Mexico, even if it isn't really the same storm.
"The question becomes, what type of system will consolidate from this giant circulating blob and head toward Florida?" Norcross said. "An upper-level kink in the jet stream is forecast to dip south into the Gulf. This will have the dual effect of providing some energy to help a consolidated system form, and it will lift it, whatever it is, northeast toward Florida."
As of Tuesday evening, the National Hurricane Center gives a 70% chance of tropical development in the Gulf of Mexico that at least has some potential for bringing heavy rains to parts of Florida later this week and into the weekend. 
HERE'S WHY THE ATLANTIC HURRICANE SEASON RUNS FROM JUNE TO NOVEMBER
"These upper-level winds are forecast to create a fairly hostile atmospheric environment over the Gulf, which will include a lot of dry air, so a strong system is not likely," Norcross said. "A tropical storm – that is, a system with winds of 40 mph or higher – is certainly possible, however."
If a tropical storm were to form, it would be given the new name Alex from the Atlantic basin's 2022 list of names.