How technology is keeping affordable strawberries on your table
After years of drought, California farmers turn to technology to survive
PRUNEDALE, Calif. – Tom AmRhein breaths a sigh of relief when he looks over his fields, lush with strawberries during the National Strawberry Month. The recent drought has made this moment an uphill battle.
"So in California, we're under generally some pretty severe drought," said AmRhein. "We're always aware of that the water situation. And the cost of the water, even in a non-drought situation is increasing so much."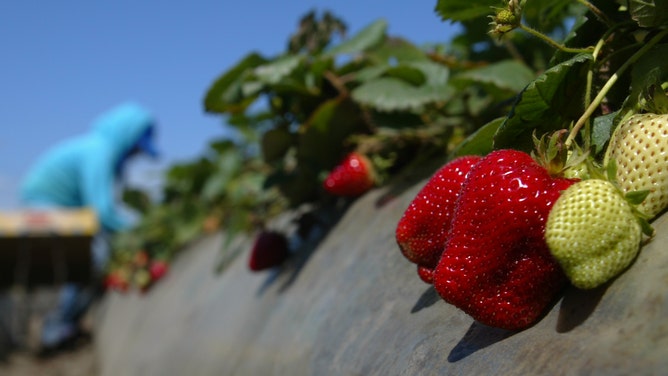 And any rise in his costs will end up coming out of our pockets when we put the nutritious fruit on the kitchen table. Up to 90% of strawberries come from California, so they are tough to avoid if the strawberry is a staple on your family's kitchen table.
The recent Drought Monitor shows 95% of the Golden State in severe drought and almost 60% in extreme drought. 
NEW SUMMER FORECAST DAMPENS HOPES FOR DROUGHT RELIEF IN WEST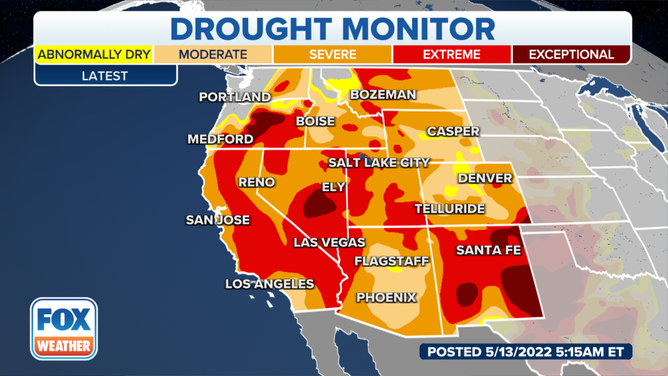 Monterey County, home to AmRhein's farm, experienced its second-driest January to April on record and is 10.74 inches in the red for rainfall. Even so, he says his area has been luckier than most.
OFFICIALS TO RESTRICT WATER RELEASE ON COLORADO RIVER TO ENSURE HYDROPOWER CONTINUES
"We're in a particularly blessed area," he said. "We have groundwater. We got rain. And so for now in this place at this time, we're in pretty solid shape."
Scare water forced him to go high-tech in recent years to allow the farm to be in solid shape under these rain stats.
FARMERS FACE CLIMATE CHANGE BY RETHINKING THE AGE-OLD PROFESSION
"We have to have some very advanced irrigation technology which has changed greatly since I started farming back 40 years ago. It's all drip irrigation now," said AmRhein of his very technical solution to saving a crop that is still hand-picked after generations. "It's the application of the latest technology to increase irrigation efficiency."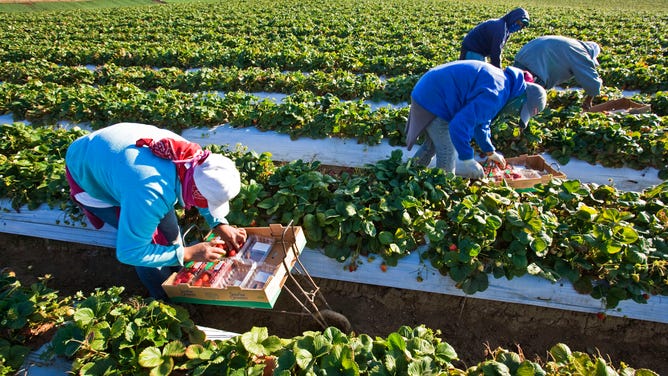 Drip irrigation actually "drips" directly over the root ball instead of spraying water into the air. Much of water from sprinklers evaporates before hitting the ground. Water drops also land in a larger pattern on leaves and dirt in the alleys between rows where the precious resource evaporates before it can nourish the crop.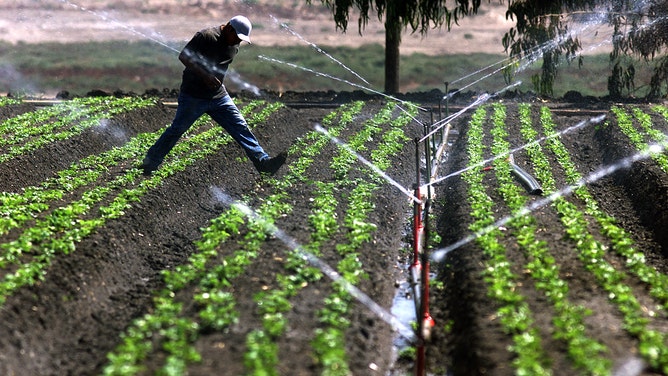 He placed plastic mulch over the beds which prevents direct evaporation from the soil. The blanket also absorbs the sun's energy which warms the top layers of soil and keeps pests under control. The insulated soil stays warm at night which enables young plants to establish quickly.
"It also the selection of varieties," he said of his high-tech choice of strawberry species to plant. "We're always working on advanced breeding of new and more efficient varieties to make the most of the resources that we have." 
FARMING: NO WEATHER? NO PROBLEM
Scientists cross different varieties of the berry to create plants with characteristics that thrive in the local climate and soil. The result can be a high producing plant that is drought and pest resistant.  
STOP THE SPRINKLERS OR PAY FINES IN PARTS OF CALIFORNIA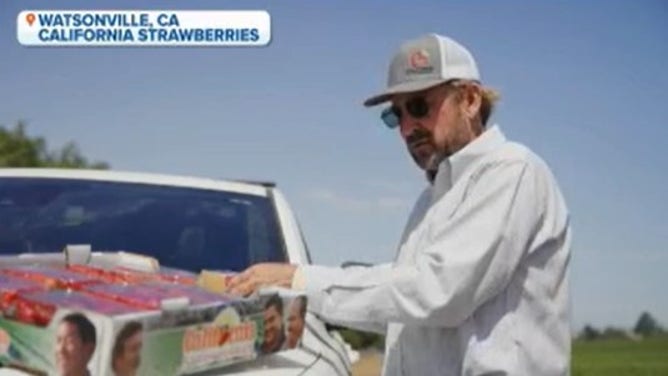 And he said being smarter about water not only allows his crop and bottom line to succeed, but his whole community.
"The industry tends to stabilize the community because the families do stay with it for generations and generations," he said in a California Strawberry Commission interview. "It's a big business. But, there's the stewardship of the land, the care of the people. Because, without the people, there is no food and without the stewardship of the land, generation after generation, there is no future for me or for my family because this is what we do."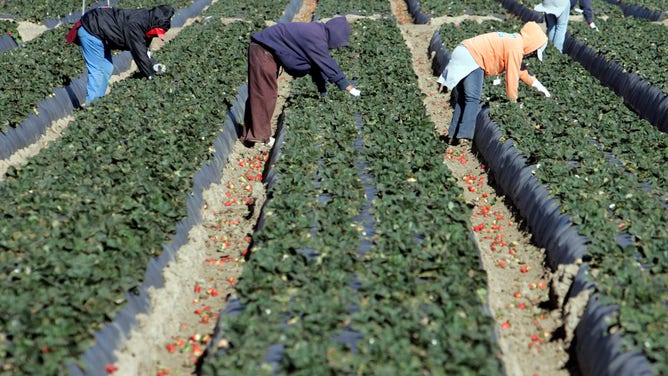 After forty years, a man still works with him. The employee started with AmRhein when was just a grad out of college who dreamed of owning a farm. The first five acres grew into a family legacy. His wife is a fourth-generation strawberry farmer.
CLICK HERE TO GET THE FOX WEATHER UPDATE PODCAST

"My mother-in-law,  she was in the internment camps in World War Two. And the family went through the internment and came back out and went back into the strawberry business and built it back up," he said. "That leads to an appreciation for the history…  the history of the land, the history of the business we represent, the work that the previous generations did that got us to where we are today. And we don't forget that. We have to live up to the standard that was set."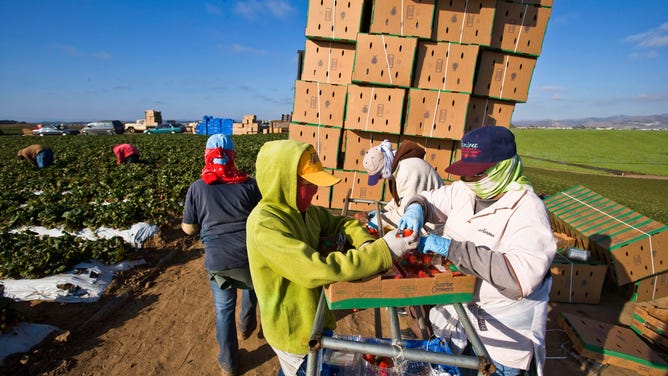 AmRhein smiled and said, "it's looking like it's going to be a nice year for us here."
"This is the peak time. We have a wonderful crop. We've got wonderful crew of people. It's a team effort," he added. "There's thousands of people working in this industry that pick these berries and pack them for the market. And we're working hard to do that."
Get the most up-to-date drought forecast from the app, FOXWeather.com or watch FOX Weather on TV.