Officials to restrict water release on Colorado River to ensure hydropower continues
More than 90 percent of the West is experiencing some sort of drought.
SALT LAKE CITY - The federal government is taking what it calls 'unprecedented measures' to ensure water levels in Lake Powell stay above the needed threshold to continue hydropower operations along the Colorado River basin.
The U.S. Bureau of Reclamation announced Tuesday that it'll allow more water to flow from the Flaming Gorge Reservoir in Wyoming and reduce the water permitted to leave Lake Powell in Arizona to keep the waterway above the critical level of 3,490 feet.
The bureau says Lake Powell's water surface elevation is at 3,522 feet, one of the lowest levels since the 1960s.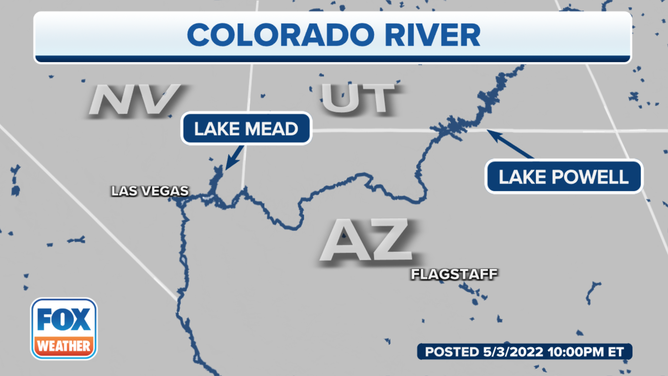 "Today's decision reflects the truly unprecedented challenges facing the Colorado River Basin and will provide operational certainty for the next year. Everyone who relies on the Colorado River must continue to work together to reduce uses and think of additional proactive measure we can take in the months and years ahead to rebuild our reservoirs," Tanya Trujillo, assistant secretary of water and science, said in a statement.
DROUGHT GOING FROM BAD TO WORSE ALONG COLORADO RIVER BASIN
Officials hope that the actions equate to an increase in elevation of 16 feet for the lake and keep the Glen Canyon Dam producing power for residents of seven states.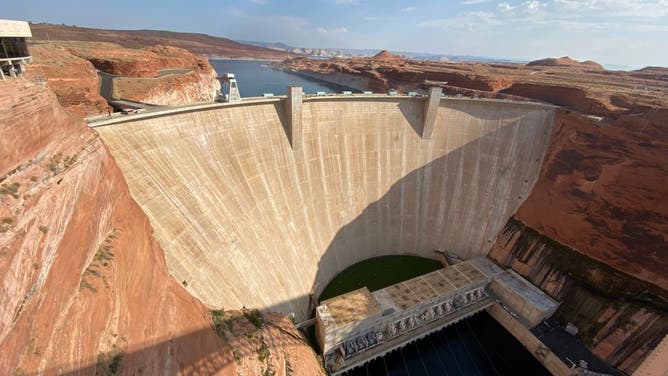 The reduced flow, which is expected to last at least a year, will mean locations downstream on the Colorado River and the crucial reservoir of Lake Mead will see less water than anticipated.
"But given the impacts of climate change, it's clear that everyone has to do more to protect our reservoirs – and that means using water with maximum efficiency," said Lower Colorado Regional Director Jaci Gould.
The combination of increased use and an ongoing drought across the West has caused several agencies to announce restrictions and adjust operations along the important water sources.
The bureau estimates more than 40 million Americans depend on the Colorado River and its reservoirs for drinking water and other activities.
HOW TO WATCH FOX WEATHER ON TV
Lake Mead water level exposes items once underwater
Worsening drought conditions across the Southwest has caused water levels in Lake Mead to reach stages not seen in decades and is now responsible for exposing objects that once called underwater home.
The Southern Nevada Water Authority recently released stunning photos of an intake valve at Lake Mead that is now exposed.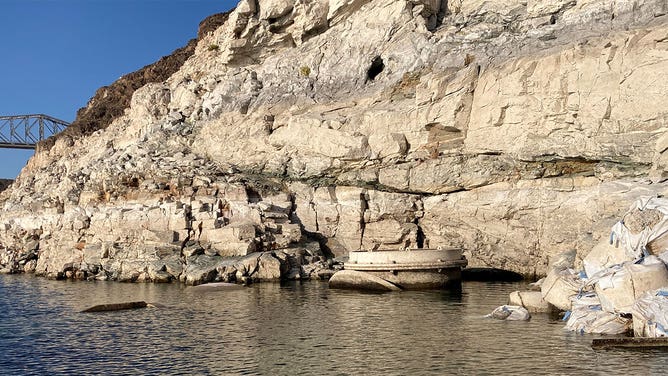 The authority says the valve has been in service since 1971 but had to stop in early April once the water levels dropped to around 1,050 feet.
A spokesperson for SNWA said two additional pumping stations on the lake will be sufficient to keep water flowing to the millions of customers across the desert.
BARRELED BODY COULD BE FIRST OF GRUESOME DISCOVERIES TO COME AT LAKE MEAD AS DROUGHT WORSENS
Low water levels are also credited for recently exposing a barrel that police say contained human remains.
Lt. Ray Spencer, of the Las Vegas Metropolitan Police Department Homicide Division, said people walking along the lake Sunday near a boat launch spotted the barrel, which could be from the 1980s.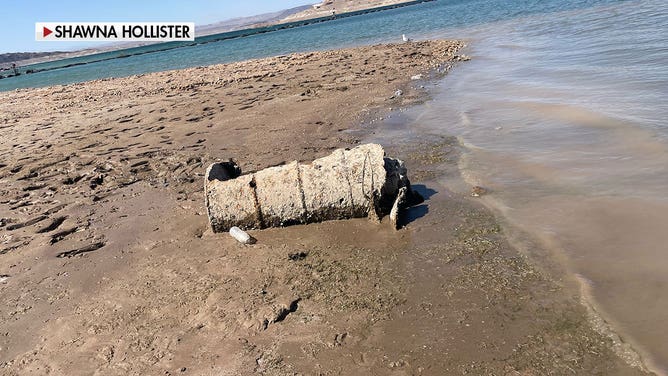 Officials said that as water levels continue to drop, more discoveries could be found as items once on the lakebed become visible.