Images show how a winter storm walloped the Plains, Midwest
Snow has already led to school cancellations and road closures in Denver. From there, the storm spread into Plains and Midwest.
People in states from Colorado to Michigan were under watches and warnings as a winter storm swept through the Plains and Midwest.
Here's a look at how the storm has been playing out.
Minnesota
Parts of the North Star State looked a little like the North Pole on Thursday morning, as they received several inches of snowfall overnight.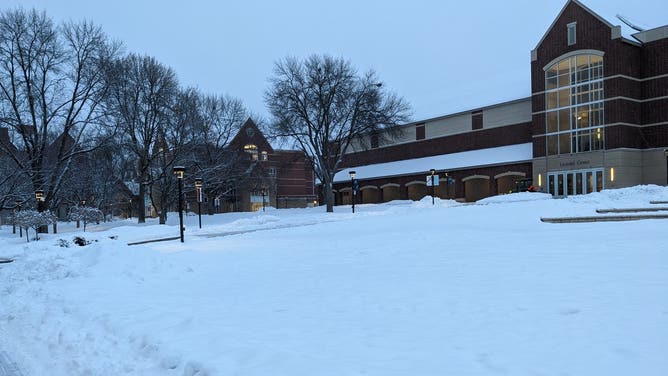 As shown in the photo above, Macalester College in St. Paul, Minnesota, turned into a winter wonderland today.
Iowa
In Climbing Hill, Iowa, residents were greeted with several inches of snow at their doorstep.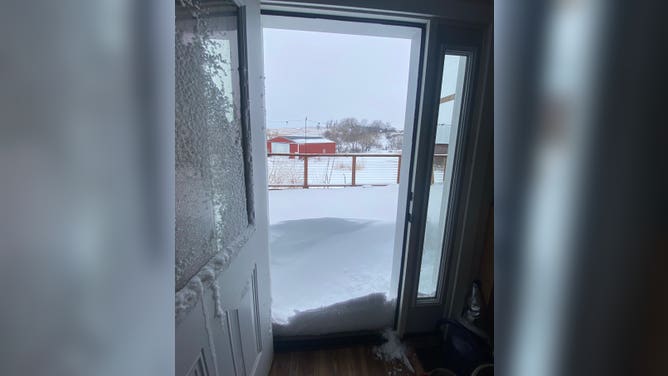 The Iowa State University campus in Ames also experienced snowfall. By early Thursday morning, enough snow fell for students, faculty and staff to make large snowmen.
BEFORE 'FROSTY': THE ORIGIN STORY OF THE MODERN SNOWMAN
Snow also blanketed Waterloo in eastern Iowa.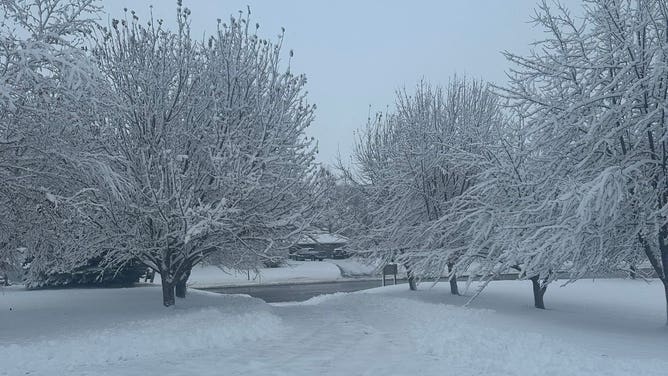 A fresh blanket of snow also covered the grounds of Terrace Hill, the Iowa Governor's Residence and Historical Landmark.

Nebraska
The winter storm made its way to Nebraska on Wednesday, making many roads impassable.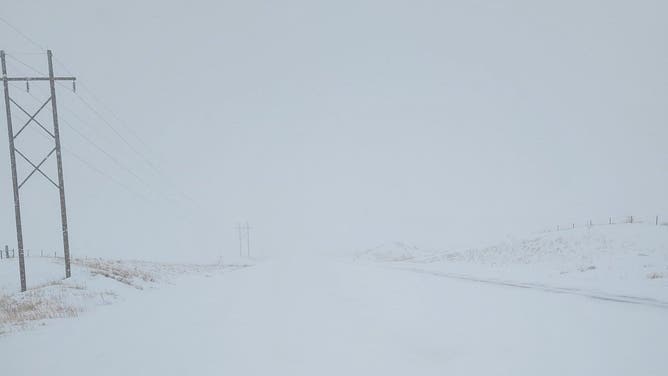 At least 8 inches of snow had fallen by 9 a.m. Central Time at the National Weather Service office in North Platte. Enough snow had fallen by that night for one of their weather forecasters to make a snow angel.
In southeast Nebraska, snow hadn't yet fallen by Wednesday afternoon, but ice had begun to form over plant life.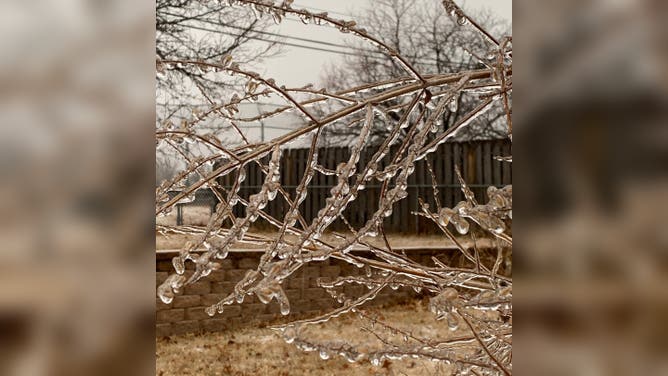 Kansas
In northwest Kansas, inclement winter weather created slick road conditions. 
DRIVING ON THE ICE AND DRIVING IN THE SNOW
The photo below shows first responders assisting with a crashed pickup truck west of Oakley. The truck had rolled multiple times and landed upside down on the side of the road.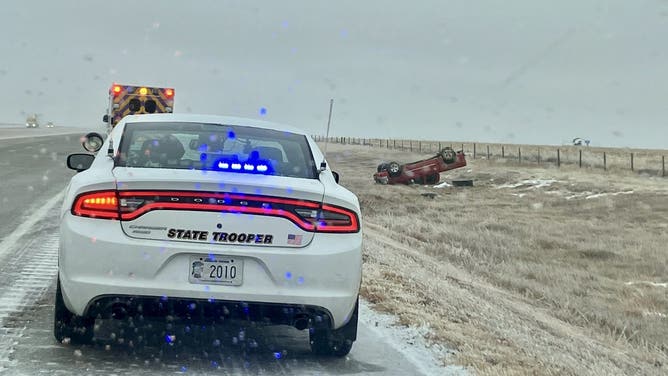 The Kansas Highway Patrol said the three occupants inside were restrained and not injured.
Colorado
Snow began to fall in Colorado on Tuesday night, creating a winter wonderland by Wednesday morning. 
With the inclement weather, however, came accidents. The photo below is from an accident on I-70 in Glenwood Canyon in central Colorado. 
One of the crash-involved semis was carrying approximately 7,000 gallons of gasoline, which had to be transferred to a second tanker brought to the scene.
SLIPPERY ROADS REPORTED IN DENVER AREA AS WINTER STORM SPREADS INTO PLAINS, MIDWEST
Out east of Denver in Strasburg – also on I-70 – multiple vehicles were involved in a crash that led to the interstate closure.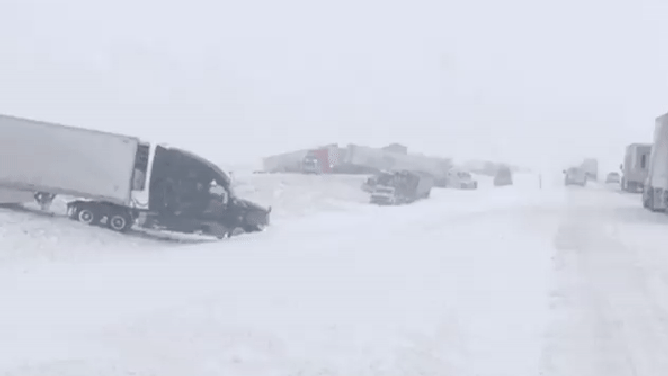 Farther south in Durango, snow led to road closures for the safety of drivers.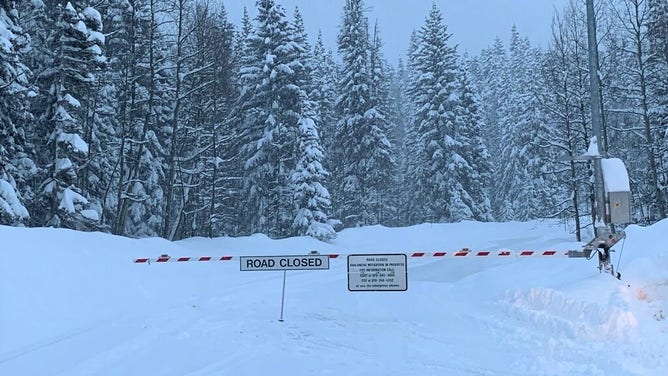 HOW TO PREPARE YOUR FAMILY, HOME AND CAR FOR WINTER
Heavy snow has led to school cancelations and road closures in the Denver area, as well. 
The Denver suburb of Aurora was covered with inches of snow by Wednesday afternoon.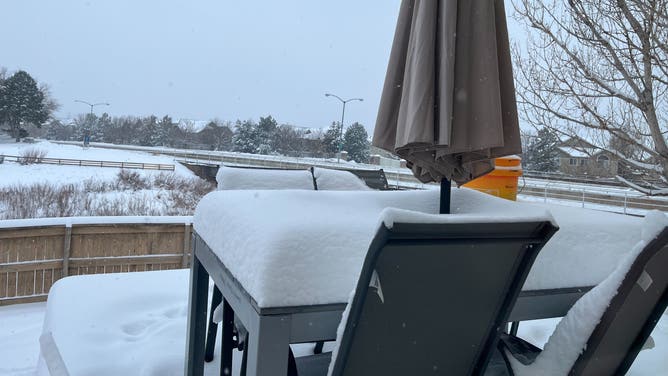 Northeast of Denver, the snowfall created a winter wonderland. 
THE ORIGIN STORY OF THE MODERN SNOWMAN
The winter wonderland was thoroughly enjoyed by some of Colorado's furriest residents.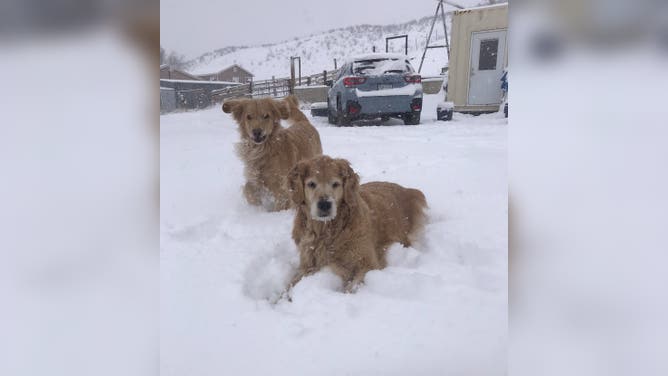 The winter storm continued moving through the Plains and the Midwest on Thursday.