Winter weather expected to cause home heating costs to soar by 28%
Weather and low-fuel inventories are a one-two punch to home heating budgets, meaning costs will continue to rise into the winter.
Americans will take another hit to their wallets this winter as energy experts expect a significant increase in costs to heat homes across the U.S.
The U.S. Energy Information Administration (EIA) recently released the latest Winter Fuels Outlook report after analyzing NOAA weather forecasts and fuel price forecasts.
The agency says homeowners will pay between 5% and 28% more than last year to heat their homes through the winter.
"The NOAA forecast gives us a sense of how much winter fuels, how much natural gas a house is going to have to consume for heating," Chris Higgenbotham of the EIA told FOX Weather on Tuesday. "We combine that with our forecast for prices and that helps us forecast what we think the average U.S. household is going to pay to heat itself this winter season."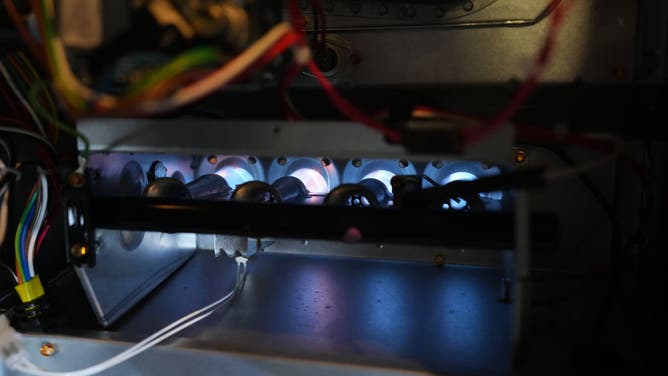 The increase depends on where you live your primary source of heat. Almost 50% of the U.S. heats with natural gas, which has nearly tripled since 2020 for the commercial/industrial market. 
The report says that the average household will spend $931 or 28% more than last year to heat their home with natural gas between October and March. The Midwest should brace for a 33% increase, said Higgenbotham. 
Since the weather is so variable, the EIA also calculated costs if the winter is 10% warmer and 10% cooler than the current forecast.
Those heating with natural gas could pay 51% more than last year if the winter is 10% cooler than expected. A winter 10% warmer than the forecast will still cost the average homeowner 19% more than last year.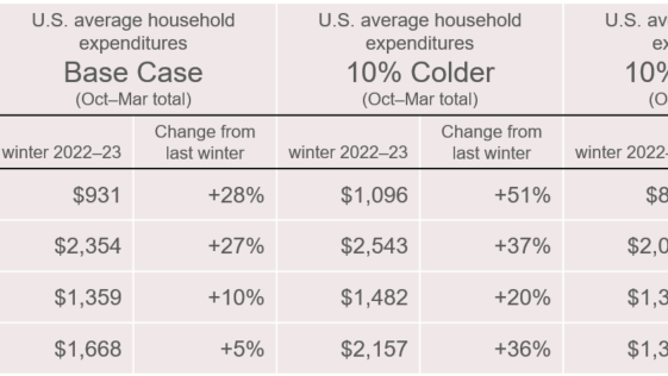 "The overall outlook for energy this winter is the worst we've seen in about 15 years," Mark Wolfe, executive director of the National Energy Assistance Directors Association, said, regardless of the fuel used. "Remember, if you heat your home with electricity, natural gas is a feeder fuel to produce it." 
About 40% of Americans use electricity to heat their homes, 5% use propane, 4% use heating oil and 1.3% use wood.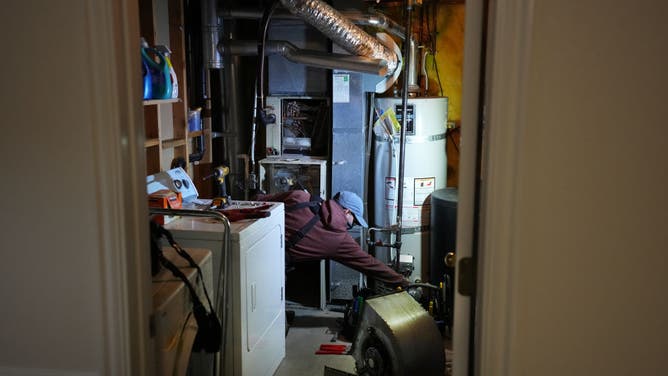 How cold?
Much of the eastern half of the U.S. already has the furnace burning this week. A winter-like cold front ushered in record-low temperatures. NOAA expects that chilly trend to continue. The winter forecast they shared with EIA shows temperatures slightly colder than last year's and colder than the past decade of winters.
The EIA expects the Northeast, Midwest and West to have 5% to 6% more heating degree days (HDD) than last year and the South to increase by 9%. Heating degree days are the number of degrees that the average daily temperature for a given location is under 65 degrees.
HOW TO WATCH FOX WEATHER ON TV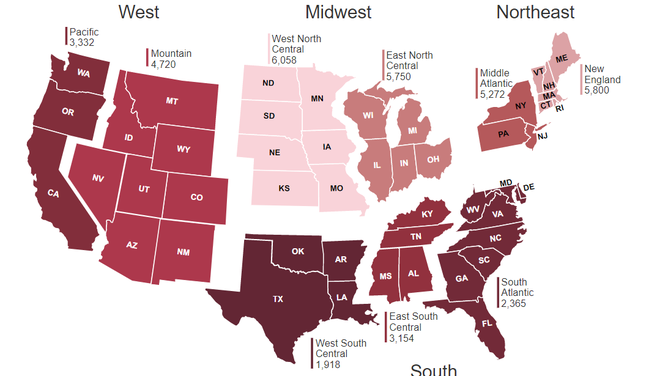 Evidence also points to another La Niña winter which traditionally means a cooler-than-normal winter for most of the country.  NOAA officially releases its Winter Outlook to the public on Thursday.  
LA NINA WINTER WILL MEAN PARTS FO THE US WILL FEEL LIKE A TUNDRA BUT SNOWY WONDERLANDS COULD BE HARD TO COME BY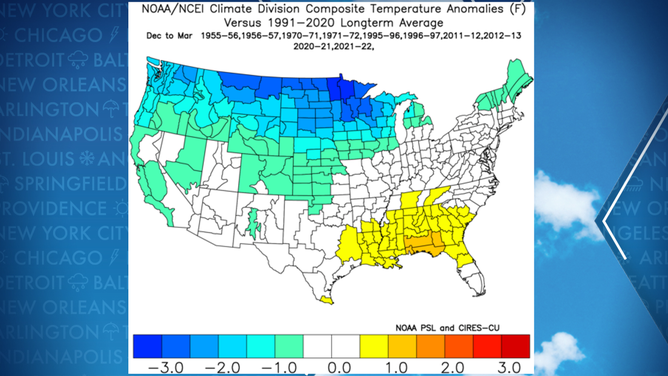 Why are fuel prices so high?
Natural gas
According to the EIA, U.S. natural gas inventories are at their lowest in 3 years due to high demand during the cold January. Summer heat also forced utilities to use more natural gas to generate electricity to prevent brownouts. Natural gas feeds about 36% of electric production. High prices overseas meant record exports too.
SUMMER 2022 FINISHES AS THIRD-WARMEST SEASON EVER WITH RECORDS SET ACROSS COUNTRY 
"The war in Ukraine, that's pushing up natural gas prices. Russia has turned off supplies of natural gas to Western Europe," said Wolfe. "So, they're looking for wherever they can buy natural gas, including the U.S." 
If temperatures are 10% lower than NOAA forecasted, natural gas inventories could be as low as 41% below the five-year average, calculates the EIA. While prices may be volatile depending on the weather, the agency believes supplies will get the U.S. through the winter.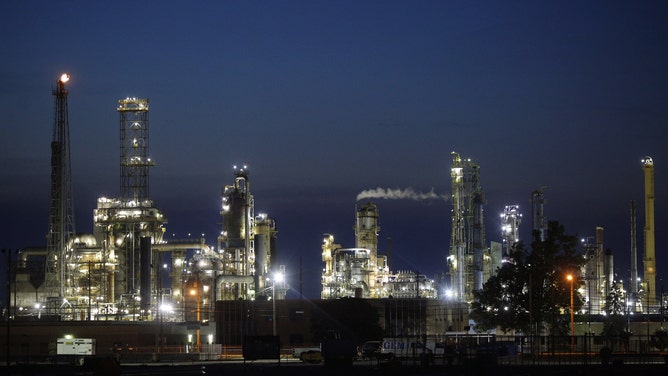 Heating oil
The average household heating with heating oil will spend about $2,350 this winter, which is about 18% of the Northeast.
Limited oil refinery capability doesn't allow companies to increase production as the need increases quickly, like during a cold snap that limits U.S. contributions. OPEC+ announced production cuts adding price pressures and political factors that will keep prices volatile.
"With the impending implementation of the European Union's ban on Russia's petroleum products in February 2023, the potential for increased fuel switching from natural gas to distillate (oil) presents a greater source of price uncertainty than in previous years," states the outlook report.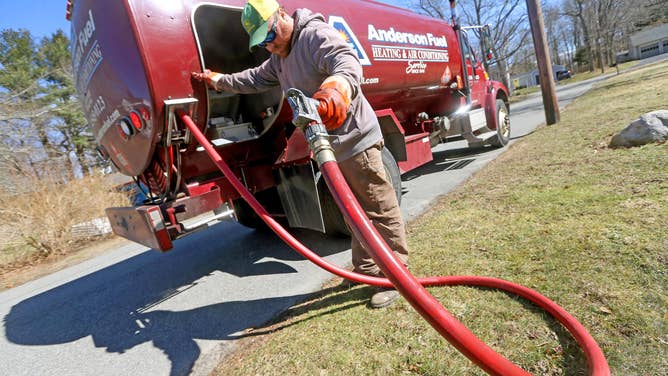 Electric
Almost 66% of homes in the South heat primarily by electricity. The EIA expects the average bill to be $1,359 this winter. 
The U.S. is expected to generate 26% more electricity with solar power and 9% more with wind than last year. But, renewable energy sources account for only 16% of power generation, leaving the industry reliant on fossil fuels.
HEATING YOUR HOME WILL BE $177 MORE THIS WINTER. HERE'S WHY
Cutting costs
Consider winterizing your home to save on heating costs. Up to $1,200 of the costs can be offset by White House tax cuts starting next year, but FOX Business's Grady Trimble said those savings could be slow to accumulate and realize.
WINTERIZING CAN PREVENT WINTER-WEATHER NIGHTMARES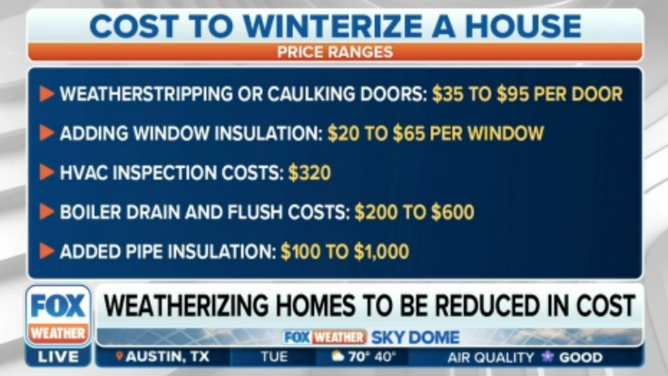 Lowering the thermostat is one of the easiest ways to save.
"A five-degree change (on the thermostat) can save you 10% on your bill," explained Wolfe.