Rescuers race to pull the helpless out of Turkey floodwaters weeks after deadly quake
Over 50,000 people died in the series of February earthquakes. Now, 5 weeks later, torrential rains claim at least 16 more lives and destroy countless homes and apartments.
SANLIURFA PROVINCE, Turkey – Only five weeks after a series of major earthquakes devastated southeast Turkey, disaster strikes again. Deadly flooding turned boulevards into raging rivers. So far, waters have killed 16, according to the state news agency Anadolu.
Frantic cries for help can be heard in the video as bystanders desperately try to brace themselves against the force and wade into the water to catch helpless neighbors bobbing in the rapids that used to be a street.

Several neighbors line the inundated roads and offer anything for victims to grab onto. Bystanders offer ladders, hoses, scarves and anything to those trapped and the group to pull the person out. The crowd watches and cheers on the effort.
7 FACTS YOU SHOULD KNOW ABOUT FLASH FLOODS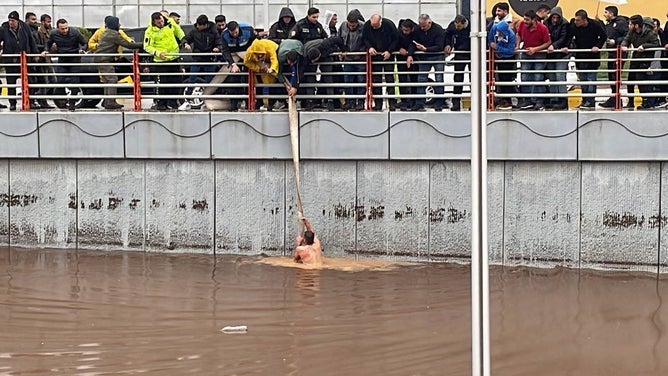 Watch how fast the muddy water pushes cars effortlessly. They collide together like flotsam. Police officers don dive suits to hit the "street" and pull any survivors and bodies from the wrecks.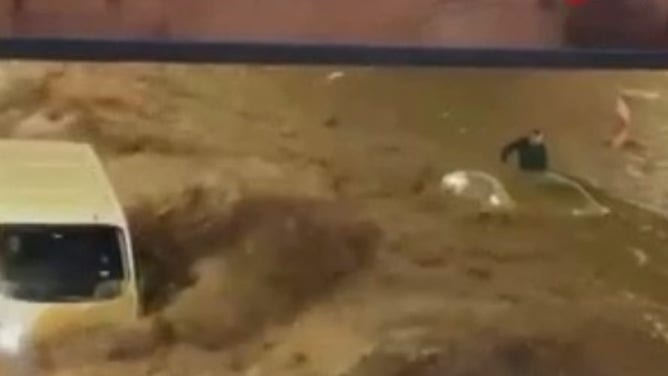 One policeman at a rescue scene was reduced to tears.
WATCH: RESCUERS SAVE SMALL DOG TRAPPED IN RUBBLE FOLLOWING EARTHQUAKE IN TURKEY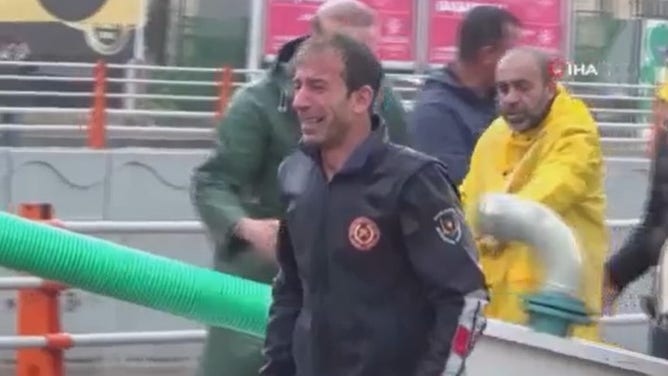 Government officials took to social media to plead with residents to evacuate basement and first-floor apartments and homes.
The Turkish Minister of Defense posted a video of an armored military vehicle towing two crowded buses from an underpass. Local media reported seeing officers pulling several bodies out of the bus.
After the deadly quakes destroyed over 164,000 buildings, according to AP, many homeless people were forced to shelter in tents and makeshift container homes. In one city, officials evacuated quake survivors from almost 2,000 tents, according to local news outlet Milliyet.
One family living in a container that they placed in the garden of their temblor-destroyed home washed away. Milliyet said that first responders found one dead, but three more are still missing.
CALIFORNIA REELING FROM MUDSLIDES, WIND DAMAGE AFTER LATEST ATMOSPHERIC RIVER TO PUMMEL STATE
'Worst flooding in 65 years'
The area saw 6 inches of rain in two days, the worst in 65 years, Sanliurfa officials said in a statement. A typical March only sees 2.5 inches of rain. The city got a third of its annual rainfall in just two days.
Officials also reported that 4,895 residents called the emergency number for help just in that city.
More dramatic video shows a truck driving along a riverbank. Runoff across the road pushed the big rig over the edge and into the ravine.
'THIS IS THE WORST QUAKE T HIT REGION IN OVER 100 YEARS' SAYS TURKISH AMBASSADOR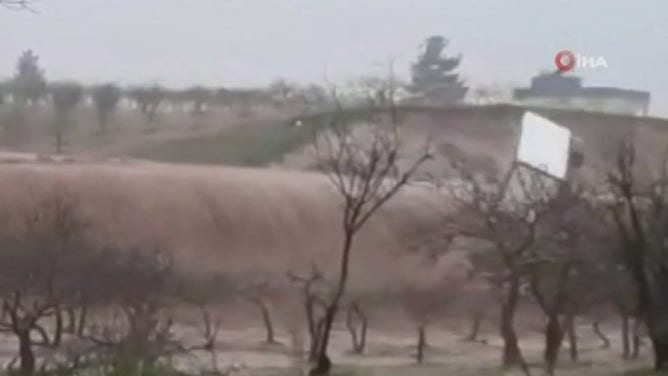 Flooding ate away at a bridge. A photographer caught the asphalt breaking apart in big chunks and disappearing into the water.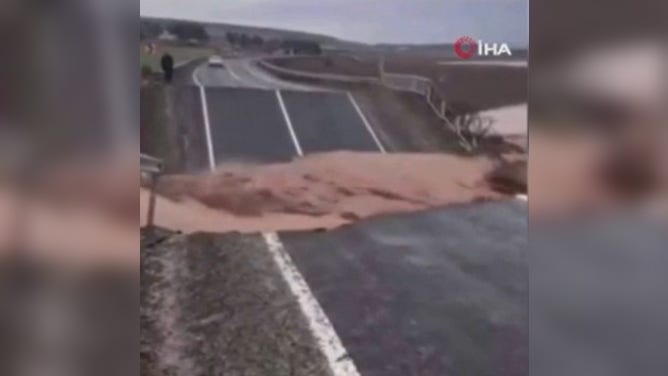 The country is still mourning after three earthquakes of 7.5, 7.8 and 6.7 magnitude rocked the region on February 6, 2023, followed by 11,000 aftershocks. The first major quake struck in the middle of the night, forcing many out of bed and into the snowy streets with no supplies. 
UNICEF reports that in Turkey alone, 1.9 million residents were forced from their destroyed homes and currently live in shelters. And over 850,000 children are orphaned or still separated from their parents who have gone missing.
TURKEY EARTHQUAKE NOW DEADLIEST IN ITS MODERN HISTORY AS DEATH TOLL CONTINUES TO RISE
Over 44,000 died in Turkey from the quake. Over 50,000 people died in both Turkey and Syria.