If drought-stricken Oregon wasn't enough, biblical droves of giant insects now pester farmers
In the summer of 2021, Oregon suffered its worst grasshopper outbreak in 50 years, with a record 10 million acres in 18 counties suffering damaging levels of infestation
KLAMATH COUNTY, Ore. – In farm fields across the state of Oregon, farmers are plagued by drought. But another battle they are fighting is an army of advancing pests beginning to lay their eggs by the billions.
Some ranchers have described last year's massive droves of grasshoppers and Mormon crickets as biblical. Are they being dramatic? The answer is no.
'Riding through a whole cloud of grasshoppers'
In the summer of 2021, Oregon suffered its worst grasshopper outbreak in 50 years, with a record 10 million acres in 18 counties suffering damaging levels of infestation, according to the Oregon Department of Agriculture.
HOW TO WATCH FOX WEATHER ON TV
"Particularly last year, it's a horrible but pretty incredible thing to see in person," said Ian McGregor, assistant professor of practice of livestock and forages at Oregon State University's Klamath Basin Research & Extension Center.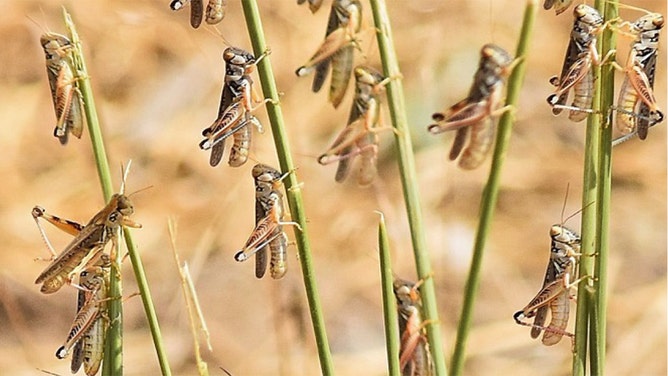 Fields that were perfectly fine one evening were turned into a parking lot the following day. Farmers described it as looking as if the ground was moving.
"They were basically just stacked on top of each other in these dryer fields," McGregor said. "Ride your horse through there, and you're just riding through a whole cloud of grasshoppers."
Love for dry environments
Mormon crickets and grasshoppers eat grass and forage – Oregon's most prominent agricultural commodity. They also have large dairy and beef cattle industries.
"And when we have the Mormon crickets and the grasshoppers eating our grass, we can't feed to our cattle, and that creates a serious issue," McGregor said.
McGregor said evidence suggests that dry environments tend to favor the Mormon cricket and grasshoppers. Currently, 87% of Klamath County is classified in extreme drought or worse. Last year at this time, that percentage was almost 91%.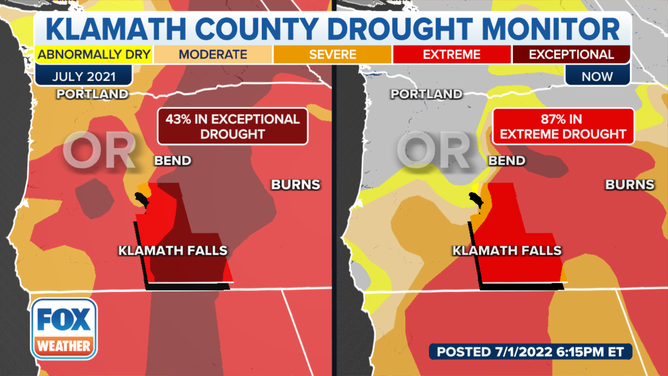 DROUGHT IMPROVING IN WEST BUT TAKING A TOLL ON THE EAST
And while these pests can devour all the standing forage from drought-stricken fields, they are not new to the state. McGregor refers to it as an "infrequent issue."
"Most years we see grasshoppers around, but they don't cause any kind of damage that is economically significant," he said. "They're just part of the ecosystem."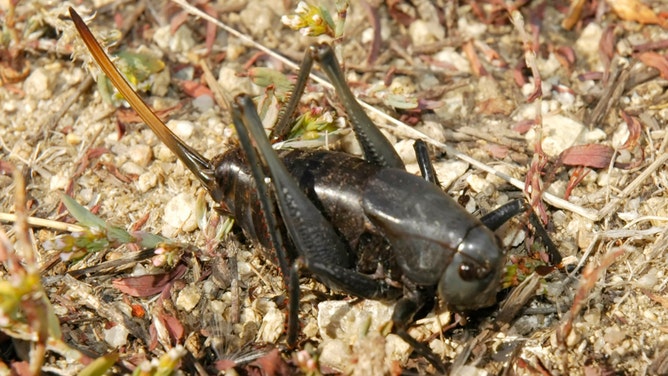 Light infestations – six to seven grasshoppers per square yard across 10 acres – will eat as much as one cow daily. When that increases to 17 grasshoppers per square yard across 40 acres, the pests consume roughly a ton of forage daily, equating to around $200 to $300.
"When you have 17 per square yard, you have an issue," McGregor said. "Last year and in some places around Klamath County in the state of Oregon this year, we're seeing them in just incredible numbers where they're covering every inch of the ground."
In Klamath County, grasshoppers were found at excessive rates, particularly in the Swan Lake and Sprague River areas.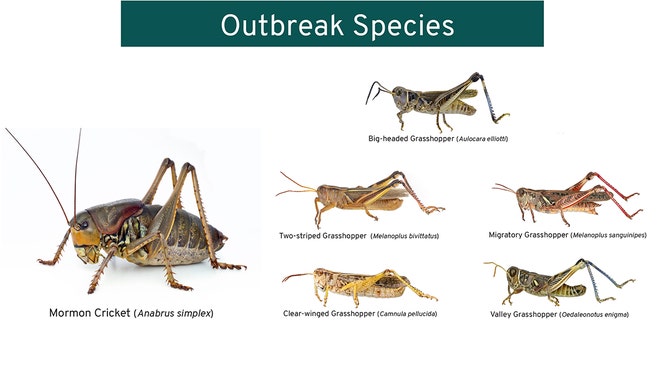 How do you manage the pests?
In response, McGregor organized an outreach event for landowners, public land managers and agency employees, teaching them efficient management strategies and ways to help predict outbreaks. 
Oregon grasshopper season begins in April, when eggs laid the previous fall hatch from the soil. Hatches can last until July depending on elevation, temperature, soil moisture and the specific grasshopper species, the ODA reports. 
7 WAYS TO CONSERVE WATER AT HOME DURING A DROUGHT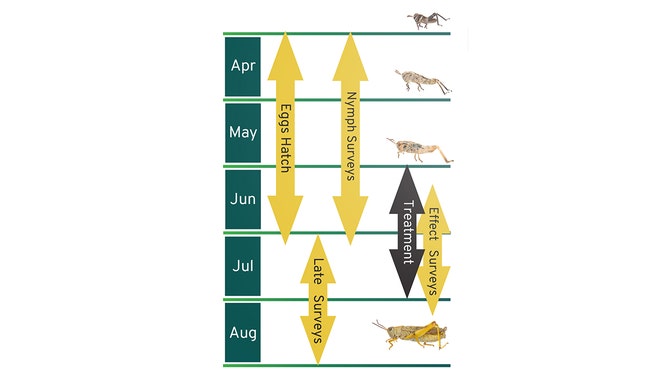 McGregor said he is now tracking their growing degree days as a method to trace their development and know better when to apply pesticides.
The state also approved one-time funding of $5 million to help the ODA combat the severe grasshopper season expected this year before they cause any economic damage.
JUNE WAS A MONTH OF WEATHER EXTREMES. HERE'S THE PROOF
"By being on top of it, it actually allows us to do effective management because it's been shown that once grasshoppers get too old or well-developed once they get their wings, any kind of control method is going to be worthless," McGregor said.
Last year, state agriculture experts estimated 10 million acres of mostly private land were damaged. This followed the already historic outbreak of 2020, when 60% percent of all government survey sites recorded significant grasshopper numbers, the ODA states.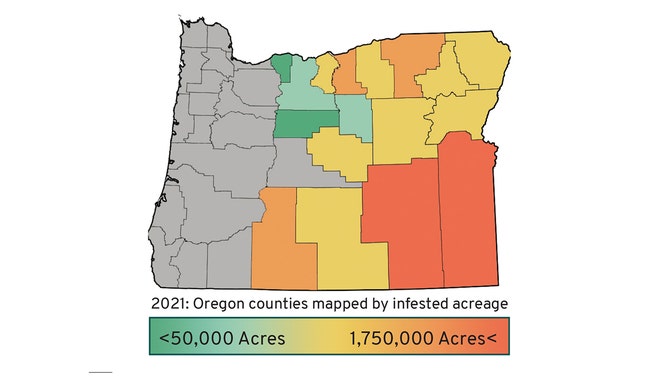 Plenty of other western states are also affected, like Nevada, Utah and Wyoming. McGregor guesses it's in the tens of millions, if not hundreds of millions of acres, across the American West that was destroyed.
CLICK HERE TO GET THE FOX WEATHER UPDATE PODCAST
Be sure to download the FOX Weather app to track any storms in your area and receive potentially life-saving weather alerts issued by the National Weather Service. The free FOX Weather livestream is also available 24/7 on the website and app and on your favorite streaming platform. The FOX Weather Update podcast also provides weather information for the entire country.