Tropical rainmaker creates dangerous flooding in South Florida
100 cars pulled from flooded streets in Miami-Dade
Drivers in South Florida became trapped or stranded after heavy rainfall from a tropical disturbance flooded roads in parts of Miami-Dade and Broward counties Saturday.
Commuters in South Florida are used to traveling in flood-prone urban areas, and most didn't turn around but continued driving through flooded roads. If a driver cannot see the road ahead, they should never continue.
A couple visiting Miami from California described a frightening situation when their taxi driver traveled into a flooded road, and the vehicle was quickly overcome with water. 
[FOX Weather is live with the FOX Weather Wire covering live updates on Potential Tropical Cyclone One threatening Central and South Florida. Click here for live updates.]
"We asked him not to proceed, and he said 'No, it was OK,' and he went threw and our car became flooded," Janis Graybill said. "Then we had to get out of the car in waist-deep water and get our luggage out and walk and swim."
The couple made it out, but the flooded cab remained abandoned under an overpass. 
"We imagined the entire cab of the car being flooded and possible drowning," Jonathan Graybill said. "We didn't know if the doors we were going to be able to open, and we would be able to escape. It was pretty scary."
HERE'S WHAT TO DO AFTER YOUR CAR IS FLOODED
Miami Fire Rescue responded to multiple highwater vehicle evacuations Friday night and Saturday morning. About 100 cars were later pulled from flooded streets.

Palm Beach County sheriff's deputies advised people to stay off the roads after responding to weather-related crashes.
TROPICAL SYSTEM TO SOAK SOUTH FLORIDA BUT BRING NEEDED RAIN FOR PARTS OF THE SUNSHINE STATE
As the rainfall continued, the NWS in Miami issued a Flash Flood Warning for part of Broward and Miami-Dade counties.
The Miami-Dade Fire Rescue deployed its high water vehicle to rescue people in North Miami-Dade impacted by flooding on Saturday. 
EXPLAINING FLOOD ALERTS ISSUED BY NATIONAL WEATHER SERVICE
Jeff Yastine in Pompano Beach shared the photo below during high tide after nearly 10 inches of rainfall. The images from around 10 a.m. were taken about 2 hours before peak high tide.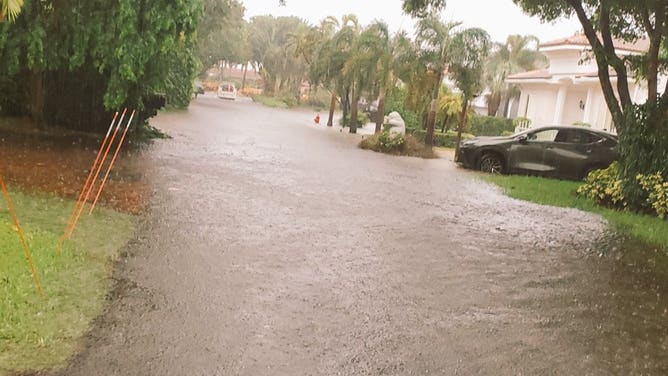 According to the National Hurricane Center in Miami, rain bands are expected to subside late Saturday as Potential Tropical Cyclone One moved off Florida's east coast into the Atlantic Ocean. 
CLICK HERE TO GET THE FOX WEATHER UPDATE PODCAST
Flooding was also impacting waste collections across Southeast Florida. Hollywood city officials said collection services were running behind as standing water has pooled in low-lying areas. The city of Fort Lauderdale tweeted that neighborhoods scheduled for service Saturday may not be able to be reached due to flooding.
"Carts should not be placed on flooded streets," the tweet read.
In Southwest Florida, the heavy rain began to diminish gradually, and a significant flooding threat never materialized.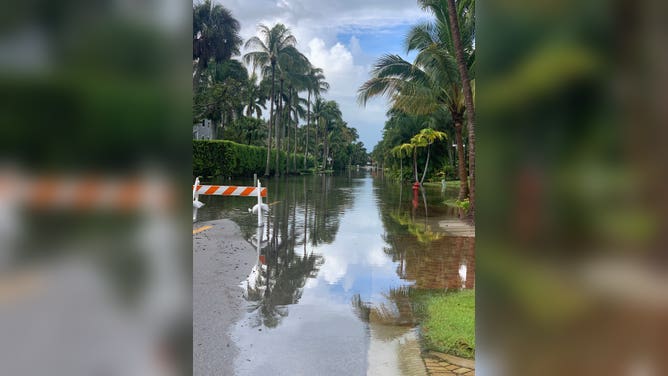 Reports of pooling water and some flooding was reported in Collier County, where FOX Weather Meteorologist Steve Bender was located for the storm. 
The NHC dropped parts of the gulf coast, including from Tampa to Fort Myers, from the Tropical Storm Warning.