'We got totally wiped out': Kentucky towns still recovering a month after devastating flood
It's been a month now since historic flood waters swept through eastern Kentucky, killing dozens and leaving catastrophic damage in their wake.
NEON, Ky. –  It's been a month now since historic flood waters swept through eastern Kentucky, killing dozens and leaving catastrophic damage in their wake.
FOX Weather went back to towns devastated by the flooding to see how their recovery efforts are progressing in the weeks since the torrential rains.
"When virtually an entire town is wiped out by flash flooding a month later … it's eerie," said FOX Weather Multimedia Journalist Robert Ray while reporting from Neon. "All windows that used to be storefronts are all blown out. There's a quiet."
A walk along Main Street in downtown Neon finds dozens of storefronts still closed.
"And you walk into some of these former businesses, and it's unbelievable," Ray said. "They are completely cleared out. Several weeks ago, these businesses were full of mud."

KENTUCKY CHURCH YOUTH GROUP EAGER TO REBUILD AFTER CATASTROPHIC FLOODING
In what used to be a bustling law office, mud-caked furniture and office equipment remain strewn about. Mud-spackled walls show how high the floodwaters reached – somewhere near 6 feet in the front office.
Between 7 and 10 inches of rain fell in parts of eastern Kentucky over two days, most of which fell in just a few hours early on the morning of July 28. The cities of Hazard and Jackson both received nearly 8 inches. At least 39 died in the floods as homes were swept away by raging rivers that crested several feet higher than had ever been seen before in their worst floods.
'We got totally wiped out'
One building in Neon is over 100 years old. Bonnie and Randall Kincer, who have been married 54 years, had just recently purchased the building before the floods. They put a flower shop in the front, while in the back, they built a dance studio and a place for children to come after school.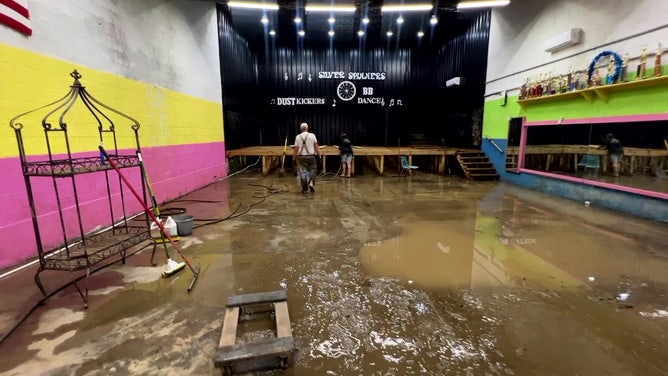 HOW TO WATCH FOX WEATHER ON TV
"We got totally wiped out," Bonnie Kincer said. "Last summer, me and my husband spent everything we could get our hands on to fix this building for the children to come back after the pandemic. It's just hard when you invested everything you had into something and see it float away."
Randall even developed a staph infection while wading through the floodwaters attempting to save their items, but he's confident the town will bounce back.
"There are too many good people in this town to die," he said. "(But) it's going to take some time; it's going to take some money."
On another corner on Main Street, the smell of rotting garbage piled high on vacant spots -- a recurring scene in many places in town.
'There was mud everywhere'
There are some bright spots amid the recovery.
Some schools in counties that have been hurt by flooding have reopened in the last week, including Marie Roberts-Caney Elementary school in the nearby town of Lost Creek.
Principal Jason Fugate said they've been able to bus some students living in shelters, but others still remain out of school or temporarily have to attend nearby districts.
"It's not going to be exactly like every other school year," Fugate said. "But when it comes to what we do with the kids here – caring for them and teaching them the best we can – that part with be normal."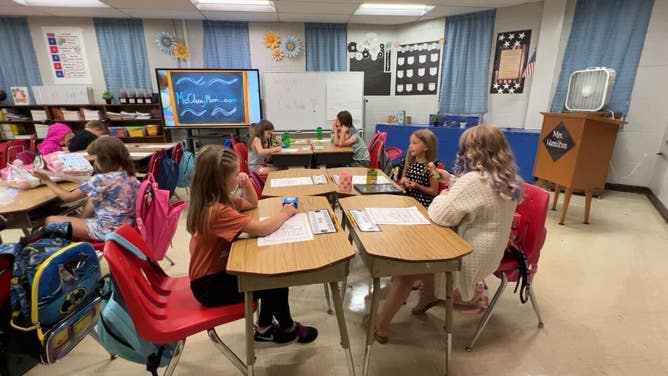 For some other schools, there remains a long road ahead.
Contractor Kerry Wilson was tasked with starting the cleanup.
"It was terrible," he said when he first arrived. "There was mud everywhere, probably a few inches thick."
KENTUCKY FLOODING DEATH TOLL REACHES 39
Inside Martha Jane Potter Elementary, industrial dehumidifiers still whirr away, trying to suck up the moisture as crews work to mop up the puddles, hoping they can get the school back in order. In the meantime, desks, cabinets, chairs and filing folders all sit outside, exposed to the elements.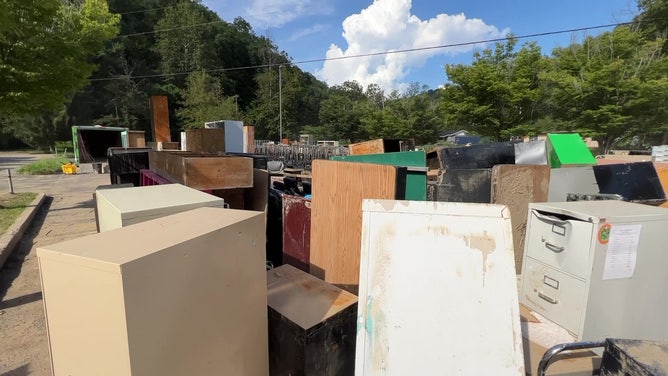 "As you walk down Main Street and see both sides in destruction, the main questions are whether towns like Neon will actually survive and make a comeback," Ray said. "Will insurance help them? Will FEMA step up? Will the schools reopen? Will folks have the hope and determination to stay?"
They are questions folks in towns ravaged by the floods are grappling with amid the months and years of rebuilding their region ahead.