3 found dead after Alabama floodwaters recede
So far five have died from this week's storms -- two killed by tornadoes and three apparently by flash flooding.
HOLT, Ala. – Flash flooding is being blamed for the deaths of at least 3 people in Alabama as parts of the state saw more than half a foot of rain during the week's severe weather outbreak that moved through the South.

The Tuscaloosa Police Department reported finding the bodies Thursday inside a submerged vehicle in the northeast part of the city.
Police announced that the victims were in an SUV which appears to have been disabled then sank in floodwaters.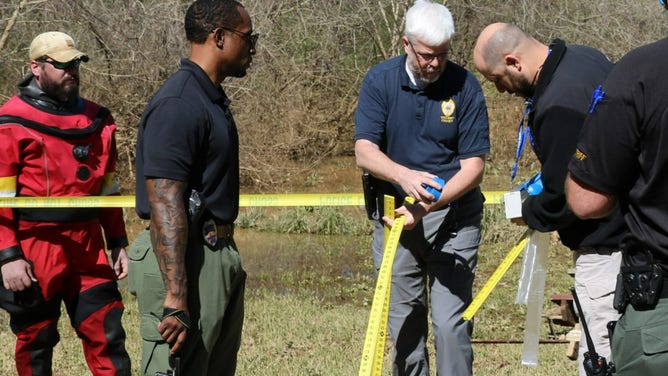 It's unknown when the SUV drove into the floodwaters but heavy rain started impacted the region on Tuesday.
Police did not immediately identify the storm victims but said they ranged in age from 42 to 72 years old.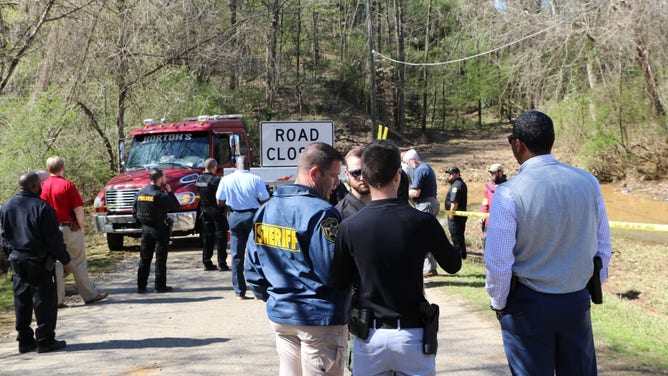 The heavy rain was part of the same system that spawned over 50 tornados across seven states since Monday. FOX Weather monitored the severe storms and showed that at times rain was falling at 5-9 inches per hour in some areas.
THESE 7 VIDEOS TELL THE STORY OF THIS WEEK'S TORNADOES ACROSS THE SOUTH
Tuscaloosa saw 3.56 inches of rain during the storm and 2.36 inches fell in just three hours. A large swath of Alabama recorded 3-5 inches of rain with localities getting up to 5-8 inches.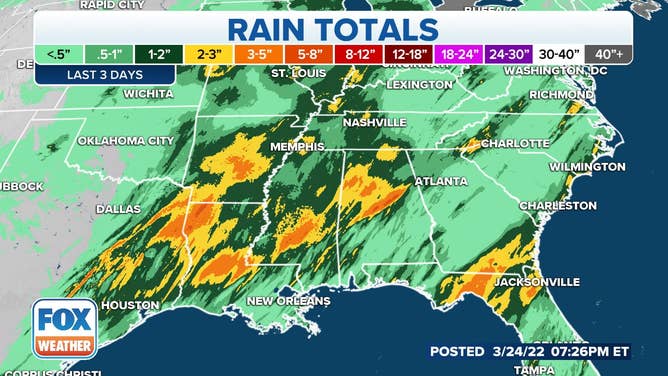 LEARN HOW TO WATCH FOX WEATHER ON TV
Elsewhere in the region, water rescue crews were called to a home in Childersburg, AL at 2:30 Wednesday morning to evacuate the residents. The fire department said that several cars were submerged to their hoods.
The fire chief reported that 40 homes, about two-thirds of the community, were inaccessible due to flooded roads.
STAY OR GO? TRUSTING YOUR GUT CAN BE LIFESAVING WHEN MULTIPLE WEATHER WARNINGS ARE ISSUED
The police chief posted photos of a sports complex underwater in Oxford, Alabama. Two pavilions looked more like boats.

Because of the nature of the storms not all areas received flooding rain.
Lafayette, Louisiana residents got off easy with only 0.62 inches but received it all in only one hour.
The storm will finally move off the coast Friday bringing dry weather so communities can recover.