Texas football players forced to conquer heat and opponents on gridiron
As the summer heat continues, both high schools and colleges in Texas must adhere to an 'acclimatization week' as football practices begin in the state.
The familiar feeling of those Friday night lights illuminating football fields across Texas gets players motivated to start their season, but the risk of staying healthy while practicing during the record-breaking summer heat has coaches and athletic trainers doing all they can to prevent injuries.
Many schools across Texas have already started their training regiments and football practices for the season are underway.
Coming off the hottest July in Texas' history, coaches have been scheduling practices earlier in the mornings to help with heat exertion on the athletes.
For Tim Moore, head athletic trainer at Johnson High School in San Antonio, his main goal is to keep the football players safe in the Texas heat.
"The only good thing about this week is it's acclimatization week," Moore said about the first few days of practice.
Acclimatization week is required by the University Interscholastic League (UIL) of Texas and aligns with other association football standards.
UIL requires Texas schools to implement a one-week period for football players to help them become accustomed to the summer heat.
"So, Monday was our official first practice, and all the football players were in helmets only, and they're in helmets for two days while they're out here practicing," Moore explains.
HOT WEATHER CAN STRAIN ATHLETES. HERE'S HOW TO PREVENT HEAT ILLNESSES, INJURIES
Helmets are only typically worn during the first two days of practice and shoulder pads are gradually introduced as athletes become more accustomed to the weather. 
"No person-to-person contact is allowed until day five, and full contact is not allowed until day six," Julia Zachary from UIL said.
Moore says setting the first week up of practices helps, especially when high temperatures average just shy of 100 degrees.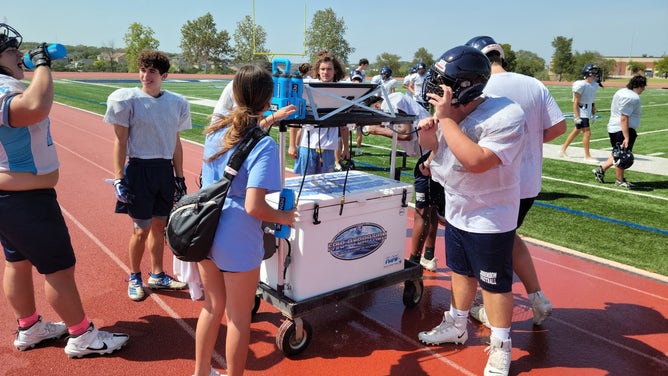 "It hits 90 by eight o'clock in the morning," Moore said. "But it's the humidity that kills us."
The Lone Star State saw more excessive heat warnings this summer than in any other recent year.
In San Antonio, the average high temperature during July was 101.6 degrees, up nearly 7 degrees from a normal month.
Moore said because of that, practices start early in the morning, and there are constant reminders to keep hydrated.
"We tell them make sure you take care of your body first because when they're cramping, or they're having a heat issue, they're not doing the team any good," he said.
The effect heat has on athletes
Heat illness during practice or competition is a leading cause of death and disability among U.S. high school athletes, according to the Centers for Disease Control and Prevention.
And for those on the football field, a study by the National Library of Medicine found that the most significant risk of exertional heat among football players occurred during the first two weeks of football practice.
Exertional heat illness (EHI) is one of many conditions with which athletic trainers, like Moore, must contend when supervising the players in preseason football practices.
HOW TO TELL THE DIFFERENCE BETWEEN HEAT EXHAUSTION AND HEATSTROKE
Kathy Dieringer, president of the National Athletic Trainers' Association, believes that it is crucial to monitor exercising in the heat and humidity as it puts extra stress on your body.
"The important thing is to pay attention if you have these symptoms when you're out in the heat and act," Dieringer said. "If you don't, your condition can deteriorate into a life-threatening situation known as exertional heatstroke, which is basically when the body shuts down due to an excessively high core temperature." 
Moore and Dieringer both recommend cooling off with cold towels or ice baths when getting too hot after practice.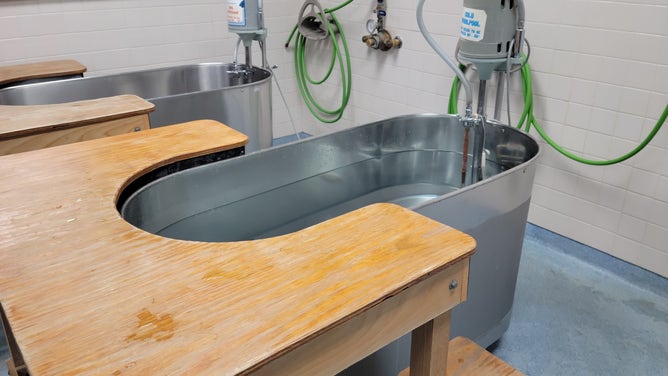 Dieringer said that athletes' reactions to heatstroke or heat exhaustion vary depending on their health status, but in order to avoid heatstroke or heat exhaustion, hydrating is key.
The impacts of heat don't just impact high schoolers, collegiate sports are also impacted.
The NCAA says that transition periods, like those coming from an offseason, hold a particular risk for injuries.
"Many nontraumatic deaths take place during the first week of activity of a transition period in training," the NCAA said. "Given this fact, it is imperative to recognize the vulnerability during these periods and to ensure that both proper exercise and heat acclimatization are implemented."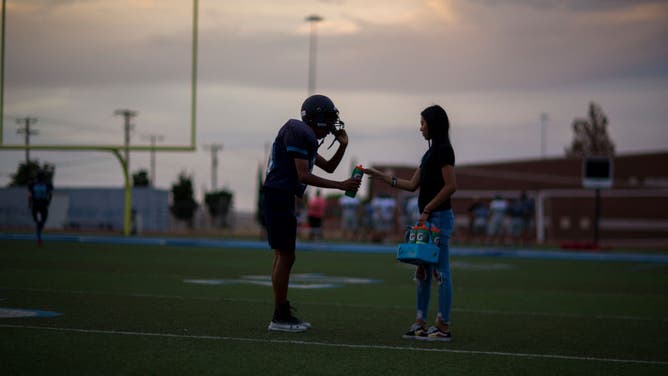 It takes approximately seven to 10 days for the body to acclimatize, especially during periods of warm or hot weather.
"Acclimatization, especially heat acclimatization, can occur only through repeated exposure to a hot environment while progressively increasing the volume and intensity of physical activity," the NCAA said. 
Sports Medicine Specialist, Dr. David Geier, says that both high school and collegiate athletes need to make sure to change their training methods when in the heat.
"A high school sport, maybe like football that has a decent number of deaths due to exertional heat stroke, they tend to be in southern states with higher temperatures and higher humidity. So, it becomes really important to slowly get used to those conditions over a period of several weeks," Geier said.
The UIL said that their acclimatization week aligns with the standards of the NCAA.