Hot weather can strain athletes. Here's how to prevent heat illnesses, injuries
Is it really that much safer to head out in the morning or afternoon when we're already starting with temperatures in the 90s in some places?
With temperatures heating up to record highs across the country, exercising in the heat and humidity can put extra stress on your body.
Heat illness during practice or competition is a leading cause of death and disability among U.S. high school athletes, according to the Centers for Disease Control and Prevention.
Is it really that much safer to head out in the morning or afternoon when we're already starting with temperatures in the 90s in some places?
HOW TO WATCH FOX WEATHER ON TV
"A good rule of thumb is if the ambient temperature is over 90 degrees, you may be putting yourself into a challenging situation," said Kathy Dieringer, president of the National Athletic Trainers' Association.
If the humidity levels are also high in your area, the ambient temperature doesn't have to be as high as 90 degrees for there to be a risk of heat illnesses, according to Dieringer.
"We also know that hot days contribute to poor air quality, which can also affect you during exercise," she said. "Consider all of these environmental elements when you are deciding whether to exercise outside in the heat."
Athletes: Now is the time to download the FOX Weather app to track the heat and forecast in your area. Click here to experience what our free app has to offer before your next run.
It's also important to know and listen to your body. 
"Summer is not the time to start an exercise regimen outdoors," Dieringer said. "If you have been working out, gradually increase your exposure to the heat and don't make your activity a sudden change."
Athletes must be very deliberate on choosing when they are outside. It's important to work out early in the morning or later in the day and to avoid the hottest times of the day from 10 a.m. to 3 p.m.
Safety tips for summer workouts
Reactions to heatstroke or heat exhaustion in athletes vary depending on their health status.
Symptoms can range from heat cramps, which can be a sign of dehydration or overdoing your workout. 
WHAT IS THE 'FEELS LIKE' TEMPERATURE?
You can also experience heat syncope, or fainting, and heat exhaustion which can cause balance difficulties, confusion, headache, nausea or dizziness. 
"The important thing is to pay attention if you have these symptoms when you're out in the heat and act," Dieringer said. "If you don't, your condition can deteriorate into a life-threatening situation known as exertional heatstroke, which is basically when the body shuts down due to an excessively high core temperature." 
You want to make sure you are aware and pay attention to these warning signs, stop activity, get out of the heat, cool off with towels wrapped in ice or even an ice bath if one is available. 
"And hydrate," Dieringer said.
HOW TO TELL THE DIFFERENCE BETWEEN HEAT EXHAUSTION AND HEATSTROKE
What is acclimatization? 
An athlete or physically active person undergoes acclimatization by taking very logical steps to allow the body to get accustomed to the stress heat and humidity can put on their body during activity. 
An acclimatization program is a gradual increase in activity over a period of 7-14 days.
"The first day should be a light, short workout and those workouts gradually increase in duration and intensity over that 2 week period, allowing your body to get used to the environmental factors and exercise," Dieringer said.
Heat impacts individuals at all stages of life
Changes during the different stages of life can affect how an individual responds to heat, but some things remain consistent like staying hydrated, getting appropriate sleep and acclimatizing to the hot weather.
If you need to go outdoors during the day, wear loose, lightweight and light-colored clothing and drink plenty of fluids.
WHAT IS THE WET-BULB GLOBE TEMPERATURE AND WHY DO YOU NEED TO KNOW ABOUT IT?
"If you take medications and those medications dehydrate you, be mindful of that and make sure that you're following those hydration protocols," Dieringer said.
If you are participating in summer fun runs, or your school-aged child is involved in summer camps, sports or preparing to return to school and the upcoming preseason practice schedule, Dieringer has a few suggestions.  
For any school-aged child participating in outdoor sports, it's important to make sure a medical professional, like an athletic trainer, is present to ensure that best practices of heat illness prevention and more importantly the recognition and treatment of those illnesses are being followed.
"That's the best way to reduce your risk of heat illness," Dieringer said.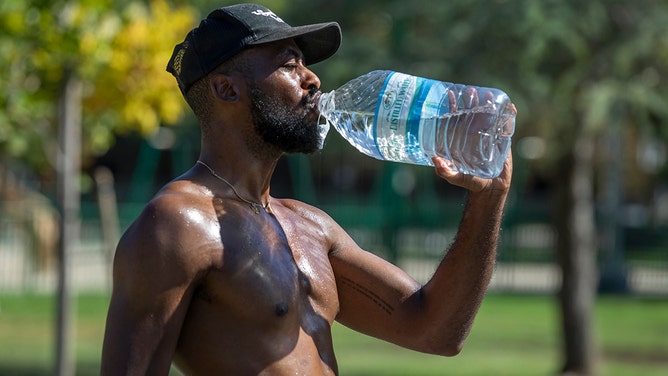 CLICK HERE TO GET THE FOX WEATHER UPDATE PODCAST
The free FOX Weather livestream is also available 24/7 on the website and app and on your favorite streaming platform. The FOX Weather Update podcast also provides weather information for the entire country.