Team Rubicon volunteers fan out across 3 states to help tornado victims
'The needs there are great,' says the organization's director of operations
Volunteers from Team Rubicon are spread across three states this week as they work to help people affected by the tornado outbreak.
The National Weather Service has confirmed more than 40 twisters from Texas to Alabama. At least 2 people have been killed by the storms and more than two dozen have been injured.
One of the hardest-hit places was Arabi, Louisiana, located on the eastern side of the New Orleans metro. An EF-3 tornado with winds of 160 mph shredded much of the town.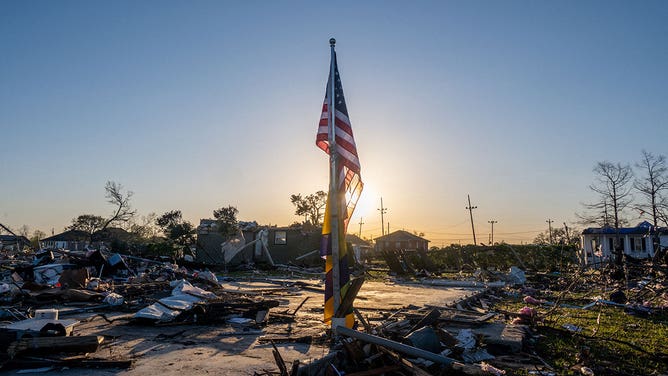 "The needs there are great," said Drew Hanna, Team Rubicon's deputy director of operations. "You have homes that are completely destroyed in the street, and then you have some homes that have minor, rapidly-repairable damage."
Hanna said crews will be concentrating on tarping roofs, boarding up windows and clearing debris in the short term.
"Over the long haul, we'll be looking at working with that area on standing up, up to full demolition of houses as requested," Hanna said.
HOW TO AVOID CHARITY SCAMS IF YOU WANT TO HELP TORNADO OUTBREAK VICTIMS
The organization, made up of veterans, first-responders and civilians, also has teams in Texas and Mississippi to assist storm victims.
For more information about Team Rubicon's mission, go to teamrubiconusa.org.