Nearly 24 million under Severe Thunderstorm Watches as storms roll through Midwest
The biggest threats will be damaging winds, large hail and flash flooding
The Midwest will be the battleground Wednesday as a clash of air masses ignites a round of severe thunderstorms. Damaging winds, large hail, isolated tornadoes, flooding rain and frequent lightning are all threats for major metro areas like Chicago, Milwaukee, St. Louis and Detroit.
Due to the threat of damaging winds upwards of 70 mph, the Storm Prediction Center issued a Severe Thunderstorm Watch through 9 p.m. EDT for large parts of Illinois, Indiana and Michigan.
Parts of Missouri and Southern Illinois are under a Severe Thunderstorm Watch through 9 p.m. CDT.
The watch boxes include major cities such as Chicago, Detroit and St. Louis.
Severe Thunderstorm Watch
 
---
A strong storm system centered at the U.S.-Canada border has been pumping heat and humidity into the country's midsection. This record heat and high humidity across the Midwest and Great Lakes is acting as fuel for thunderstorms as a cold front sweeps through the area, acting as a match igniting these storms.
NEARLY 100 MILLION AT RISK AS SCORCHING AUGUST HEAT WAVE STRETCHES FROM TEXAS TO NORTHEAST
The dense cool air behind the front will plow into the muggy air and force it up into the atmosphere, creating thunderstorms, heavy downpours and possibly isolated tornadoes from Missouri to Michigan.
Severe storm threat on Wednesday, Aug. 3, 2022.
(FOX Weather)
---
"As we go throughout the day, there is that potential of severe weather. It is most likely from central Missouri through Illinois," said FOX Weather meteorologist Britta Merwin. "That does include Chicago and pushes up towards Alpena and also right onto the thumb of Michigan."
HOW TO WATCH FOX WEATHER ON TV
Wednesday's forecast
FOX Weather's FutureTrack shows a line of storms organizing early Wednesday afternoon from Cedar Rapids, Iowa, to Hannibal, Missouri. The line continues to strengthen and makes its way eastward through Chicago by mid-afternoon. St. Louis and Indianapolis are forecast to see the storms just in time for the evening commute.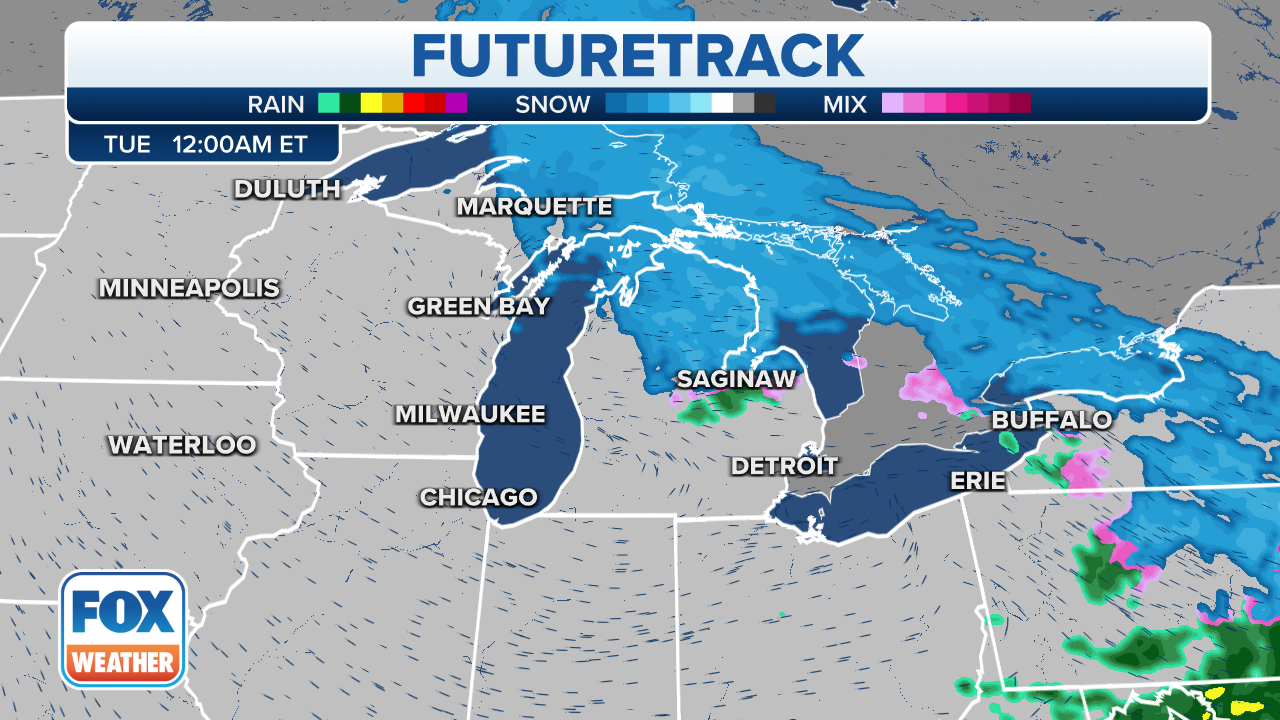 FOX Weather's FutureTrack for Wednesday, Aug. 3, 2022.
(FOX Weather)
---
The biggest threats will be damaging winds, large hail and flash flooding. However, the line of thunderstorms will be a fast-mover and won't linger over any area for too long.
HOW TO DOWNLOAD THE FOX WEATHER APP
"Detroit, the timing for you is around 6 p.m. this evening," Merwin said. "Again, the evening commute pretty much the worst time that you could have strong thunderstorms moving through."
Most cities will see 1 to 2 inches of rain, which will be enough for the flash flooding threat, especially in areas that saw heavy rain over the past several days.
Rainfall forecast over the next three days.
(FOX Weather)
---
Isolated tornadoes are also possible across northern and central Lower Michigan, including Grand Rapids, Alpena and Lansing.
HERE'S WHERE TORNADOES ARE MOST LIKELY TO OCCUR IN EACH MONTH
Tornado threat on Wednesday, Aug. 3, 2022.
(FOX Weather)
---
The weather remains unsettled for most of the Ohio Valley on Thursday, but the storms should stay below the severe level.
CLICK HERE TO GET THE FOX WEATHER UPDATE PODCAST
Forecast for Thursday, Aug. 4, 2022.
(FOX Weather)
---
Be sure to download the FOX Weather app to track any storms in your area and receive potentially life-saving weather alerts issued by the National Weather Service. The free FOX Weather livestream is also available 24/7 on the website and app and on your favorite streaming platform. The FOX Weather Update podcast also provides weather information for the entire country.