Aircraft being used to help fire suppression efforts in Arizona, New Mexico
While the fire weather in the Southwest has waned for Wednesday and Thursday, it will ramp back up during the weekend
Several fires continue to burn across the western U.S. with little containment, forcing thousands to evacuate from their homes. 
While the fire weather in the Southwest has waned for Wednesday and Thursday, it will ramp back up during the weekend.
HOW TO WATCH FOX WEATHER ON TV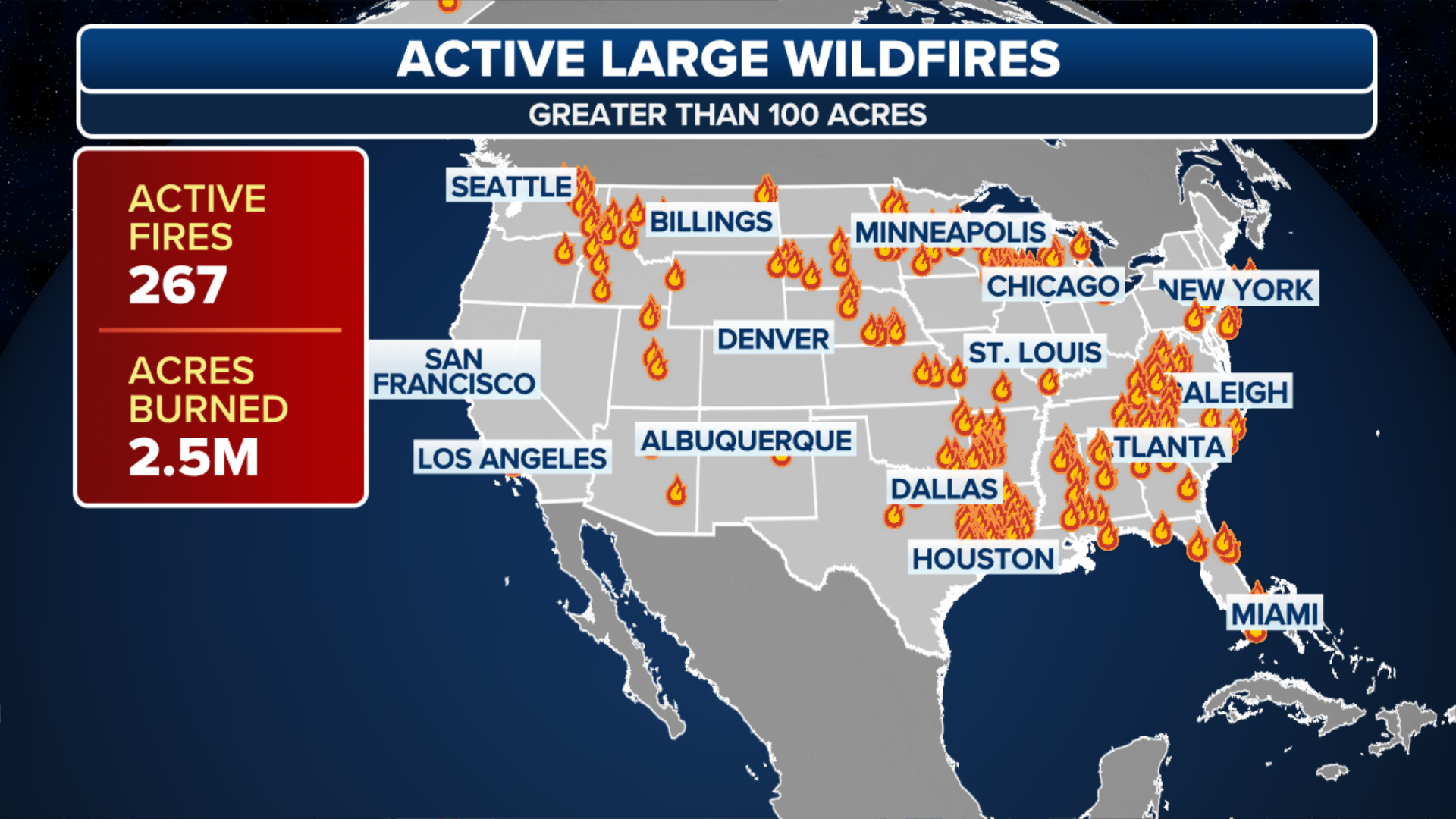 Here's a look at the active wildfires across the U.S. that are burning more than 100 acres
(FOX Weather)
---
Arizona
Dry vegetation and 50-mph winds are fueling the two wildfires rapidly burning near Flagstaff, Arizona.
Hundreds of firefighters are working to contain the Pipeline and Haywire fires. Crews are also rushing to protect water lines, power lines and communication towers.
As of Wednesday, the Pipeline Fire, located 6 miles north of Flagstaff, has burned 22,888 acres and is 31% contained. At least 2,000 homes have been evacuated and more than 560 personnel have been assigned to fight the fire.
INCREASED FIRE THREAT FOR PARTS OF PLAINS, SOUTHWEST TO CONTINUE INTO SUMMER
Here's the latest on the Pipeline and Hayward fires as of Wednesday.
(FOX Weather)
---
Authorities arrested a 57-year-old man in connection with the blaze, FOX 10 Phoenix reported. Federal arrest documents stated that he lit his used toilet paper on fire near his campsite on Saturday and placed it under a rock. Documents continue, saying that the homeless man had been camping in the forest. 
Northeast of the Pipeline Fire burns the Haywire Fire which has merged with the Double Fire. So far, it has burned 5,065 acres with no containment. Officials suspect lightning from a storm days ago set off the blazes.
While critical fire weather remains in effect due to dry conditions and high temperatures, lower wind speeds may allow for aerial operations throughout the day Wednesday.
MAKING SENSE OF WILDFIRE JARGON
In addition to using water- and retardant-dropping aircraft, crews have been looking for opportunities to suppress the fire's edge and keep it from entering communities as it continues moving in a northeast direction.
New Mexico
Containment has increased to 12% for the Midnight Fire, which is currently burning in the Carson National Forest in New Mexico.
Firefighters said they have seen a decrease in fire activity on the east and northeast sides of the fire. That occurred, officials said, when the fuels transitioned into areas previously treated for wildfires and entered into burn scars from previous years.
Here's the latest on the Midnight Fires as of Wednesday.
(FOX Weather)
---
On Wednesday, a mix of air and ground resources will focus on holding lines along the western perimeter. Firefighters will also check for signs of heat or smoke along the containment line.
Officials said at least 382 firefighters are working to contain and extinguish the blaze, but high temperatures and dry conditions are making it extremely difficult. They expect extreme fire behavior for the next day or so.
Weather conditions will continue to be hot, dry and windy. Relative humidity values will remain low throughout the day, while winds will stay strong at high elevations even into the late hours. Isolated dry thunderstorms cannot be ruled out.
WHY DRY THUNDERSTORMS POSE WILDFIRE, DUST STORM RISKS
Crews have also been busy working to extinguish the largest fire in New Mexico's history, the Hermits Peak and Calf Canyon Fire, but some were pulled from efforts there to help crews get a handle on the Midnight Fire.
The Hermits Peak and Calf Canyon fires have burned 335,069 acres as containment sits at 70%. There are nearly 2,200 firefighters working to contain that blaze and more than 760 structures have been destroyed. 
A massive pyrocumulus cloud could be seen over the Calf Canyon Fire on Tuesday. These types of clouds form if there's enough moisture and atmospheric instability over an intense heat source.
Authorities said the fire is increasing in activity based on the predicted fire weather conditions currently experienced over the fire area. 
CLICK HERE TO GET THE FOX WEATHER UPDATE PODCAST
Be sure to download the FOX Weather app for the latest fire weather conditions and warnings in your area and receive potentially life-saving weather alerts issued by the National Weather Service. The free FOX Weather livestream is also available 24/7 on the website and app and on your favorite streaming platform. The FOX Weather Update podcast also provides weather information for the entire country.