Elevated fire risk in High Plains on Wednesday as danger wanes in Southwest
An elevated fire weather risk will exist on Wednesday in the Central Rockies along the Colorado front range
The fire danger in the Southwest will wane Wednesday and Thursday before ramping back up into the weekend.
An elevated fire weather risk will exist on Wednesday in the Central Rockies along the Colorado front range.
HOW TO WATCH FOX WEATHER ON TV
Here's the fire weather outlook for Wednesday.
(FOX Weather)
---
Relative humidity levels of 15 to 20% are likely over southeast Wyoming into western Nebraska where a swath of 20 to 30 mph sustained winds are expected.
Farther south along the Colorado Front Range, winds of 15 to 20 mph should develop amid 10 to 15% relative humidity levels, resulting in a narrow corridor of elevated to spotty critical fire-weather conditions, the NOAA's Storm Predication Center said.
INCREASED FIRE THREAT FOR PARTS OF PLAINS, SOUTHWEST TO CONTINUE INTO SUMMER
In California, new evacuation orders have been issued for several communities after a wildfire started northwest of Corning located about two hours from Sacramento. Crews there are working to put out the Rancho Fire which is about 40% contained. The fire has burned about 700 acres and destroyed 10 structures. More than 100 others are at risk of burning.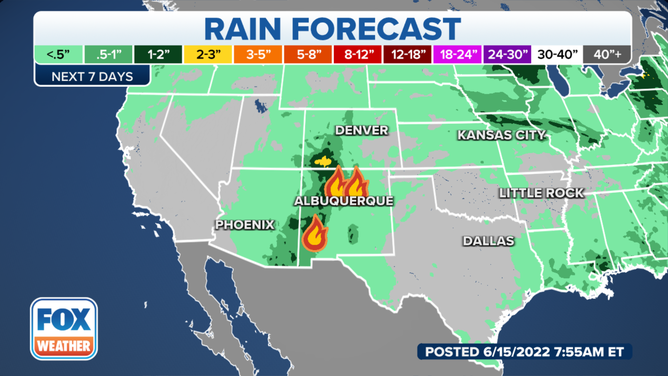 Smoke was still billowing Tuesday from a raging Pipeline Fire in Arizona. The wildfire near Flagstaff has grown to more than 31 square miles.
On Thursday, critical fire weather conditions are expected during the afternoon and evening hours for portions of southern Nevada. The chance for isolated dry thunderstorms may also develop over parts of southeastern Arizona and southwestern New Mexico which could ignite critically dry fuels.  
WHY DRY THUNDERSTORMS POSE WILDFIRE, DUST STORM RISKS
Here's the fire weather outlook for Thursday.
(FOX Weather)
---
As we head into the weekend, the fire weather threat will ramp back up Friday and Saturday in the southern Great Basin and potentially in the central High Plains, the SPC said. Some larger populated areas of concern for a critical fire weather risk include the entire Las Vegas metro area.
CLICK HERE TO GET THE FOX WEATHER UPDATE PODCAST
Be sure to download the FOX Weather app for the latest fire weather conditions and warnings in your area and receive potentially life-saving weather alerts issued by the National Weather Service. The free FOX Weather livestream is also available 24/7 on the website and app and on your favorite streaming platform. The FOX Weather Update podcast also provides weather information for the entire country.