'I don't know how I lived': Wife recalls final moments with husband after tree falls on car
The family was visiting the Biltmore Estate in North Carolina when high winds blew a portion of a tree on their vehicle
ASHEVILLE, N.C. – High winds are to blame after a veteran New York City firefighter was killed when a tree limb fell onto his family's vehicle while vacationing in North Carolina.
"He didn't just sound like the best person," Angela Skudin told FOX 5 in New York about her husband, Casey Skudin. "He literally was the best person."
As she mourns, she clings to the last photo she took with her husband less than three hours before the tragic accident claimed his life and injured their youngest child. 
WE'VE ENTERED AMERICA'S MOST ACTIVE TIME FOR DAMAGING WINDS FROM SEVERE THUNDERSTORMS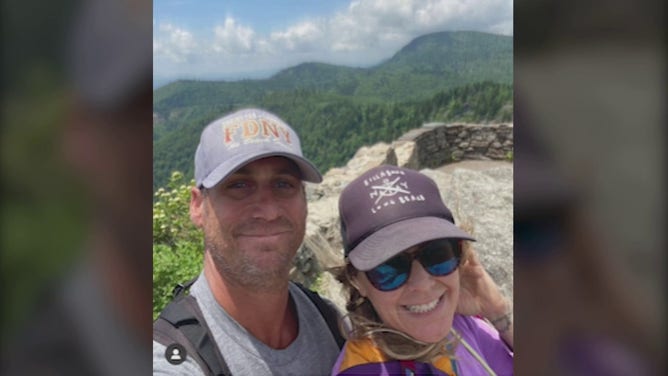 She and her 19-year-old son managed to make it out unharmed. Her 10-year-old son was hospitalized for spinal and respiratory injuries but is expected to recover.
The family was visiting the famous Biltmore Estate in North Carolina on Friday when a portion of a tree fell on the entrance road during high winds and landed on the vehicle Casey Skudin was driving. The 8,000-acre estate features tours of the country's largest private residence built in 1895.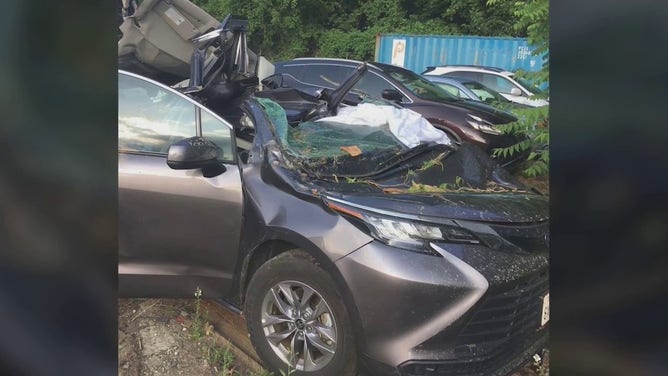 'I don't know how I lived'
It was an adventure Casey Skudin had planned to celebrate what would've been his 46th birthday on Father's Day.
"I don't know how I lived or how my children lived — everyone was knocked out," Angela Skudin said. "I crawled out the windshield, went around, held his hand, told him he was the best husband and the best father, and I slid his wedding ring off and I put it on my finger."
According to the National Weather Service, reports from nearby Asheville Regional Airport showed a wind gust of 38 mph at 4:11 p.m. It's the same time thunder was reported, too. Winds must reach at least 58 mph to be considered severe or damaging.
'DESTRUCTIVE' THUNDERSTORM ALERTS: WHAT THEY ARE AND WHY THE NATIONAL WEATHER SERVICE ISSUES THEM
Casy Skudin died before fellow firefighters arrived on the scene. The highly decorated firefighter had 16 years of service and worked in the Rockaway area of Queens with Ladder 137, FDNY spokesman Jim Long told FOX 5. He received multiple medals for his bravery, especially during Superstorm Sandy.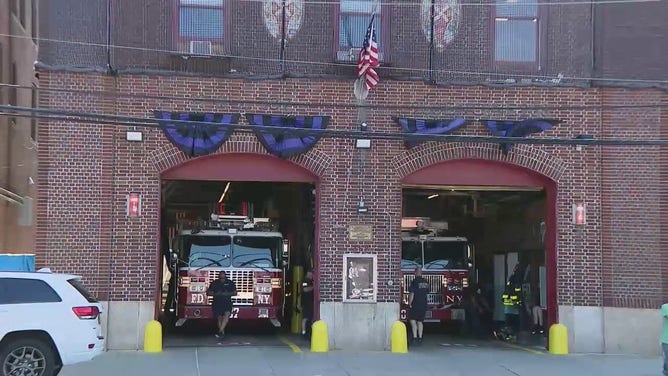 He was also a rescue surfer and lifeguard and was awarded the Fire Chiefs Association Memorial Medal in 2010 for his bravery in diving into the frigid ocean during a 2009 storm to help rescue a surfer trapped underwater by his surfboard leash, Long said.
Angela Skudin said her selfless husband, who lived for his family, died the way he would've chosen — with everyone else spared.
"It's just one of those things that makes you realize how precious life is," she said. 
FALL IS THE SECOND SEVERE WEATHER SEASON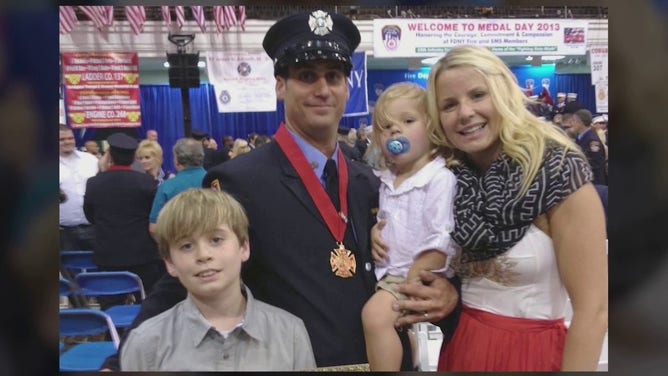 A final homecoming
The FDNY arranged for an honorary transfer to bring Casey Skudin from LaGuardia Airport to Towers Funeral Home in Oceanside. A wake and funeral will be held later this week, where his widow plans to deliver the eulogy. A paddle-out is planned in his memory at Lido West Beach on Sunday.
In Casey Skudin's hometown, a memorial continues to grow on the boardwalk in Long Beach as a GoFundMe to raise money for his family has gained nearly $60,000.
FDNY firefighter Ian Skudin said his cousin was someone both blood relatives and brothers in the fire department looked up to.
"When you see the last name Skudin, everyone was like, 'Cousins with Casey?'" Ian Skudin said. "And it was an honor to say, 'Yes.'"
MULLICA RIVER FIRE BECOMES NEW JERSEY'S LARGEST WILDFIRE IN 15 YEARS
And while his wife may never make sense of it all, she said she is trying to stay strong.
"He was my best friend," Angela Skudin said. "The love of my life." 
According to the NWS, there were 56 wind-related deaths in 2021, accounting for 7% of total weather fatalities. Not all are from trees, but they are the most common cause.
FOX 5 New York contributed to this report.