Watch: 7 ways Mother Nature impacted the nation this week
Americans experienced the worst weather has to offer this week: 7 videos of blizzards, tornadoes, fire and floods.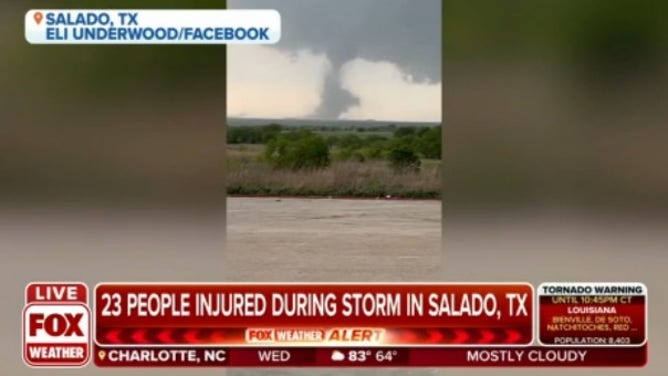 Mother nature unfurled her worst across the U.S. this week. In just two days, Americans have experienced the worst of all weather: blizzards, tornadoes, floods, fire and hail.
Tornado
A storm chaser caught the moment a tornado ripped the roof off a home in Gilmore City, Iowa. The roof flew 50 feet in the air and looked more like paper.
Storm chaser @adamorgler on Twitter posted a timelapse video of the same tornado in Gilmore City. It shows the birth of the tornado all the way to when it became rain wrapped.
Iowa, South Dakota, Texas and Nebraska all had confirmed tornadoes Tuesday.
TORNADOES SIGHTED IN 4 STATES AS MULTI-DAY SEVERE WEATHER OUTBREAK CONTINUES
Hail
Storms across the Plains generated enormous hail. Watch as a storm chaser is caught in golf ball-sized hail. He watches it pelt the ground around his car before it smashes his windshield.
Thankfully, he wasn't chasing the storm in Salado, Texas where hail larger than the photographer's hand fell. The stone measured 5.5 inches across.

Can you believe the record holder for hail in the U.S. was almost an inch larger? Hondo, Texas saw 6.4 inch hail last year.
HAIL LARGER THAN GRAPEFRUIT FALLS OVER CENTRAL TEXAS
Snow
The National Weather Service issued a Blizzard Warning for much of South Dakota Tuesday. The North Dakota Department of Transportation tweeted photos of 40-50 mile per hour winds blowing snow over roads in Bismark.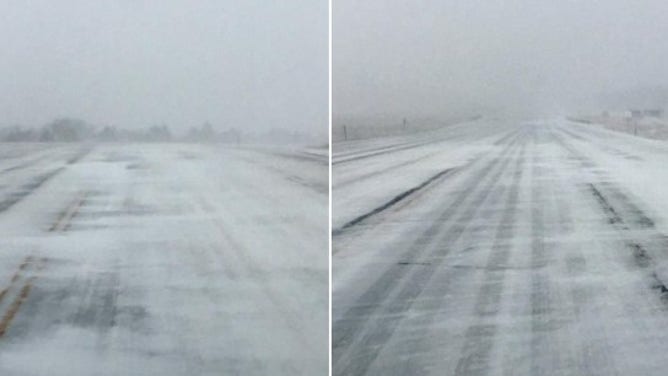 Visibility at the airport was a quarter to half a mile in blowing snow through the afternoon.
POTENTIALLY LIFE-THREATENING BLIZZARD IMPACTS NORTHERN PLAINS WITH HISTORIC SNOW, WIND
One resident in Billings, Montana enjoyed the late taste of winter.
Fire
Wildfires spread quickly on 71 mph wind gusts in Ruidoso, New Mexico. Several neighborhoods were evacuated. New Mexico Fire reported that many structures were lost.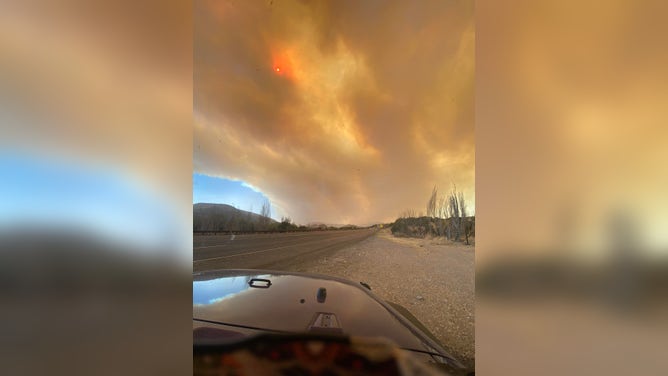 One resident said, "I've lived here 15 years and have seen many large fires, evacuated twice yet have not experienced a wind event like this."
HURRICANE-FORCE WINDS DRIVE DESTRUCTIVE WILDFIRES IN NEW MEXICO
Lightning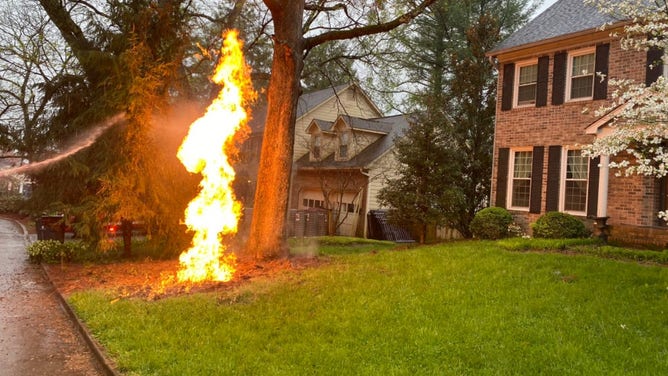 The Knoxville, Tennessee Fire Department extinguished this fire that was soaring as high as the second story of the house. They say lightening struck the gas line which erupted in the blaze.
LIGHTNING STRIKE TRIGGERS GAS FIRE IN KNOXVILLE
Wind
Who knew that being a meteorologist for the National Weather Service in Norman, Oklahoma was hazardous? Winds gusted to 39 mph as the scientists released one of the twice daily balloons attached to a radiosonde which reports back upper-atmospheric conditions.
Flood
Inches of rain fell over Paragould, Arkansas Monday. Roads quickly flooded as the ground was already saturated after four weeks in a row of thunderstorms.