'Most intense month on record': Hurricane Hunter reviews 2022 and winter plans
NOAA Hurricane Hunter reveals most memorable moments of the 2022 hurricane season and talks about the group's winter work.
LAKELAND, Fla. – The 2022 hurricane season left its mark on the U.S. and history books. Many of us will recall the unforgettable storm surge, destruction and loss of life, while the National Oceanographic and Atmospheric Administration Hurricane Hunters will remember the near-constant research flights. But they can't take a break after hurricane season; winter storms call.
"The month of September was one of the most intense months that we've had on record, just in terms of the volume of flights required in a short period of time," Captain Christopher Kerns, Hurricane Hunter and Commanding Officer of NOAA's Aircraft Operations Center, told FOX Weather Tuesday. "We flew over 300 hours in that month alone."
HOW TO WATCH FOX WEATHER ON TV
After a slow start to the season, the tropics ramped up activity in September. Only 2 planes flew all those hours in 12-hour rotations. That meant maintenance crews only had 12 hours to fix anything and everything that went wrong while flying through an eyewall several times and encountering 150 mph winds.
Two names dominated the 2022 Atlantic Hurricane Season, Ian and Fiona. 
Busy September
Ian was the 5th strongest hurricane to ever make landfall in the U.S. at a Category 4. 
The monster storm gave one Hurricane Hunter the roughest flight of his career. 
"We got rocked. The aircraft was basically overmatched at one point," Major Kendall Dunn with e the 53rd Weather Reconnaissance Squadron told FOX Weather after the flight. "It was the worst thing you could have happen as a pilot."
'WE GOT ROCKED:' HURRICANE HUNTER DESCRIBES HURRICANE IAN AS ROUGHEST FLIGHT OF HIS CAREER 
The storm left a huge swath of destruction across the Southeast. Almost 90% of Fort Myers Beach, Florida, was destroyed by record storm surge.  Orlando experienced a 500-year flood event, said Florida Governor Ron DeSantis at a press conference. Over 100 people died, most drowned. Officials expect Ian to rank in the top 10 costliest hurricanes in U.S. history. 
IAN'S DESTRUCTION EXPECTED TO RANK IN TOP 10 COSTLIEST HURRICANES IN US HISTORY 
At one point, Hurricane Fiona was also Category 4 but weakened to a Category 1 before making landfall in Puerto Rico. Even at Category 1, the storm killed at least 12 people. 
Storm surge and winds plunged the entire country into darkness as 100% of the power grid failed. 
WATCH: DRONE VIDEO AFTER HURRICANE FIONA SHOW PARTS OF PUERTO RICO UNDERWATER 
Fiona then blew into the Canadian Maritimes, where wind-churned waves washed homes into the sea. One woman was killed when her home was swept away.
Winter work for NOAA's Hurricane Hunters
Kerns doesn't get a break after November 30th, the end of hurricane season though. NOAA's tasked the planes with researching atmospheric rivers and ocean winds.
"We do all the scientific projects for NOAA," said Kerns. "The P-3 will be doing an Ocean Winds Project, which helps calibrate satellites based on real time data."
The four-engine plane will fly through winter storms over the ocean just like they flew through hurricanes. Instruments record temperature, pressure and winds and compare the actual data to satellite estimates.
'HURRICANE HUNTERS' FLY OFF ATLANTIC COAST TO GATHER WEATHER DATA AHEAD OF NOR'EASTER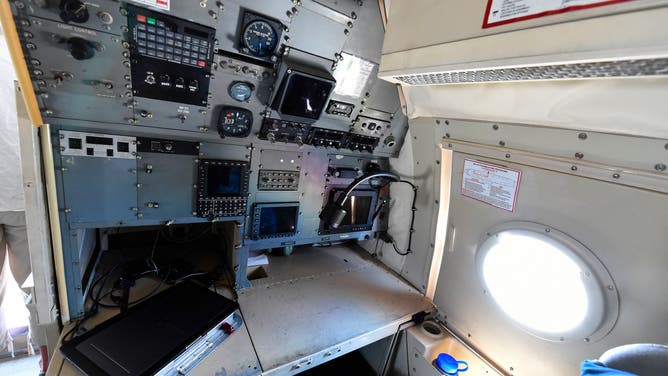 NOAA's jet heads west and starts investigating a different part of the country.  
"The G-4 high-altitude will be flying those atmospheric rivers that you've probably heard about off the coast of California, between Hawaii and California, that bring all that rainfall over to the California West Coast," said Kerns.
An average atmospheric river carries 25 times the water equivalent of the Mississippi River, according to a report from the UC San Diego Scripps Institution of Oceanography.
"The river can cover a swath of about 500 miles wide while extending thousands of miles in length," the report states.
HURRICANE HUNTERS TRACK WESTERN FLOOD, DROUGHT IN OFF-SEASON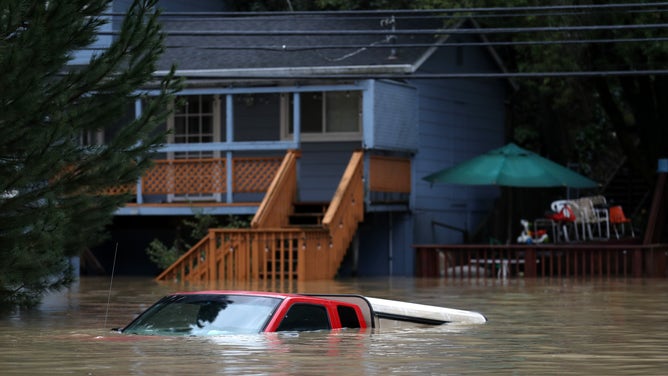 "Atmospheric River Reconnaissance observations helps to predict atmospheric river landfall and understand atmospheric river structure offshore so that we can better predict heavy precipitation, floods and more to make better decisions regarding water management and hazard preparedness," said Anna Wilson, Field Research Manager at the Center for Western Weather and Water Extremes.
The research can help create a water management policy to mitigate the West's ongoing drought. It can also allow meteorologists to give better warnings to towns like Forestville, above, hit so hard by atmospheric river flooding.