Watch former Hurricane Fiona wash homes into the sea in Canada, woman feared dead
The National Hurricane Center downgraded Hurricane Fiona to a post-tropical cyclone late Friday before it slammed into Canada. Post-tropical cyclones are still dangerous, they just lack
Hurricane Fiona may have been "downgraded" to a post-tropical cyclone before it battered the Canadian Maritimes but the winds and waves were just as fierce. Waves on top of record storm surge and Category 2 hurricane-force winds tore down homes, displaced hundreds of people and knocked out power to much of Newfoundland and Labrador, Canada.
Be patient with the video above. The waves pull chunk after chunk out of this home in Port aux Basques, Canada. After one-and-a-half minutes the house succumbs to the power of the water and slides off the coast into the sea. 
Moments later another wave crashes against the structure, slams it into the beach and tugs it towards sea again. Another wave batters the home into the beach again and the pounding demolishes the building.
The owner of the home told Storyful that she and her father watched the water destroy the home that she rented out. Thankfully the renters had evacuated.
FEROCIOUS FIONA LEAVES BEHIND TRAIL OF DESTRUCTION FROM CARIBBEAN TO CANADIAN MARITIMES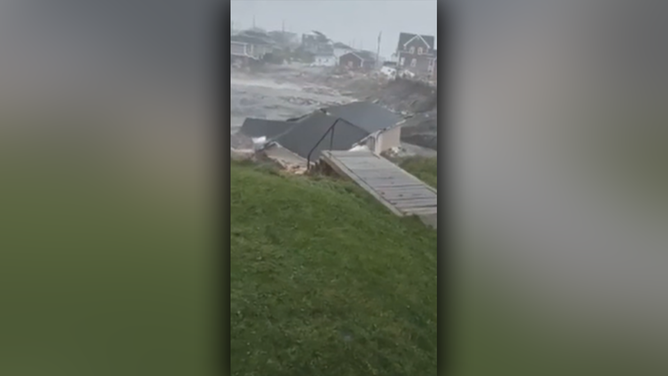 The NHC downgraded Hurricane Fiona to a post-tropical cyclone on Friday as it transitioned from a storm with tropical attributes like a warm core to a cold core storm that gets its energy from the battle between warm and cold air. 
HERE ARE THE BUZZWORDS YOU'LL BE HEARING DURING HURRICANE SEASON
In the same area the Royal Canadian Mounted Police and Canadian Coast Guard continue to search for a 73-year-old woman who went missing from her Port aux Basques home Saturday.
"Police received a report that a woman was possibly washed out to sea from her home," said a press release from the RCMP. "Due to the extreme weather conditions yesterday (Saturday), a search was not able to be safely conducted."
Around 10 a.m., neighbors saw the woman in her home moments before a wave hit. The wave tore away part of her basement and police found no sign of the woman stated the release. 
A record high storm surge lifted the waves about 9 feet, according to the Canadian Weather Service. That is almost a third of a foot higher than the previous record set in 2017.
DRONE VIDEO SHOWS 50-FOOT WAVES AND DESTRUCTIVE WINDS IN THE HEART OF HURRICANE FIONA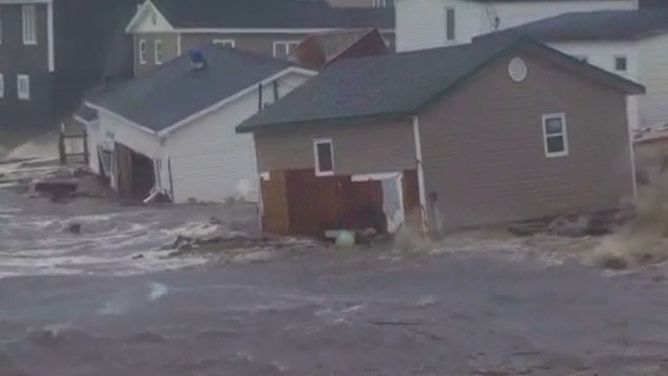 Neighbors watched water tear another home off its foundation and whisk it away in Port Aux Basques.
This home held together a bit better as it looked more like a boat floating past the photographer. 
Several homes and apartment buildings were dragged out to sea, the editor of the local paper, Wreckhouse Weekly, told the Canadian Broadcast Corporation.
Hundreds were evacuated from the town of just over 4,000 residents. Along with homes, roads also washed out making travel treacherous.
"Hurricane Fiona is currently having a terrible impact across Atlantic Canada and eastern Quebec. We're seeing devastating images come out of Port aux Basques. Prince Edward Island has experienced storm damage like they've never seen. Cape Breton is being hit hard, too, as is Quebec," said Prime Minister Justin Trudeau at a press conference. "There have been evacuation orders issued. Hundreds of thousands of people are without power. There are reports of roads washed out and homes destroyed. We've all seen the images. This is a very powerful and dangerous storm."
Nearby Wreckhouse suffered nearly a 9-foot storm surge and 110 mph wind gusts as well, according to the Canadian Weather Service. 
Video above shows demolished homes littering the coast of Isle aux Morts. Other shots just show an empty space where a home used to be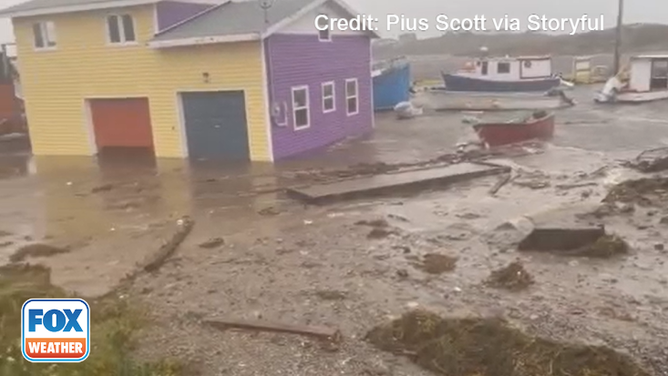 The surf tossed boats into yards in the town translated to "Deadman's Island," a nod to storms causing shipwrecks through the ages, according to the town's website.
Fiona too will be a storm of the ages. The Canadian Hurricane Center said at landfall in Nova Scotia, it had the lowest pressure of any landfalling system in the country's history.
At one point over half a million homes and businesses in the eastern Canadian provinces lost power.
Turdeau announced he will deploy the Canadian Armed Forces to assess damage and clean up damage to Nova Scotia due to Fiona, during his conference.