Death toll climbs from first severe weather outbreak of meteorological spring
Winds gusted higher than hurricane-force (at least 74 mph) in the Dallas-Fort Worth Metroplex. More than 300,000 power outages were reported in Texas.
DALLAS – At least a dozen people were killed Thursday and Friday during the first storm system of meteorological spring to produce tornadoes, hail and hurricane-force winds across multiple southern states.
Storms started firing during the early afternoon in Central Texas as the FOX Forecast Center tracked a warm front that lifted northward, which helped the atmosphere become more volatile.
Deaths caused by the storm 
At least three people were killed in Alabama and another two people in Tennessee by falling trees. Five weather-related deaths were also reported in Kentucky in three separate counties.
Mississippi Gov. Tate Reeves said in a tweet Friday that a storm-related fatality has been reported in the Magnolia State. 
Another death was confirmed in Arkansas after a person died as a result of flash flooding, the Scott County Sheriff's Office said.
Storms continue march through the South Friday
After the storm system marched through Texas, Louisiana and Arkansas Thursday, it advanced northeastward on Friday, impacting parts of the Southeast and the Tennessee and Ohio valleys with damaging winds and possible tornadoes.
'THE HOUSE JUST EXPLODED': TORNADO, STORM SURVIVORS DESCRIBE DEVASTATION IN THE SOUTH
In fact, tornado watches were issued for more than 5 million people across five states Friday morning.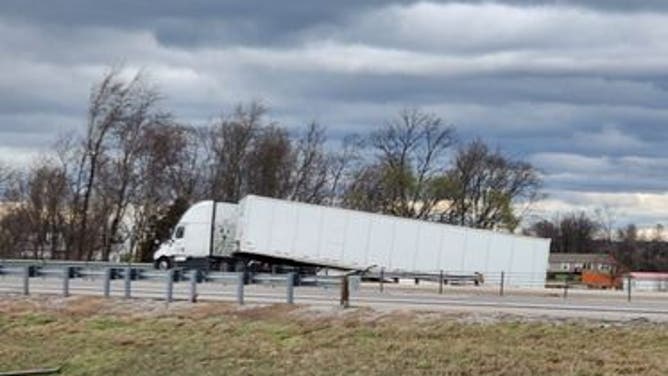 One of those states was Kentucky. On Friday afternoon, the Kentucky State Police tweeted that strong wind gusts blew a semi truck off of Interstate 24 at around Exit 86. 
Southeast of Paducah in the Bluegrass State, the National Weather Service confirmed that a tornado was in progress just before 12 p.m. 
In Alabama, high winds also caused damage. The Morgan County Sheriff's Office in northern Alabama shared images of trees that have fallen on damaged homes.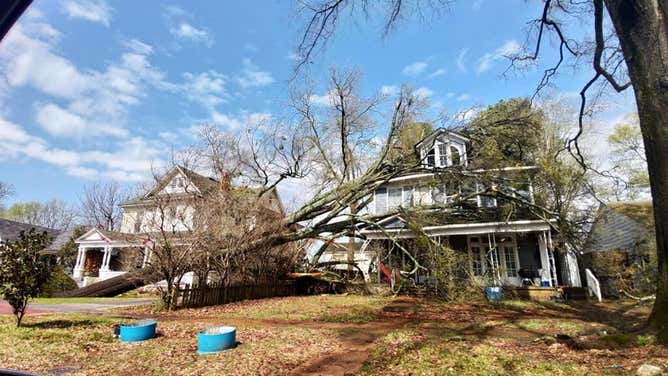 Apart from strong winds, flooding also plagued many parts of the South. 
Warriors Path State Park officials in East Tennessee shared a video of one of many flooded areas. 
The multi-day outbreak of storms will move through Georgia, North Carolina, South Carolina, Virginia, West Virginia and Maryland Friday night.
When the storms rolled through on Thursday
Severe storms during early Thursday afternoon were large hail producers, and residents in Sherman, Texas, took video of at least golf ball-sized hall slamming into vehicles and covering the ground in some neighborhoods.
MORE THAN 60 MILLION FACE SEVERE STORM THREAT FRIDAY, INCLUDING DAMAGING WINDS, TORNADOES AND FLOODING
As the storms developed farther east, conditions were more prime for tornadoes to develop. The first video of a twister emerged from the area around Pickton, Texas, where law enforcement said at five homes were damaged.
FOX Weather's Will Nunley was at the scene and spotted storm victims trying to assess the damage.
"I could hear the roaring of the storm – whatever it was – and all of a sudden, the garage, which the car was parked in, just come up off the ground and went flying in the air. And I mean everything settled down, and we looked out here. The roof was off the house, the garage was gone, the storage shed back there, the kids had a trampoline and everything had blown away," said Shirley Cartom, a storm victim.

Despite the significant damage, there were no initial reports of fatalities in the region.
Listen to a Pickton resident below as she recounts hearing her family home was in the path of the tornado-warned storms and how the community will try to recover in the coming weeks.
MARCH BEGINS THE UPTICK IN SPRING TORNADOES ACROSS U.S.
Tornado Warnings were also issued for areas around the Dallas–Fort Worth Metroplex, but it was the damaging winds that caused most of the problems.
Wind gusts topped hurricane-force (at least 74 mph) in many communities in North Texas, which resulted in at least 350,000 power outages, according to PowerOutage.US.
Due to the inclement weather, aviation traffic was temporarily halted into and out of Dallas-Fort Worth International Airport.
HOW METEOROLOGISTS DETERMINE IF A TORNADO IS TO BLAME FOR STORM DAMAGE
Power flashes were witnessed throughout the metro, and emergency management reported responding to a partial roof collapse at an Amazon facility southeast of Dallas in Balch Springs.
According to initial reports, there were no injuries at the facility.
Also in North Texas, a driver came face-to-face with a tornado and captured the entire incident on video.
The driver wrote on Instagram:
"Minutes ago, I met a Texas tornado face to face. I was trying to get home because I knew that bad weather was coming our way in North Texas, but my radar kept telling me it was a severe thunderstorm warning. I knew that clearly wasn't the case when I heard sirens all around me and saw several wall and funnel clouds forming…then, out of nowhere, JUST LIKE THAT, a MASSIVE TORNADO was on the ground, 100 yards away from me. At that point, I didn't care, I went into survival mode. Many cars were frozen in panic and would not move, so I just HIT THE PEDAL! As I was driving east, to my left, and north of me, were several more tornadoes, not as large as the first one to touch the ground. I was just holding the camera, not really knowing what I was filming because debris was flying everywhere. It was one of the scariest experiences of my life. Please forgive some of the language. I am so grateful to GOD."
Areas eastward also saw their fair share of severe weather, with at least two confirmed tornadoes in Louisiana. The National Weather Service confirmed tornadoes impacted Shreveport and Alexandria.

Several businesses were damaged by the twister, and debris littered roadways in Bossier City.
There were no reports of initial injuries, but around 5,000 power outages were reported in the northwestern portion of Louisiana.
The storm severely impacted businesses that included a laundry mat and an insurance office.
Damage was reported in Grant and Pike counties in Arkansas early Friday morning as a line of severe storms moved eastward across the state. In the town of Kirby, Arkansas, an emergency manager reported that 20 to 30 homes were damaged or destroyed. Some minor injuries were reported in the area.