More human remains found at Lake Mead as basin sees beneficial monsoon rains
NOAA estimates only about 10% of the water in Lake Mead comes from precipitation and groundwater, saying most of it comes from melting snowpack in the Rockies
BOULDER CITY, Nev. – More human remains have been found along the shores of Lake Mead, despite water levels appearing to temporarily halt their steady decline.
The National Park Service said the latest gruesome discovery happened Monday night in the Swim Beach area of the Lake Mead National Recreation Area.
Upon being alerted to the remains, rangers set up a perimeter with the assistance of the Las Vegas Metropolitan Police Department's dive team.
This is the same area where human remains were found Aug. 6.
At least five discoveries of human remains have been made thanks to dwindling water levels along the reservoir.
A megadrought and an increase in consumption of water from Lake Mead have caused levels to drop to an 80-year low.
A significant monsoon season in the Southwest has provided some relief along the basin and waterways that lead into the Colorado River system, which feeds Lake Mead.
HOW TO WATCH FOX WEATHER ON TV
Rainfall totals over last 30 days
 
---
Data from the Bureau of Reclamation shows Lake Mead's stage near the Hoover Dam has recovered by nearly 2 feet since dropping to a low of about 1,040 feet in mid-July.
The National Oceanic and Atmospheric Administration said only about 10% of the water in Lake Mead comes from precipitation. The majority of its water source comes from melting snowpack in the Rocky Mountains.
ROBBING LAKE MEAD OF WATER: THE EMERGENCY PLAN AIMED AT KEEPING WATER FLOWING TO THE WEST
Months of discoveries
The first discovery of human remains happened in May not far from the Hoover Dam in area called Hemenway Harbor.
Police said the remains were found in a barrel that was exposed by low water levels and likely belonged to a homicide victim from the 1970s.
So far, an identity has not been released, and investigators continue to use DNA technology to positively identify the victim.
IT'S A DIFFERENT LAKE EVERY TIME': SUNKEN BOATS EMERGE FROM DWINDLING LAKE MEAD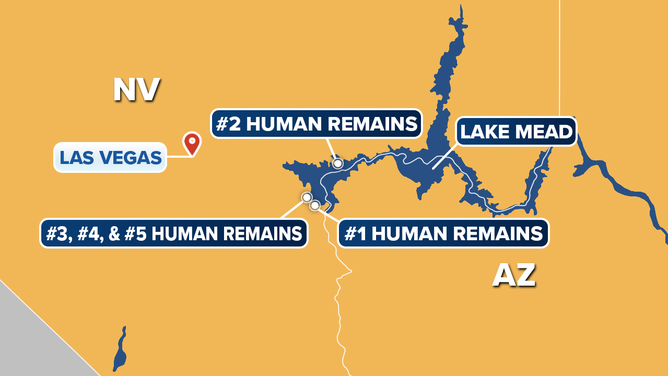 Around a week later, on May 7, a second set of human remains were found at Callville Bay. The area is about a 30-minute drive north of Hemenway Harbor.
Police have not linked the second discovery to a homicide case, meaning the incident is being treated similar to an accidental death.
The final three sets of remains were discovered several weeks later in an area known as Swim Beach. Authorities have not ruled out these discoveries belonging to one person but are treating the investigation right now as three separate cases.