Ian causing incredible storm surge in St. Augustine
The FOX Forecast Center expects Ian to cause storm surge of up to 6 feet in St. Johns County and surrounding areas.
Visit the FOX Weather Wire for live updates on Ian. Click here for the latest forecast, power outages and more.
ST. AUGUSTINE, Fla. – St. Augustine, Florida, is experiencing unprecedented floods Thursday from Ian, which regained hurricane strength by Thursday afternoon.
Ian made landfall on the southwestern coast of the Sunshine State on Wednesday as a Category 4 storm. As it crossed Florida's peninsula, it weakened into a tropical storm, but it is still having major ramifications for the state.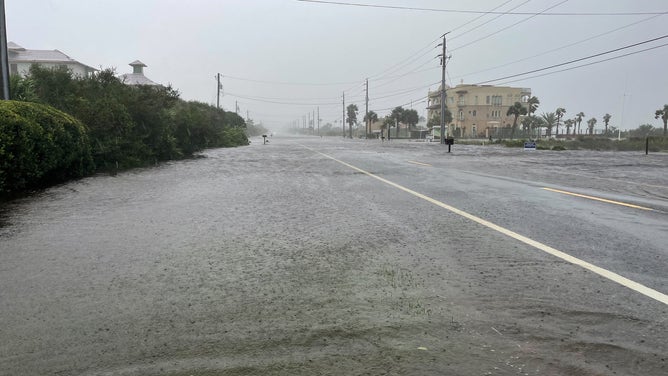 In St. Johns County, where the city of St. Augustine lies, streets are flooded and expected to receive more water as Ian works its way northward. The FOX Forecast Center expects storm surge of up to 6 feet for the area.
Tracking Tropical Storm Ian.
(FOX Weather)
---
In 2016, when Hurricane Matthew grazed the northeastern coast of Florida as a Category 2 storm, storm surge and tide produced maximum inundation levels of 5 to 7 feet above ground level along the coasts of Flagler, St. Johns and Duval counties. There were rescue efforts are ongoing.
In a St. Johns County Emergency Management Facebook live, officials noted that the county's Citizens Information Center has fielded more than 300 calls.
St. Johns County Administrator Hunter Conrad and St. Johns County Fire Chief Jeff Cravat asked Floridians to shelter in place as emergency responders do their work.
St. Johns and surrounding areas will be under flash flood threats through Friday morning.
Tracking Tropical Storm Ian.
(FOX Weather)
---
Flooding in St. Augustine comes after Lee County and other parts of Florida's southwestern coast experienced historic flooding caused by Ian.