A week after moving to Port Charlotte, woman awaited word on her home after Hurricane Ian
Port Charlotte sits across the harbor from Punta Gorda, where Hurricane Ian made its mainland landfall Wednesday with 145 mph winds.
Visit the FOX Weather Wire for live updates on Ian as it moves out of Florida. Click here for the latest forecast, power outages and more.
PORT CHARLOTTE, Fla. – A week ago, Mary Ellen Pieciuk was settling into her new home in Port Charlotte, Florida. Thursday, she was wondering whether it was still standing after the wrath of Hurricane Ian tore through the harborside town the day before.
Ian was a monstrous Category 4 storm with 150-mph winds when it came ashore on Cayo Costa about 3 p.m. Wednesday. About 90 minutes later, the hurricane made a second U.S. landfall – this time just south of Punta Gorda with 145-mph winds.
Port Charlotte sits across Charlotte Harbor from Punta Gorda. Ian's ferocious winds left the town in shambles and water standing in several neighborhoods.
Pieciuk, who said she moved to Port Charlotte a week ago, is among thousands of people across Southwest Florida who are awaiting word about the condition of their homes after the storm.
Standing on the outskirts of her mobile home community where water covered streets and surrounded structures, Pieciuk said she was nervous.
"Right now, we can't really get into the park with all the water," Pieciuk told FOX News multimedia reporter Austin Westfall.
She said her husband decided to venture into the damaged complex to see first-hand whether their home survived.
"I'm just standing here worrying until he gets back," Pieciuk said.
HURRICANE IAN TOSSES BOATS AROUND LIKE 'TINKERTOYS' AT FORT MYERS MARINA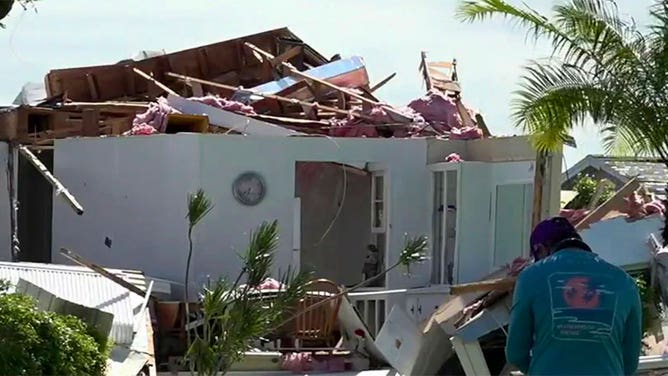 By Thursday afternoon, word came that Pieciuk's home survived the storm. 
"We have damage to our carport – needs full replacement – and we have a screened-in wooden porch on the back that has been damaged," she wrote in a text message to Westfall. "No water has gotten in."
About 90% of Charlotte County, where Port Charlotte is located, was without power Thursday. A boil-water notice is in effect for all of Charlotte County.