Hurricane Ian: Grim first anniversary while many in Florida are still rebuilding
The monster hurricane killed 152 people and cost southern states $115.2 billion in damages. The Gulf Coast of Florida was devastated and even inland areas saw record flooding.
Floridians are still cleaning up and rebuilding as a sobering anniversary arrives. Hurricane Ian made landfall one year ago Thursday.
The fifth-strongest hurricane to ever make landfall in the U.S. was a Category 4 monster when it clobbered Southwest Florida on September 28, 2022. Ian tied Hurricane Charlie, 2004, as the fourth-most-powerful storm to ever hit Florida.
The National Hurricane Center said Ian briefly reached Category 5 strength over the southeastern Gulf of Mexico off the coast of Southwest Florida before making landfall. Data from the Air Force Reserve Unit and NOAA reconnaissance aircraft found Ian's peak intensity reached 160 mph on Sept. 28 at 8 a.m.
When the storm made landfall that afternoon, Ian was just 7 mph shy of a Category 5.
HURRICANE IAN BY THE NUMBERS: THE SCOPE OF THE CATASTROPHIC DAMAGE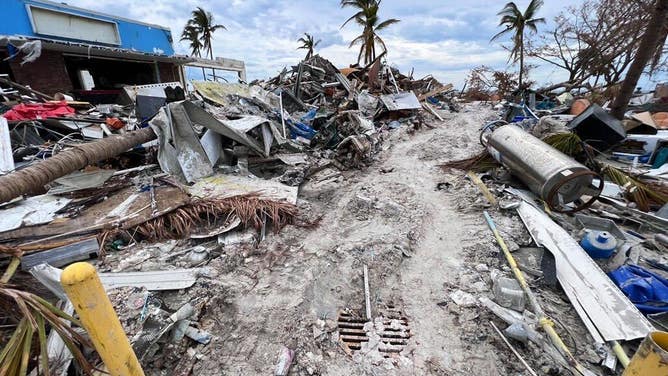 "Prominent parts of Southwest Florida from south of Fort Myers to north of Charlotte Harbor, about 50 miles of coastline, will be changed forever," said FOX Weather Hurricane Specialist Bryan Norcross as he watched Ian closing in on the Sunshine State. 
"This is an unprecedented storm for Southwest Florida. The closest in the history book occurred in 1873 when Fort Myers was a small village," Norcross continued. "It is critical that people not try to compare it to any previous storm."
Second-largest insurance loss in the world
'WE GOT ROCKED:' HURRICANE HUNTER DESCRIBES HURRICANE IAN AS ROUGHEST FLIGHT OF HIS CAREER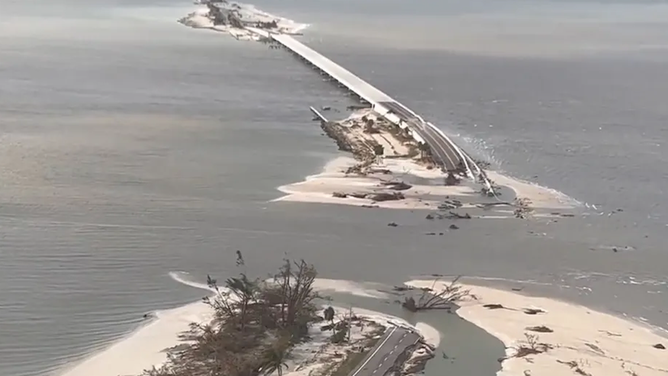 Ian was the third-costliest natural disaster to ever hit the U.S., levying $115.2 billion in damages. Analysts estimate that Ian ranked as the second-largest insurance loss in world history behind Katrina.
The storm ranks as the 15th deadliest natural disaster in the nation. Ian was blamed for 152 deaths. NOAA looked at data going back to 1980. In Florida history, Ian was the deadliest storm in over 80 years.
MOST OF HURRICANE IAN'S 100-PLUS VICTIMS IN FLORIDA DIES BY DROWNING, DATA SHOWS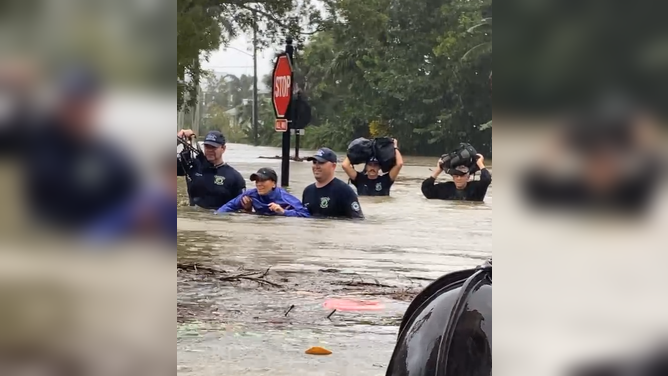 Officials forced over 2.5 million Floridians to evacuate. Florida Governor Ron DeSantis said that first responders rescued over 2,500 people in the days after the storm. Crews searched over 100,000 buildings.
2023 CLAIMS ALL-TIME HIGHEST NUMBER OF BILLION-DOLLAR DISASTERS, NOAA SAYS

One of the most damaging aspects of the storm was its record storm surge. The state received reports of 12 feet of surge on the barrier islands. Fort Myers more than doubled their previous record storm surge from Hurricane Gabrielle in 2001.
The storm dumped 10 inches of rain across 5% of Florida the day of landfall. The Weather Prediction Center found that 10 inches of rain fell on about 3,500 square miles. Orlando experienced a 500-year flood, according to DeSantis.
HURRICANE SEASON 2022 COMES TO AN END. TAKE A LOOK BACK AT THE SCARS LEFT BEHIND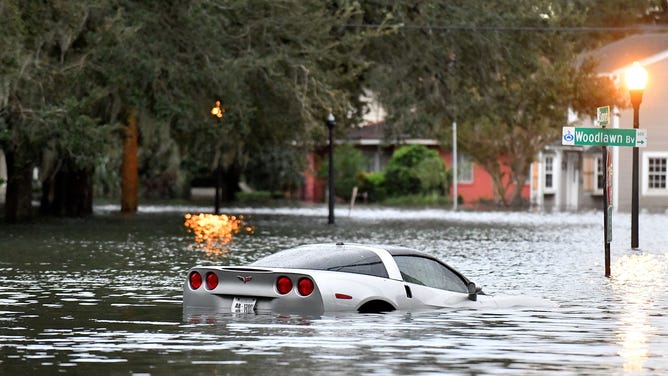 Resilience of survivors
The statistics are staggering, but what hit FOX Weather hardest were the stories of the survivors. Reporters spent week upon week on the damaged shores sharing stories. 
Fort Myers Beach was just one community on the miles of barrier islands lined with resorts, restaurants and homes. The low islands were just "a three-quarter mile wide speed bump" for the storm, according to Florida's Director of Emergency Management. About 90% of Fort Myers Beach's structures were damaged or destroyed.
Julie Cassino, marketing director of the Salty Crab Bar and Grill, watched security video of the Fort Myers Beach building filling up with water and washing away. One year later, the business is still not open.
Families are still battling with insurance companies through lengthy litigation. FOX's Caroline Elliott spoke to a new mom who swam to safety from the home's second floor with her 3-month-old floating in a plastic bin. The family has had to move twice so far. 
HURRICANE IAN LEFT SCARS VISIBLE FROM SPACE ALONG ITS TRAIL OF DESTRUCTION
"It was pretty devastated," Sanibel Beach Resort President Michael Walsh told FOX Weather of his first returning to the hotel. "Even the places around our hotel were devastated to the point where I actually had a hard time recognizing where our hotel was from the water when we were anchored and ready to swim in."
Instead of laying off the restaurant and housekeeping staff, Walsh found them paychecks helping in construction of the totaled hotel. A year later, the doors will finally open.
"I've been in Florida for over 20 years. I've been through Hurricanes before, but this one in particular just rocked us. This is devastating," one survivor told FOX Weather. 
"You look at the Fort Myers Beach area and different parts of this county; there are no words to describe what you are looking at, and your heart goes out to those in need," he continued.
'IT'S NOT REALLY HOME ANYMORE': FORT MYERS AREA STRUGGLES TO REBUILD AFTER IAN